Training function as top priority of government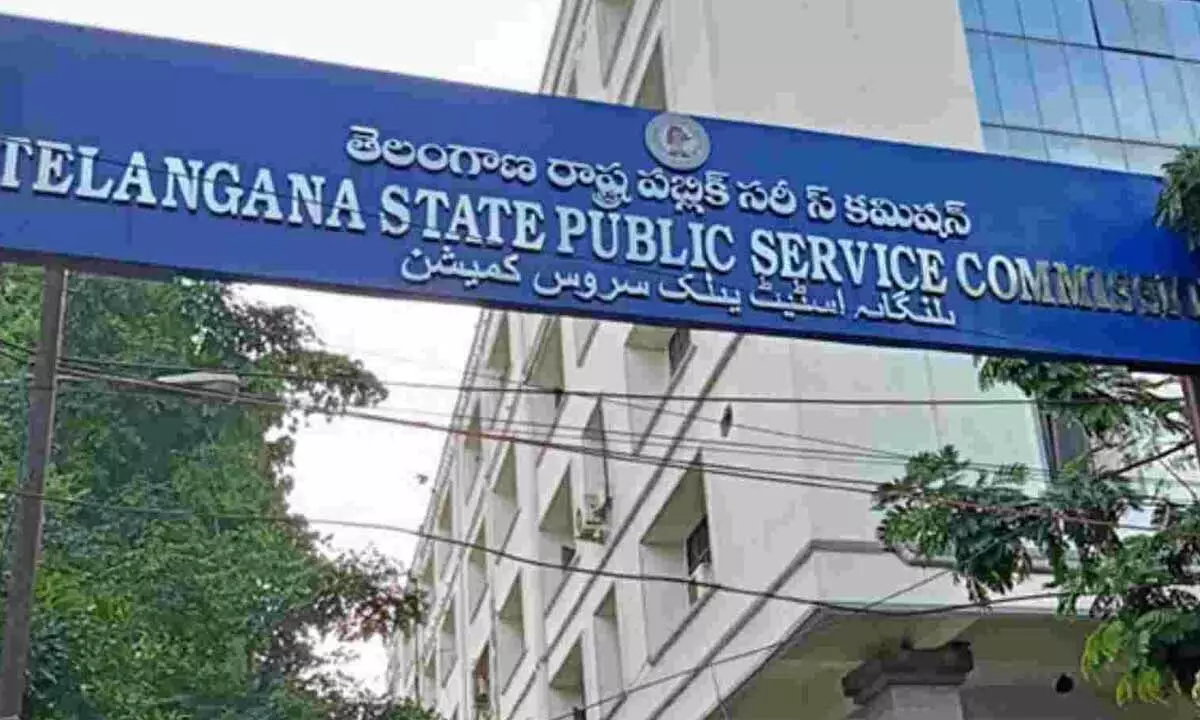 Highlights
An unanticipated incident in the State, wherein, question paper leak of an examination of Telangana State Public Service Commission (TSPSC), apparently due to the mistake or mischief of two individuals working in the organization, led to a mad hue and cryby few politicians.
An unanticipated incident in the State, wherein, question paper leak of an examination of Telangana State Public Service Commission (TSPSC), apparently due to the mistake or mischief of two individuals working in the organization, led to a mad hue and cryby few politicians. The leakage, in all probabilities might have happened,due to inadvertent inadequate security measures in office computers, where confidential information is supposed to be stored. The two accused were taken into custody for investigation by a Special Investigation Team (SIT) set up by the state government.

TSPSC also announced cancellation of the GroupI Prelims examination held on October 16, 2022, following a report of the SIT and also an internal inquiry conducted by the commission.Subsequently, the press reported that SIT arrested few more, who included former outsourcing employees and also some employees who appeared for Group One Prelims and scored more than 100 marks, for further probe.
'Attitude' problem of these two employees who are the main culprits of leak and also lack of 'knowledge, skill and attitude' of a few more employees working in the same organization, mainly at the supervisory and custodian level, may be the reason for leakage. Hence, entry level and periodical follow-up training to such people to address theseproblems to the staff concerned is absolutely necessary, at least in future. This also holds good for employees of other departments to avoid mistakes and mischiefs. In fact, for sensitive departments like Public Service Commission, scope of training could be further expanded beyond 'knowledge, skill and attitude' aspect, with predominant focus on attitude, to 'Sensitization and Sensitivity' (S & S) aspects.These two coupled with 'Attitude', may be termed as SSA. Sensitization stimulates employee whereas sensitivity implies a readiness to respond positively. Aspecial recruitment for TSPSC staffneeds to be adopted in future to avoid such leakages. Thus, training will play a vital role in individuals being more responsive to the context and content of the situation or task at hand.
As usual, taking advantage of the whole episode, blame game started accusing the government and IT Minister, for everything that has happened, without even going into authenticities and niceties.This way of targeting without valid proof is not a healthy practice in a democratic polity. Undoubtedly, the whole episode is sensitive and delicate, and hence, a follow up decision by TSPSC should necessarily be aimed at keeping in view the philosophy of Jeremy Bentham that 'Greatest Good for the Greatest Number for the Longest Time'. Accordingly, at a time when state government is doing its best to restore confidence among youth by way of taking measures to fix the loopholes in the TSPSC examination system, and benefit the affected individuals, this sort of an unethical blame game is an unhealthy democratic process. Right to Freedom of Expression does not infer Right to shameless abuse.Intellectuals need to ponder over. TSPSC, which has been doing incredible service, ever since BRS came to power, has been under 'Eccentric' criticism in the recent pastby a few political leaderseither for no reason or for political mileage. TSPSC was formed on December 18, 2014 with Professor Ghanta Chakrapani, who was in forefront during separate Telangana State moment, as its Chairman, and within one year, under his stewardship, it made atremendous mark by being recognized as one of the best PSCs in the country.Dr B Janardhan Reddy, a serving IAS Officer then, succeeded him. Both of them are known for their impeccable honesty, dedication, and commitment to service.Irrespective of the fact that the TSPSC is known for its marvelous achievements particularly during Chakrapani's time and also subsequently, it is under attack for a mistake and mischief of two individuals and thereby implanting doubts in unemployed youth about their future.
Just for academic interest, it is worthwhile to glance in to the past to know the credentials of TSPSC better. In January 2016, just two years of its formation,the prestigious All-India Public Service Commissions Chairmen Conference was Chaired by TSPSC Chairman, a rare honor, where the technological initiatives and Innovative practices as well as procedures of TSPSC were demonstrated. This attracted several commissions. Twelve state PSCs adopted Telangana's Technical procedures and practices. UPSC directeda visiting committee from Mauritius to seek advice from TSPSC in revamping their national PSC.
Numerous happenings in our day-to-day life provide us directly or indirectly with a learning opportunity and in the process, we experience certain amount of 'knowledge or skill or ability to do' several activities. In the context of an employee, especially in relation to their application in the working environment this type oflearning should be in a systematic way and it goes without saying that it should be through Systematic Approach to Training (SAT) only. Honestly speaking, despite several valid recommendations incorporated in National Training Policies and States' Training Initiatives, 'Training Function' is still not a priority area.
Then, who is responsible for identifying what the employees need to learn, either to improve their current performance or cope with changes that are likely to occur? These are the days where everything is provisional and short-term in an ever-changing scenario. We need to find an answer to this.In this context, training which is a systematic learning is a must for every employee for a minimum number of hours in a year beginning with entry stage. In these days of contracting and outsourcing in several departments including sensitive at times, fast track training shall be made compulsory, without which assignment of duties particularly in sensitive areas needs to be disallowed.
In fact, everybody in an organization or department, from the Chief Executive or Head of the Department, to a newly recruited junior member of staff, are involved in a constant learning experience as a 'learning organization'. But this learning may not be relevant to their job and may not necessarily mean it will result in a worthwhile improvement in job performance. Learning may be a random experience,whereas, training is being done for a specific purpose. It is concerned with helping someone to learn speedily and effectively and requires a clearly defined outcome. In training, effective learning conditions are provided, like demonstrating a task describing how it should be done.
Learning is a critical factor for success. For instance, understanding the priorities of government policies, schemes, and programs as well as promises made to the people and the urgency to fulfil them with transparency, accountability, and responsiveness, the three important parameters for Good Governance. While speed is very important, equally important is accuracy, meaning without any scope for mistakes and mischiefs. If the department relies solely on the naturally occurring process of learning, it may never achieve success, because such learning may take too long, or be wrongly directed. Training which becomes more appropriate here, is a systematic,planned process to modify attitude, knowledge, or skill behaviour through learning experience, directed at improving performance, in an activity or range of activities. The purpose in the work situation, is to develop the abilities of the individual and to satisfy current and future needs of the organization.
In the absence of training and that too systematic, employees in a department, may never be able to perform the task properly and they may harm themselves or others as in the case of TSPSC paper leak incident. The consequences of a wrong performance may result in public complaints. Once the task is learned wrongly it is very difficult to 'unlearn' and then 'relearn' correctly. Training helps individuals and working groups become more versatile, flexible, and generally able to achieve higher standards of performance.Some organizations take up training and do it as an act of faith, without requiring justification or considering the costs or benefits to be obtained from the investment they are making. However, such organizations are now increasingly in the minority in spite of their awareness that training is essential to improved performance and process of unlearning of redundant things.
An inevitable consequence of change, and dealing with performance issues resulting from change, is the need to learn systematically through training. Change may be the result of the introduction of new schemes, new programs, new policies, new technology, latest working practices, or through the general development and rising aspirations of people.Performance problems may occur because of such change, but also because of existing behavioral deficiencies of individuals or working groups. A 'Systematic Training Function'is the need of the hour to avoid problems of performanceand for improved performance of employees in general and particularly in the context of Telangana Public Service Commission staff.
Persons of the stature of former TSPSC Chairman Ghanta Chakrapani, professor of Sociology and Dean of Social Sciences in Dr BR Ambedkar Open University and experienced in conducting regular training programs on interview technics for members of TSPSC and other training programs for staffincluding at UPSC level, may be the right person to head and lead 'Training Function' as priority of government, so that in future performance and attitude problems as well as 'mistakes and mischief' in TSPSC may not occur.
(The writer is CPRO to CM, Telangana, and former Senior Faculty and Additional Director, Dr MCR HRD IT, the premier administrative training institute of Government of Telangana)