A power talk packed with hard punches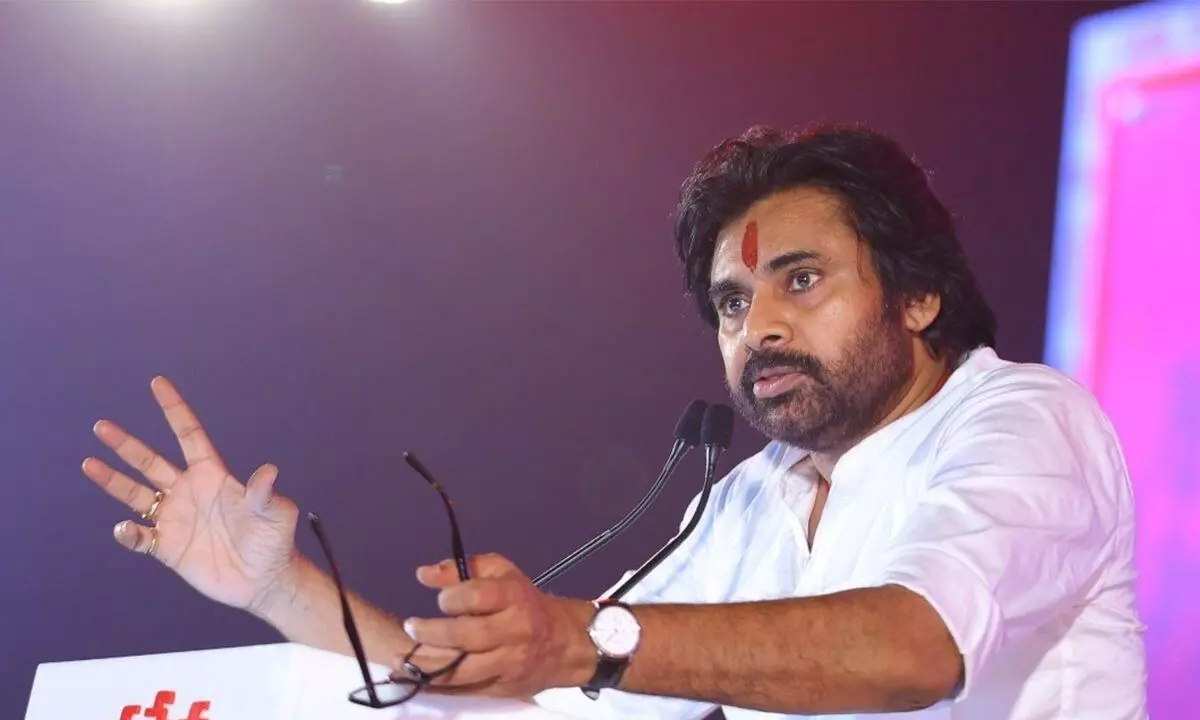 Highlights
It was his career best speech so far. Clear in thoughts, not much ado, small simple sentences, no theatrics and no emotions, yet the Jana Sena leader Pawan Kalyan had struck the chord with the gathering – as well as the public at large –during his late evening speech at the party formation day celebrations at Machilipatnam.
It was his career best speech so far. Clear in thoughts, not much ado, small simple sentences, no theatrics and no emotions, yet the Jana Sena leader Pawan Kalyan had struck the chord with the gathering – as well as the public at large –during his late evening speech at the party formation day celebrations at Machilipatnam.
It's a different matter that his rivals, the YSRCP leaders, particularly the shouting brigade – including ministers and some former minsters who want to be in more in the good books of the Chief Minister rather than people – as usual made all kinds of comments against Pawan.
Well, they may have their own compulsions for their outbursts. But what is clearly perceptible is Pawan had spoken hard truth, which is unpalatable to several hardcore politicians who want to thrive on creating ill will among different castes and communities, and groupism thereof. No, they would not appreciate honest and straight-forward realism.
Pawan during the last nine years has certainly come a long way and certainly comes across as a matured politician who spelt out his thoughts so clearly and endearingly to the common man yearning for social harmony. He observed that everyone talks about the need for change in political system. But what is more important is change among people and in their thinking. He pointedly told them: First and foremost, they should stop selling their votes and realise that while the leaders who win make hundreds of crores and amass massive properties, the voters get just 50 paise per day for next five years. That is the benefit of direct cash benefit per vote. They should think whether they need 50 paise per day or opportunities to grow richer on their own.
The JSP chief clarified that he and his party would never play caste politics. He said that he would never tolerate the rule of those parties which favour one caste over the other and show discrimination. He asserted that things would not change so long as people do not question their own community leaders who have ascended to power as to what they had done for the community. Why cannot they take a policy decision that they would ensure that none in their community would remain poor. If each community does that for their people, poverty alleviation would not be a difficult task, he opined.
Every word Pawan used was certainly worth giving a thought. He made it clear that though his meetings had attracted huge crowds, the same patronisation was not converting into votes. It appears they are testing the party in respect of resilience and steadfastness. It would take some more time and more efforts to win over their hearts, he acknowledged and vowed to continue to work towards bringing about a change in their thinking process. He said if people want politics to change, first they need to change their mindset. As long as people think on the lines of my caste, my community and not for the future of their children and growth of the state, they would continue to get sold away for 50 paise a day and crib later that the government had failed. It is no use belatedly bemoaning about the way the ruling party had betrayed them.
Unlike many actors who feel shy even to speak about their real age, Pawan was bold enough to say that his average income was Rs 2 crore a day. The YSRCP leaders who brand him as a package star should understand his frankness and honesty.
Unveiling his thinking on many an issue, Pawan made it clear that the relationship between his party and the BJP had gone sour. While he continues to have the highest regard for Prime Minister Narendra Modi and national BJP leaders, he did not mince words in saying that the state leaders were not interested in Jana Sena, and hence, he had decided to distance himself from the state unit.
Despite his failure so far to make a mark in electoral politics by getting his party men elected to the state Assembly, the Jana Sena chief is nevertheless making inroads in the state. The state BJP which is ridden by internal differences and lacks proper leadership has not been able to improve its vote percentage beyond 0.5 per cent. But Jana Sena today has six lakh active members and about 9 to 10 per cent vote share. Realising his strength, Pawan appears to have come to a practical conclusion that he should emerge as the kingmaker in the next assembly elections. The modalities, of course, are yet to be worked out. Pawan Kalyan explained that the objective behind his appeal that the anti-establishment votes should not be split was to ensure that there should be political stability in the state. "Had the Jagan Mohan Reddy government delivered an excellent governance, I would not have raised my voice," he stated.
The MLC results, too, have given an indication of the change in mood among the educated sections of the society. Even as the YSRCP wanted that TDP was wiped out from the political map of Andhra Pradesh and despite the various irregularities that had taken place during the polls for graduates and teachers MLC constituencies, people have proved that if they decide, nothing can stop them. In fact, these results have come as a major shocker for the ruling party. Some even commented that they knew that the anti-incumbency factor was there but did not realise it was so strong. This comes as a booster shot for the TDP and Jana Sena. The results make it clear that in the Assembly elections if both join hands, the results would not be to the liking of YSRCP.
Notwithstanding the claims being made by the ruling party during its door-to-door campaign about the 'Navaratnalu,' Pawan said CM Jagan Mohan Reddy had promised to implement complete ban on liquor but now the government itself was selling all kinds of brands, which was killing people like slow poison.
Pawan's speech certainly makes one believe that there is still some hope among people, of seeing the emergence of leaders with values.
Any ruling party should understand that trying to suppress the opposition in a brutal manner can result in strong reaction from the people at the time of polling. No amount of shuffling the ministers or changing candidates would help much if the public opinion goes against the ruling party. Yes, maybe they can prevent loss of a few seats if some trouble breaks out between political parties and rigging takes place, but beyond that no one can stop the outburst of the public anger. We had seen how the TDP suffered in 2019 because of certain policy lapses.
The ground reports indicate that people are also watching how the ruling party is trying to muzzle the voice of opposition and is not allowing any expression of dissent in Assembly and how the members are suspended for the entire session. This is something which even the Lok Sabha Speaker did not think of when there was ruckus from Congress party and other opposition parties demanding probe against Adani. Even if a situation arises to warrant suspension of some members, they are generally suspended only for a day – not an entire session.
Speaker as the custodian of members rights has absolute right but then it does not mean that the members' right to participate in discussion and protests is taken away like this. Secondly, in my long experience of covering Parliament, I have never seen the Speaker suspending any member without any motion moved by the minister concerned. But in Andhra Pradesh Assembly, such suspensions have taken place.
Another aspect which people are closely observing is the recent developments like CBI probe into the murder of Y S Vivekananda Reddy, paternal uncle of the Chief Minister, and the alleged involvement of a YSRCP MP and his son in the Delhi liquor gate scam. If any political party thinks that only money can keep them in the driver's seat for long, if not for ever, then it means that they continue to live in dreamland.