Men's ODI World Cup: New seats, rebranded restrooms at the forefront of upgrades in Arun Jaitley Stadium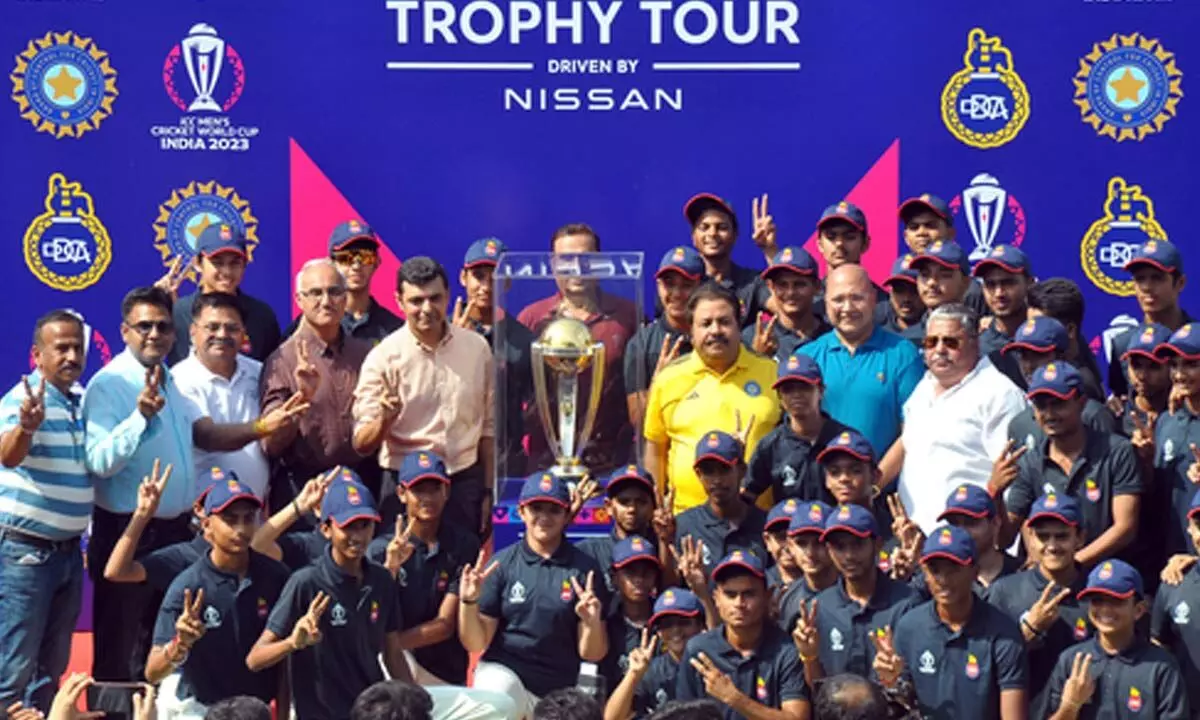 Highlights
As one walks past the gates of Arun Jaitley Stadium, one can get a feel of it getting a good revamp ahead of the 2023 Men's ODI World Cup, set to begin from next week.
New Delhi: As one walks past the gates of Arun Jaitley Stadium, one can get a feel of it getting a good revamp ahead of the 2023 Men's ODI World Cup, set to begin from next week.
The fragrance of fresh paint, labourers working hard under the scorching sun and using their machinery tools to get work wrapped up means time to wrap work in the stadium is coming near, before the sights of fans and players will throng the stadium from next month.
In the World Cup, the Arun Jaitley Stadium will be hosting five league matches – Sri Lanka v South Africa (October 7), India v Afghanistan (October 11), England v Afghanistan (October 15), Australia v Netherlands (October 25) and Bangladesh v Sri Lanka (November 6).
Seats have been coloured in blue, orange and green colours, making for a very attractive look. Restrooms, a topic which invited criticism for the stadium in the past, have been newly created from scratch, with added facilities like sanitary napkin and diaper vending machines fitted.
"All the toilets have been made very well now. We have made arrangements in such a manner that there will be no chance of getting a complaint. The plan to install sanitary napkin dispensing machines, as well as for diapers, in the washrooms has been made possible due to the vision of President Rohan Jaitley.
"He felt that amongst the spectators coming to a stadium, there will be mothers too with their small kids to watch matches and for their comfort, those dispensing machines for sanitary napkins and diapers are installed. There are also feeding and changing rooms made for their comfort too," said Shyam Sharma, DDCA Director, to IANS, on the sidelines of the World Cup trophy tour in the stadium on Thursday.
Sharma revealed turnstiles have been changed completely in the stadium, while waterproofing work is done, and new air conditioning systems have been installed too. Façade lights have been changed too, and in them, colour lights have been installed, meaning colours in the stadium will change during the match.
Critical points from a fan's point of view has been the attention to affordable food, drinking water stations at various venues and ease in facilities for specially-abled spectators.
"There has been special care taken for facilities towards specially-abled spectators, like separate space and toilets have been created for them too, as well as taking care of ramps and heights. Hygiene will be specially taken care of, as well as of food arrangements for spectators.
"As per the instructions of BCCI and Jay Shah, good food will be served to spectators and they will be left with a feeling of attending a match as well as getting their money's worth in terms of services. We used to get complaints like water bottle was being sold for INR 200 rupees, but now, the BCCI has made drinking water free, making it the first time such instance of it in a World Cup," he added.
At the event, DDCA invited children, including visually-impaired kids, to pose with the coveted trophy. The association also got stadium curator Ankit Dutta to unveil the trophy and dedicated Thursday's event to the ground staff.
"This being an ICC event means all decisions will be taken after speaking to them. We have plans to make the kids from blind and physically challenged schools a part of watching World Cup matches in New Delhi. We will try to get facilities for them to the best possible level," added Sharma.
Nine pitches have been created in the main square for matches and practice purposes, with them being covered. As far as drainage and ground facilities are concerned, DDCA has brought new covers wherein the entire ground can be covered in seven minutes in case of rain. New super soppers have been obtained, with the promise of drainage system drying up the entire ground in 15 minutes.
"This upgradation programme has been happening from last 45 days. The BCCI had done the recee of the stadium from January onwards and briefed us in the meeting about the points of improvement for the stadium. With the efforts of BCCI and the President Rohan Jaitley, you can see the stadium for yourself. The whole stadium has been painted and new AC plants have been installed too. Our agenda is getting best services for spectators, for which we are working with absolute dedication," said Rajan Manchanda, DDCA Joint Secretary.
Siddharth Sahib Singh, the DDCA Secretary, felt the stadium upgrades were 'much-needed' ahead of the World Cup. "We have tried to improve everything whatever was asked of us and it was not possible without the support of BCCI. Whatever support was needed, we got in terms of guidance, funding from them.
"Plus, they also said, 'Whatever amount you need, we are happy to give you', and this is what they did. Fans will get to experience a very different Feroz Shah Kotla/Arun Jaitley Stadium this time. They will go home happier after the matches and this is what we are hoping for," he said to IANS.
The significant upgrades in the stadium did get a word of appreciation from Rajeev Shukla, the BCCI Vice-President. "The stadium has been renovated very well by the DDCA people. I am very sure that spectators will get to experience the upgradation in stadium's facilities during the World Cup," he said.