Create the path; don't tread the beaten path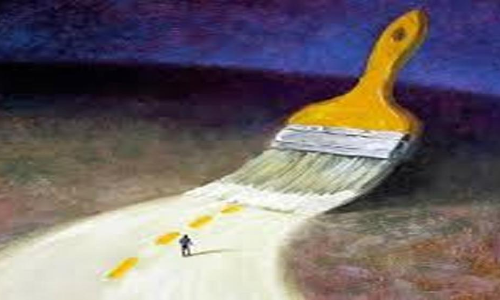 Highlights
I recently asked one of my colleagues in my newspaper office to do a particular task. His answer left me bewildered. 'Sir, no other newspaper is doing anything of that kind. We should also refrain from such experiments.'
I recently asked one of my colleagues in my newspaper office to do a particular task. His answer left me bewildered. 'Sir, no other newspaper is doing anything of that kind. We should also refrain from such experiments.'
In my television office also I was confronted with a similar situation. When I asked a colleague on why he was presenting news in one particular style, his pointblank reply was, 'every other channel is doing the same'.
I gave a pep talk that ought to serve as constant reminder. I told them to set examples with finesse and in a way that was different from others. 'Don't think of staying in a queue. The line should begin with you. Never follow the trend. Rather be a trail-blazer. People may call it out-of-the-box thinking or may equate it to an innovation.
Always remember, someone who shuns the oft-beaten path and charts one that is less traversed has more chances of hitting big-time. Those who merely follow someone or the other will fail once they are on their own.
This is precisely what distinguishes the most successful from the madding crowd. Satya Nadella is what he is today just because he did many things like others, but strode on to cloud computing. At Microsoft, he built one of the largest cloud computing infrastructures in the world.
There were many more freedom fighters before Mohandas Karamchand Gandhi, who plunged into it only on his return from South Africa. But, the novelty of Satyagraha and Ahimsa and many such experiments with truth went into the making of the Mahatma.
The world is replete with great personalities who achieved success with simple but powerful presentation because they raised the bar and detested clinging to obsolete ideas. American composer, music theorist, writer, philosopher, and artist John Cage said "I can't understand why people are frightened of new ideas. I'm frightened of the old ones".
My wife often calls me the kick-master. My weakness is that I cannot do the same thing is the same pattern always. They wear me out. Believe me, I detest giving a second reading to what I write. Perhaps, this weakness turned to be a blessing in disguise. My wife sarcastically remarks, 'thank God, at least you are not so when it comes to me.'
The two things that I have always hated are, repeating the routine and not having the drive to do something. Once while addressing management students, I asked them a simple question. What is the difference between management and leadership? Some failed to see anything substantial. Others defined it in myriad ways. Of course, they were all correct.
But something was still elusive for me. Eureka! I got it. Business theories do tell us that managers administer while leaders innovate and inspire. More precisely, managers do things right and facilitate the team members to do just that way while a leader does a right thing and makes others to do so.
In a world abundant with those who find it difficult to do things right, at least doing things in right manner itself is a skill. But, it's only a skill. But, leaders think differently. American business author, Jay Abraham said "As soon as you open your mind to doing things differently, the doors of opportunity practically fly off their hinges".
I still remember asking my teacher in journalism school, why not a 24-hour television channel? This was in 1983 when India only had Doordarshan. The entire class laughed at me. Even my teacher gave an annoying look. It may have appeared laughable at that point in time, but, in course of time, that is precisely what is happening.
To begin with, think beyond the foreseeable possibility. The realm of possibility always stifles one's thinking and limits aspiration. It doesn't cost you to aspire. When you cannot think of dreaming to climb Mount Everest, how can you do so?
Don't get scared by the unproductive and uninspiring prophets of doom. Always remember what Steve Jobs said: Remembering that you are going to die is the best way I know to avoid the trap of thinking you have something to lose.
In 1984, after graduating from the school of journalism, I joined Indian Express for internship. I used to go to the office early in the morning as during evenings there were no seats for us to sit and learn. I took out the copies spiked to see how the seniors edited stories.
It was pre-computer era in print media. Being determined, I would go before the sweepers could take away the dust bin at the desk. It was reverse engineering that I was doing. One day, no one was there in the office, not even those who come to clean.
I peeped into the editor's room; the editor's chair stared at me. In fact, it not only lured me but also told how long my journey was. As no one was observing, I just sat on the editor's chair for a while to get a feel.
It was unimaginable for a budding journalist to even think of becoming an editor. It exactly took three decades for me to translate the luring chair into that of my own!
Never have inhibitions in what you want to do. Never undermine yourself. You can conquer the world if you wish to. I am sure, like me, you might have imitated your teacher in your class room with a chalk piece in your hand.
Well as a child, a teacher was Alexander the Great. But the world of success is limitless and borderless. When Singapore can fill the sea and emerge as a breathtakingly picturesque landscape, even you can certainly transform a tiny effort into a monumental success. Life is a challenge. Dare and live up to it.