Warangal: CP orders to book rice millers for cheating farmers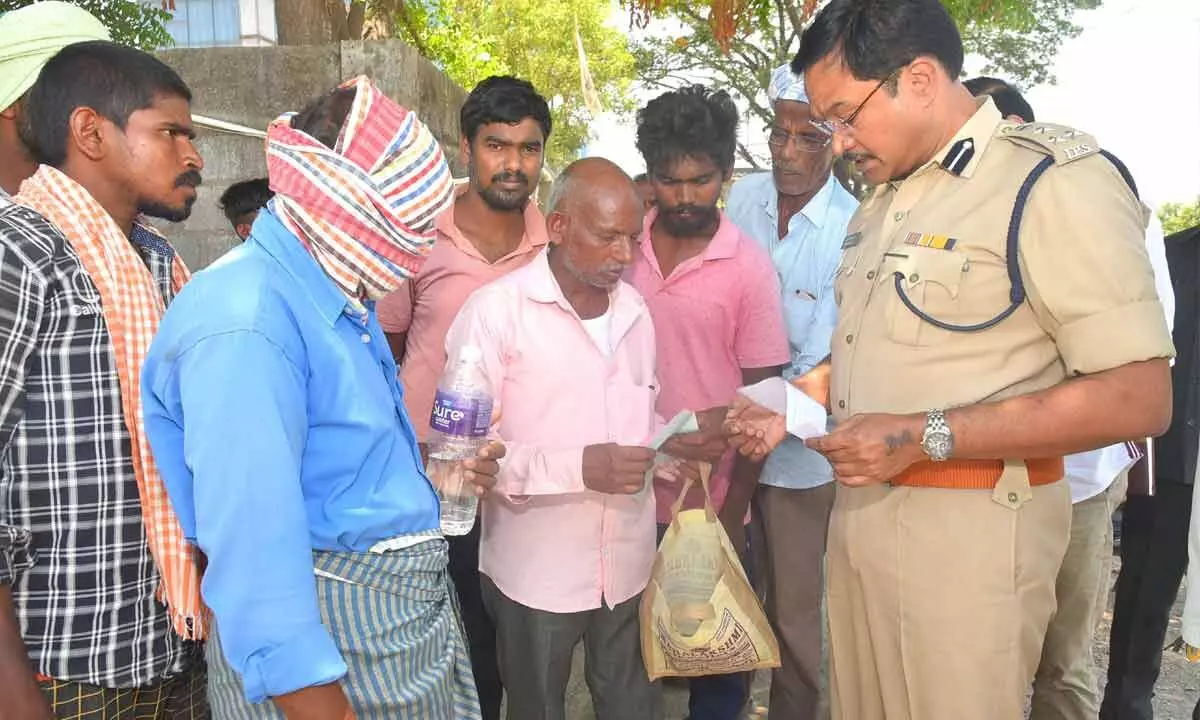 Highlights
This comes in as a huge relief to the farmers who have been mutely bearing the loot in the hands of some officials and rice millers when they sell their produce.
The farmers complain that officials are reducing weight of the produce at the purchasing centres by two to four kg while rice millers are deducting around four kgs in the name of wastage for every 40 kg bag
Warangal: In a bid to check irregularities at the paddy procurement centres and the rice mills, the police have girded up their loins to set right the system. This comes in as a huge relief to the farmers who have been mutely bearing the loot in the hands of some officials and rice millers when they sell their produce.
With such complaints of cheating pouring in from the farmers, Commissioner of Police AV Ranganath made a surprise visit to IKP paddy procurement centre near Gudur village under Kamalapur mandal in Hanumakonda district on Wednesday.
The Commissioner who spoke to the farmers elicited information about their problems at the paddy procurement centre. It didn't take much time for the Commissioner to understand the kind of loot taking place when the farmers turned to procurement centres and rice millers.
According to the farmers, they have been facing a two-fold loss — one round of depreciation in the crop at procurement centres and later at the rice mills. It's learnt that officials are reducing weight of the produce by two to four kilogrammes while rice millers are deducting around four kgs in the name of wastage for every 40 kg bag.
Based on the farmers' complaint, the Commissioner along with Task Force and Special Branch Police inspected Saptagiri Rice Mill near Mucharla Nagaram Cross Road. Ranganath who checked the receipts and records of the rice mill found irregularities, causing a huge loss to the farmers. He instructed his subordinates to book a cheating case against the rice miller.
"We must protect farmers who feed us. The police will book cases against those who cheat the farmers," Ranganath said. It's learnt that the police boss had already directed the cops in the Warangal Commissionerate to keep an eye on procurement centres and rice mills to protect the interests of the farmers. Meanwhile, the Commissioner reportedly alerted the district administration especially the civil supplies and agricultural officials to prevent the irregularities in the paddy procurement centres and rice mills.
Gudur Ravi, farmer from Kamalapur mandal, heaped praise on Ranganath for coming to the rescue of hapless farmers. "We the farmers have been bearing the loot silently as it's difficult to draw the attention of the revenue, civil supplies and agricultural officials. Some of the officials are colluded with the rice millers. Now with the intervention of the police, hopefully the situation may change," Ravi said.
Later in the day, the Commissioner held a review meeting with the Hanumakonda Collector Sikta Patnaik and Warangal Collector P Pravinya and other officials. They discussed the paddy procurement process and the measures to be taken to protect the farmers from losses.