Sanjay's pyrotechnics to light up BJP cadres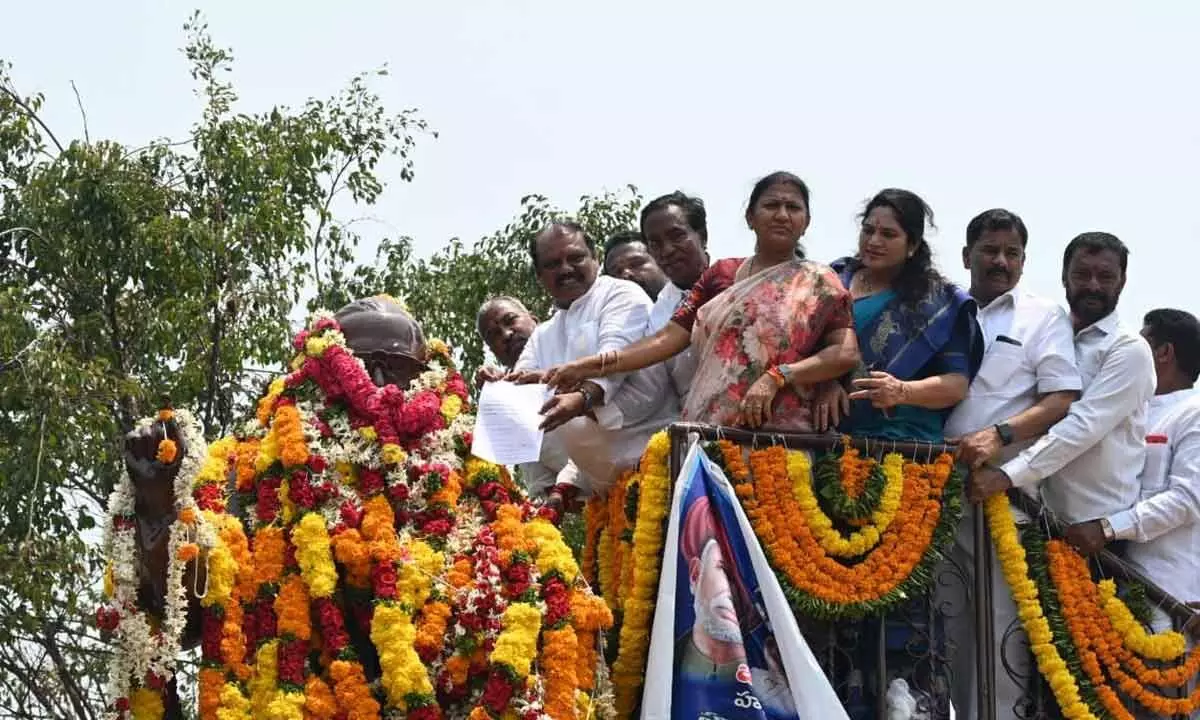 Highlights
Saffron party is geared up for today's Nirudyoga March to launch a broadside against BRS
Warangal
At a time political heat in the State is at its peak, especially between the ruling BRS and the BJP, the Nirudyoga March organised by the saffron party in Hanumakonda on Saturday is expected to add more firepower to it.
The dustup that triggered a war of words between the BJP and the BRS over the leak of TSPSC examination question papers catapulted to next level after the arrest of BJP State chief Bandi Sanjay in connection with circulation of SSC question paper on WhatsApp.
The BJP which is hell-bent on exposing the TSPSC's fiasco to corner the government is all geared up for the Saturday's Nirudyoga March to launch a broadside against the BRS. Bandi Sanjay is to go hammer and tongs at the State Government, especially targeting Chief Minister K Chandrasekhar Rao and IT, MA&UD Minister K T Rama Rao.
BJP State vice-president and Nirudyoga March organising convener Gangidi Manohar Reddy urged the unemployed youth to support the rally to exert pressure on the KCR Government which was playing with their lives. Stating that they had garnered the support of the student joint action committees of the Osmania University and Kakatiya University, Reddy emphasised the need for teaching a fitting lesson to the BRS Government. KCR dashed the hopes of the people by diluting the very concept of separate Telangana Movement - Neellu, Nidhulu and Niyamakalu (water, funds and employment), Reddy said. The rally which begins at Kakatiya University X roads at 4 pm on Saturday will end at Ambedkar Statue in Hanumakonda. Bandi Sanjay will address the gathering after the rally.
Meanwhile, the police released a traffic advisory in view of Nirudyoga March. The traffic restrictions will be in force from 3 pm to 8 pm. The vehicles coming from Karimnagar side will have to traverse through KUC X road, Pegadapally Dabbalu, Peddammagadda, Mulugu X road to head to Hanumakonda and Warangal. The vehicles coming from Karimnagar side will have to take KUC X road, St Peter's, Ambedkar Bhavan and Subedari to go towards Kazipet side.
The vehicles heading to Kazipet from Warangal need to traverse Hanumakonda Chowrastha, Ashoka Junction, Bus station and Kaloji Junction. The vehicles coming from Kazipet side will have to go through Kaloji Junction, bus station, Ashoka junction and Mulugu X road to go to Warangal, and those who want to go to Karimnagar will have to take Peddammagadda route, according to ACP (Traffic) Madhusudhan.