New DCC president faces stiff opposition from Kondas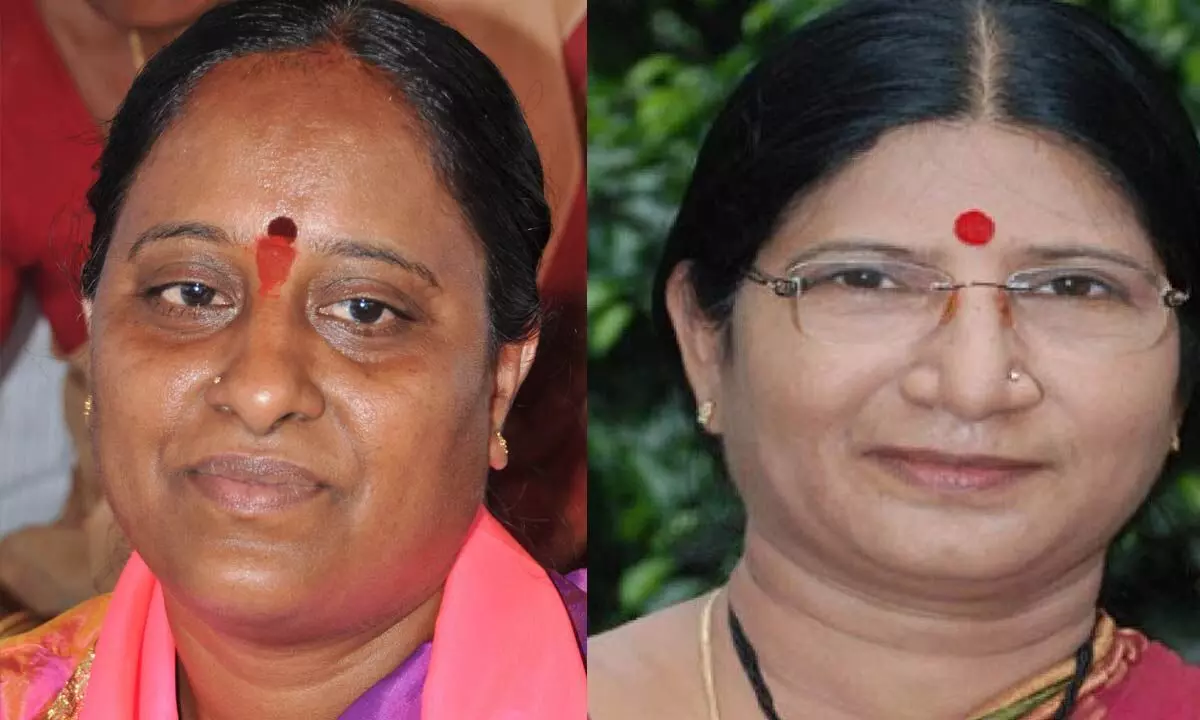 Highlights
The swearing-in ceremony of Errabelli Swarna as the Warangal DCC president was mired in pandemonium
Her appointment did not go down well with Kondas, who had also threw their hat in the ring for the DCC post
Konda Muralidhar Rao and his wife and former minister Konda Surekha, who is aspiring to contest for the Warangal East seat, has already launched a door-to-door campaign in the constituency long ago
Warangal: The Congress leadership has its task cut out to quell the infighting within the party before it dares to dream Karnataka sort of results in Telangana. The ticket war for the Warangal East constituency appears to be out of bounds with the high command making Errabelli Swarna as Warangal DCC chief. The noisy quarrel between two factions when Errabelli Swarna sworn in as the DCC president on Wednesday indicates the kind of head spin the Congress high command has to undergo in the run up to the elections to the Assembly later this year.

Beginning with the noisy quarrel that broke out on Wednesday when Errabelli Swarna sworn in as the Warangal DCC president, a wordy duel has already began between Konda Muralidhar Rao and Errabelli Swarna with the former allegedly threatening to hang those who come in his path. It may be mentioned here that his wife and former minister Konda Surekha who is aspiring to contest for the Warangal East seat has already launched a door-to-door campaign in the constituency long ago.
It may be noted here that the Kondas also threw their hat in the ring for the DCC post along with others. The Congress leadership which delayed the appointment of DCC made Swarna as its chief recently. Apparently, it didn't go down well with the Kondas. In fact, it was a tough call for the TPCC as there was a lot of competition for the post.
Against this backdrop, Swarna didn't invite former minister Konda Surekha and her husband and former MLC Muralidhar Rao to her swearing in ceremony. Angered by this, Kondas didn't attend the ceremony, it's learnt. Although Swarna's husband Varada Rajeshwar Rao played down the brawl as a personal animosity between two leaders, it's apparent that Kondas were not happy with the development.
Later, Varada Rajeshwar Rao issued a stern warning to the party workers who tried to disrupt the ceremony. On the other hand, Konda Murali called upon party cadres belonging to Warangal East constituency to rally around Surekha, so as to help Congress win the seat. He also threatened to hang his detractors from a crane. Further, he warned his opponents not to dare to see the Konda Murali of yesteryears. Swarna too made a strong counter, stating that no one could hang anyone. She also said that the high command will take care of fielding the candidates for the upcoming elections.
Until the appointment of Swarna as the DCC chief, it was more or less on the cards that Surekha will be the Congress' nominee for the Warangal East constituency. However, the speculation is rife that Swarna was also making a strong bid for the East ticket.
Speaking to The Hans India, a senior Congress leader said, "The Congress put up a sterling performance in recent elections to the Karnataka Assembly. Despite differences among them, the leaders in that State worked in tandem to win the election; however, the situation in Telangana is the other way around."