Hyderabad: Not all minorities vote for AIMIM, flays KTR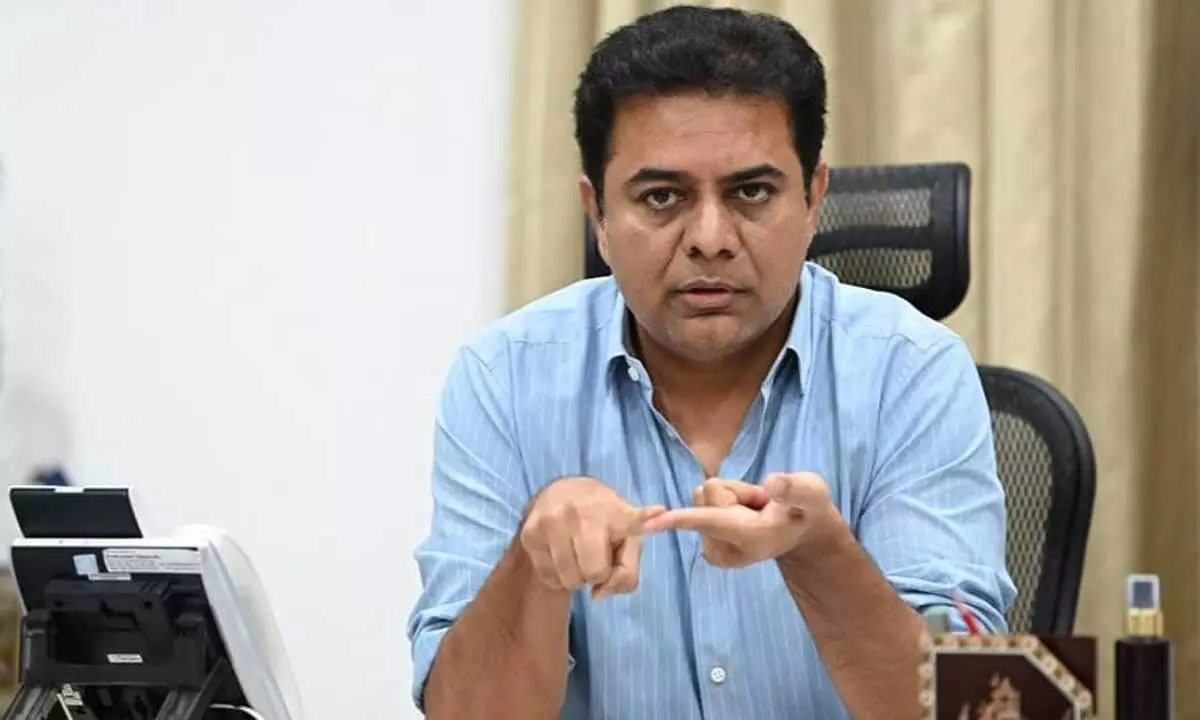 Highlights
KTR's remark came in response to Owaisi's surprising attack on Bharat Rashtra Samithi (BRS) government for taking minorities for granted
Hyderabad: A war of words has broken out between Telangana's ruling BRS and its 'friendly party' AIMIM with BRS Working President KT Rama Rao hitting back at Asaduddin Owaisi with the remark that not all minorities vote for his AIMIM.

Rama Rao's remark came in response to Owaisi's surprising attack on Bharat Rashtra Samithi (BRS) government for taking minorities for granted.
In an interaction with journalists here on Thursday, the BRS leader said that their party doesn't take anyone for granted.
He also made it clear that it would be wrong to say that minorities vote for only the AIMIM or the Congress or the BRS. "We do not believe that people vote on the basis of religion. We believe that people vote for a party which can provide them good governance," he said.
Asked about Owaisi targeting the BRS government at his speeches in public meetings in Telangana, KTR, as Rama Rao is popularly known, said that the same MP goes to other states and praises Telangana's model for minorities welfare. "So it's for him to decide which Asad Owaisi one should believe," he remarked.
On the AIMIM contemplating to contest more seats, he remarked that it's an independent party and it can contest anywhere.
KTR, who is also Telangana's Industries and Information Technology Minister, exuded confidence that the BRS will score a hat-trick of electoral victories in Telangana. He believes that the party will win 90 to 100 seats (in 119-member Assembly) in the elections due later this year.
He also remarked that tnhe BJP has almost no existence in Telangana. "There is no BJP in Telangana. It's only on social media," he said and predicted that the saffron party will lose even the three seats they have in the present Assembly.
He also believes that Congress is no competition for the BRS in the state.
"If the Congress party has a delusion about coming to power, it is up to them. People like Sharmila and K.A. Paul are also saying that they will come to people," KTR said.
Stating that KCR will become the Chief Minister once again, he dared BJP and Congress to announce their candidates for the post.
Claiming that under BRS rule, Telangana achieved in nine years what Congress and BJP had done in 75 years, he dared Prime Minister Narendra Modi and Congress President Mallikarjun Kharge to name a state which is doing better than Telangana.
Asked if BRS would support the efforts for opposing unity, KTR said that the BRS was against the idea of bringing only one party to power. "Instead our aim is to implement the good practices of Telangana state in other states. The propaganda and the thinking that there are only Congress and BJP in the country is wrong. The BJP came to power because of the failures of the Congress."
Listing out the failures of the BJP-led government at the Centre, KTR termed Prime Minister Narendra Modi as the most ineffective Prime Minister. He also slammed Congress leader Rahul Gandhi over some of his statements and remarked that he should open a NGO or a shop.
On the result of recent Assembly elections in Karnataka, KTR said that it was not the victory of Congress but rejection of bad governance by the people.
"Our party has the right to contest in Karnataka, Maharashtra and other states as well. We are thinking in that direction. Our party has also started work in Andhra Pradesh. We have also started the state party office," he said in reply to a query about his party's plans.
On proposed delimitation of parliamentary constituencies, he reiterated that states that have undertaken population control should not suffer.
"All states should have equal opportunities in a democracy. The number of seats likely to be increased in a single state like Uttar Pradesh will be more than the total number of seats in the southern states. Southern states which have supported the country's progress should not suffer," he said.
Stating that no one will tolerate such a situation, KTR called for healthy debate on the increase in Lok Sabha seats.