IAF light aircraft crashes on farmland, pilots escape alive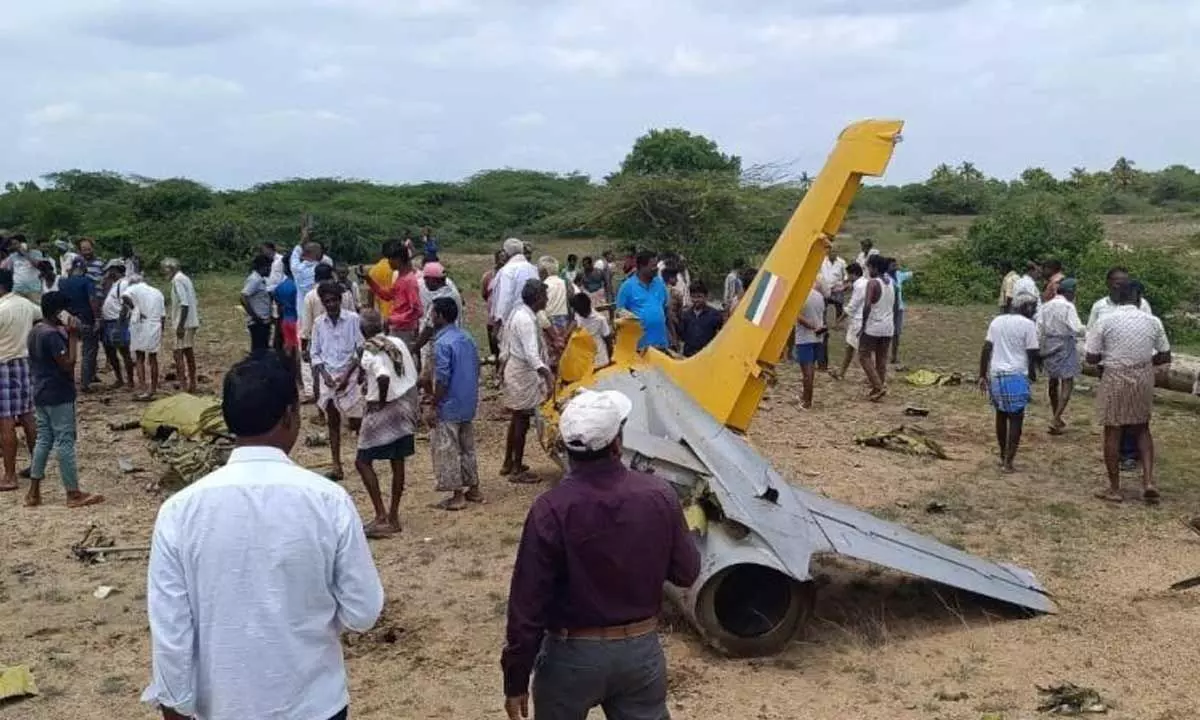 Highlights
This is the second incident in a month. Earlier, a plane had crashed in Rajasthan
Chamarajanagara: A light trainer aircraft belong to the Indian Air Force crashed in a farm near Bhogpur in the district on Thursday. Two pilots escaped alive after the mishap. A technical fault is said to be cause of crash. The alert pilots saved their lives by jumping from the plane using a parachute.
The district police officials rushed to the spot and are investigating. The aircraft named Kiran Air Path training numbered U692 of the Air Force has crashed. Pilots Bhumika and Tej Pal were flying the plane. As losing control, both of them jumped by parachute and fell 2 km away from where the plane crashed. The Air Force soldiers found and rescued the two. Sources said that both of them had minor injuries near their necks and were taken to Bangalore in a special helicopter for treatment.
This is the second incident in a month. Earlier, the plane had crashed in Rajasthan. On May 8, an Indian Air Force MiG-21 fighter jet crashed near Hanumangarh in Rajasthan. The flight took off from Suratgarh and crashed due to a technical fault. Three people, including two women, were killed in the plane crashed. The pilot in the plane was seriously injured and admitted to the hospital. In Last January, two IAF fighter jets Sukhoi SU-30 and Mirage-2000 crashed during training in Rajasthan's Bharatpur. One pilot lost his life in the incident. One aircraft crashed in Morena, Madhya Pradesh, while the other crashed in Bharatpur, Rajasthan.
An Indian Army helicopter also crashed in Jammu and Kashmir's Kishtwar district a few days ago. Also, another accident occurred in Kochi in April when a Coast Guard helicopter crash landed during training. There were three crew members in the helicopter who escaped unhurt. The helicopter crashed due to a technical problem. The accident occurred during take off from Coast Guard Training Centre. It is known that the incident took place after the helicopter came out from the runway.