Travel trends for solo women travellers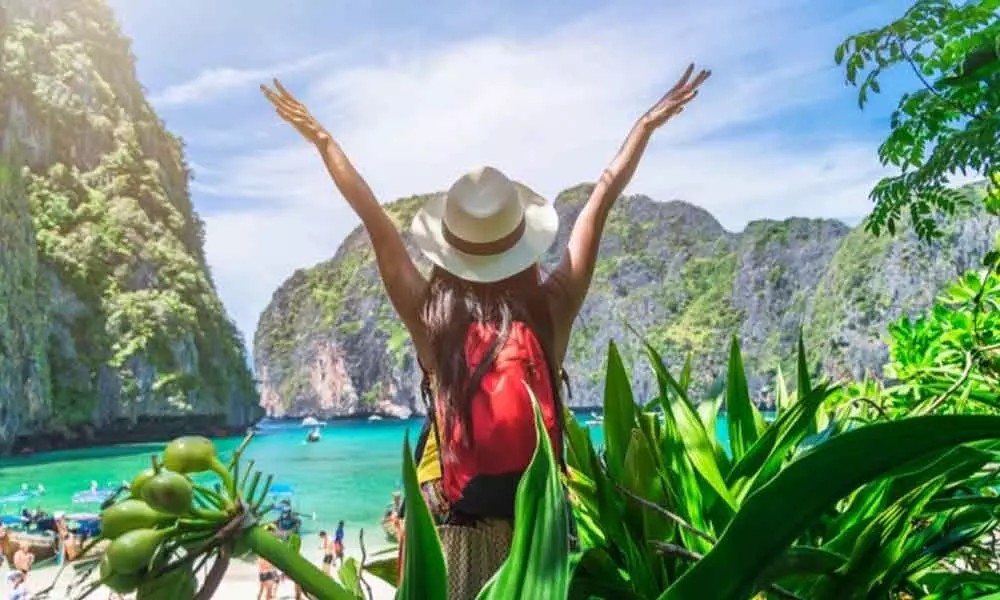 Highlights
Women travellers are on the top of the list. They are exploring not just different parts of the country, but also the world. So, get ready to add a bunch of adventure, a dash of safety measures, and tons of experience that lasts a lifetime, kicking away your fears and anxieties. Life is short, hit the road
Solo female travel just keeps getting hotter as it allows women to relax and to experience new things. Travel companies are seeing a significant uptick in interest from solo female travellers.
According to statistics, nearly 65 per cent of solo travellers are female, who are between the ages of 30 and 80, and these women prefer solo adventures for any number of realistic reasons.
Even scrolling through Facebook pages or Instagram, you could see the women hoofing across the globe including the faces of aunts, sisters, businesswomen and students exploring quaint villages to large cities and steep mountains to deep oceans, perfectly embarking the journey of self-discovery.
Whether packing your bags on a whim or with a plan, here are some travel trends for you girl!
Escape to offbeat destinations
The cheer goes to women who are not afraid of being themselves, and to women who are not afraid to tread new and untravelled paths all their own.
Women are taking pride to travel by themselves and seek out new destinations instead of visiting those mundane places everyone else is going.
They are ditching the atypical and overcrowded places for unconventional and unexplored ones to venture out on new experiences and tours and boast of falling into the second-city-travel bandwagon.
Homemakers are swirling
Interestingly, the trend is not just limited to working women as homemakers are also setting off with their social groups to explore the world as they also deserve a break from daily routine.
The break does not always mean a fancy holiday in Switzerland. Homemakers are opting for weekend getaways that they can explore and get that much-needed seclusion by exploring the historical sites or relaxing in the lap of nature.
They look forward to authentic travel experiences that are both enriching and fun.
Women safety
The fact that solo travel is incredibly empowering women is safety. Solo travelling at entirely new surroundings and without anyone around from your past to influence you can be a scary prospect, but the good news is there are plenty of places out there that can make you feel safe and welcome.
Mobility industry in India is also taking various measures to make transport safe and comfortable for women. Buses are coming up with amenities such as washrooms, reserved seats for women, sanitary kit, live GPS tracking to make it all easy for women to travel.
Awaken the adrenaline junkie inside
Who cares if your pedicure has chipped or if your hair is a dishevelled mess from the saltwater? Let that adventure bug bite you hard to roar at the rarest.
Yes, the latest trend in travel is adventure trips with no guys allowed. Women solo travellers are more catered to adventurous activities and thrill today. They are likely to continue their focus on adventures that promote learning and self-discovery.
From running marathons to white water rafting, from ziplining canyons to climbing mountains, women are likely to continue their focus on awakening the adrenaline rush.
Self-care isn't selfish
Even though one will meet people on the road, as a solo traveller, women love to spend lots of time on their own. Just a camera to capture the enchanting shots or simply an iPad with pre-downloaded shows and movies makes the perfect in-transit distraction.
Journaling is also one way to keep track of their thoughts and inspirations while they travel. Craving the freedom and flexibilities, women are taking solo trips where they wanted to experience something that was totally about me.
That may sound selfish — but solo travel seemed like the self-care every woman need at some point of time.
The writer is a COO & co-founder, YOLO Travel Tech Pvt Ltd