Higher education: A route to professional career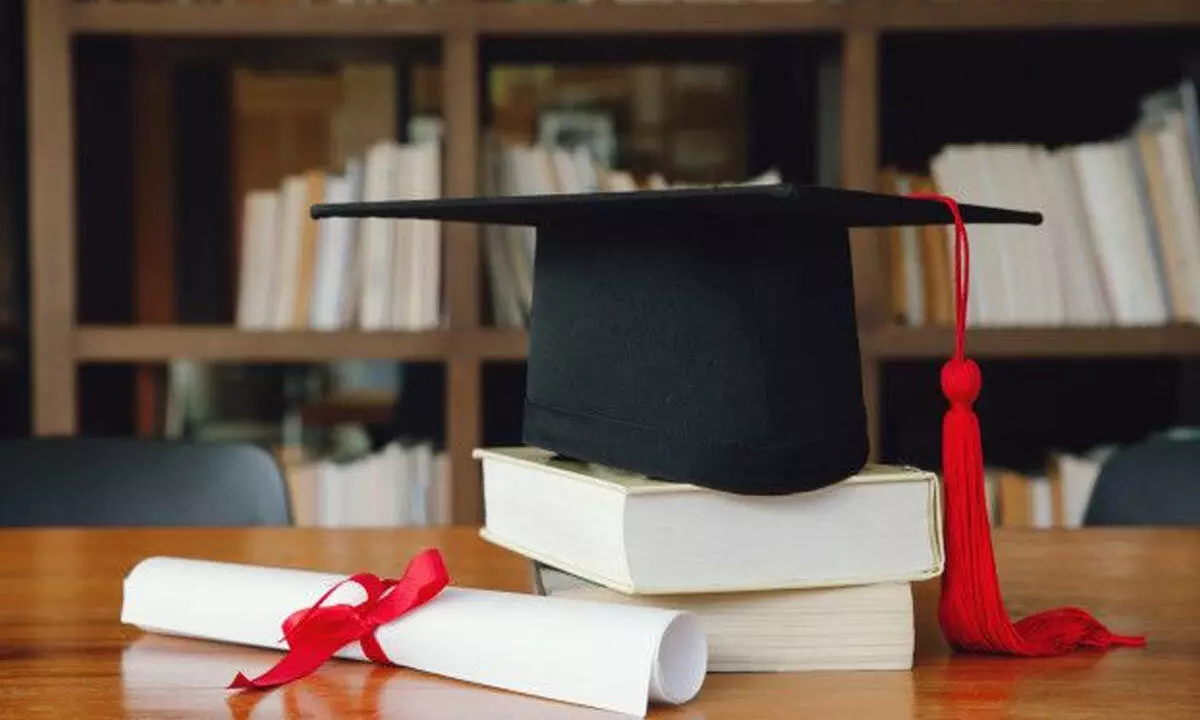 Highlights
Ever since digitalisation gained prominence, our personal and professional lives have undergone significant upheaval.
Ever since digitalisation gained prominence, our personal and professional lives have undergone significant upheaval. Online shopping, food ordering, e-learning, and digital meetings came to the fore as a result of technological innovations.

Particularly, if we talk about education, the concept of traditional brick-and-mortar classrooms has been taken over by online screens. In fact, nowadays students are largely preferring media-based educational content in place of textbooks. According to a study by IMARC Group, the Indian e-learning market reached $5.6 billion in 2021. With a projected growth rate (CAGR) of 13.9% between 2022 and 2027, the market is anticipated to reach $12.5 billion by that year.
Especially after the emergence of Covid-19 pandemic, online learning gained greater attention. According to UNICEF, two years into the pandemic, roughly 147 million kids missed more than half of their in-person schooling, with more than 27 million of them missing at least three-quarters. Given the circumstances brought on by the pandemic, students were forced to resort to online platforms for education. Today, e-learning has become a common and preferred practice, whether it is for schools or higher educational institutions. Especially when it comes to higher education, new courses have emerged as a result of technological advancements. Not only that considering the digitally-sophisticated nature of students today, they are largely looking for courses that are anticipated to trend and deliver them value in the near future.
Key trends that will rule higher education in the future

Flexible learning routes
For students to determine their academic route leading to the award of a certificate, diploma, or degree, flexible learning is required. There are instances when students have to give up their education mid-way due to certain reasons. Nevertheless, with flexible learning, it has become easy for them to pick from where they left.
Particularly since the Indian government's introduction of the New Education Policy 2020, students now have a wider range of academic and subject options. In addition, one extremely important component of the policy offers a creative fusion of academic fields with numerous points of access and exit. As a result, the higher education landscape has become more flexible, with different progression pathways between educational institutions, courses, and levels benefiting students in terms of employability and resource efficiency.
Tech-based education

With the growing reliance on technology, students today are looking for higher education courses that can benefit them in the long run. In fact, modern businesses are in search of candidates who are well-versed with the right use of technology. As a result, students are predominantly adopting courses in artificial intelligence, machine learning, deep learning, and blockchain analytics. In this regard, numerous higher education institutions have also introduced a variety of technology-related courses with the aim of giving students a complete understanding of in-demand skill sets and preparing them for the future. Moreover, given the rapid pace of technological advancements, more such higher education programs are expected to emerge.
Media-oriented learning

Gone are the days when teachers used to deliver lengthy lectures where student participation was the bare minimum. The concept of education has changed in the modern day as students take a more active and involved role in learning. In addition, conventional textbooks have been taken over by media-centric content that enables better understanding of concepts. Given the degree of our digital dependency, nothing could be better than deriving learning out of the same. As a result, higher education institutions today are prioritizing media-focused content to provide students with greater learning opportunities. Moreover, as we advance, media-centric content will become the go-to method of instruction in higher educational institutions.
Higher education

There is no denying the fact that e-learning has entirely changed the face of education industry. In comparison to the past, when they were required to choose standard courses, students today have a wider range of options concerning their academic interests. In fact, various tech-enabled courses have gained prominence in light of the advent of technological innovations and how widely they are being adopted by modern firms. As a result, higher educational institutes are largely focusing on equipping students with in-demand skill sets and making them future-ready.
Moreover, students now have a greater degree of control over multiple entry and exit points, allowing more learning opportunities and improved student mobility. In addition, students are also no longer merely passive participants in education because modern higher education institutions are placing a strong emphasis on engagement and active learning. And as we move forward, the focus of higher education is anticipated to shift majorly to practical learning backed by the right amount of theoretical knowledge needed by students to kickstart their professional careers.
(The author is Vice President, Lovely Professional University)