The great national outreach of Bharat Rashtra Samithi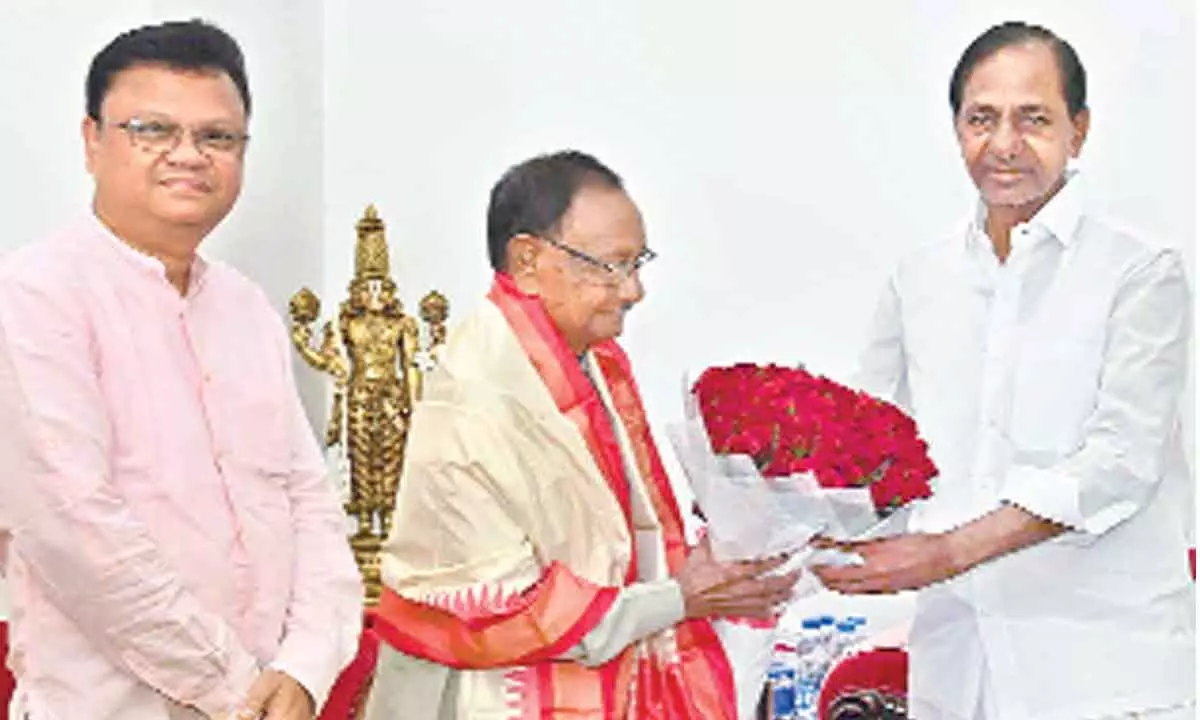 Highlights
BRS is holding its first meeting outside Telangana in Nanded today
With the joining of 79-year-old Giridhar Gamang, a veteran and seasoned Congress party leader, a onetime Chief Minister of Odisha and nine time Lok Sabha Member (until he joined BJP in 2015), along with his wife Hema Gamang also a onetime Lok Sabha Member in Bharat Rashtra Samithi, BRS president and Chief Minister K Chandrashekhar Rao's national outreach received a boost. KCR also formally welcomed more than fifty prominent former MPs, MLAs, union leaders, kisan leaders, intellectuals, political and social activists from Odisha, including Giridhar Gamang's two sons, on January 27at the BRS Hyderabad Headquarters, heralding more such surprises in Indian politics shortly.

This important political development will certainly have an effect not only on Odisha politics but also on national politics. Speaking on this occasion KCR once again reminded, reiterated and reinforced that the BRS party was formed with the main objective of transforming the future of India by bringing a qualitative change in the thought process and ideology of the people. BRS supporters enthusiastically felt that there is a great chance of expanding BRS party in Odisha where BJP is struggling to gain a foothold.
Stimulating the memory of those who were present at the BRS headquarters, who came en masse in large numbers all the way from Bhubaneshwar, as well as lakhs of others, who watched him live on TV, KCR declared that if the party wins the 2024 Lok Sabha elections, the BRS will ensure uninterrupted 24 hours quality electricity supply across the country within two years including free supply to farmers, ensure implementation of Kisan Bandhu across the country on the lines of Rythu Bandhu, extend financial support under Dalit Bandhu to 25 lakh families every year across the country, provide irrigation water to 83 crore acres of cultivable land etc. He also promised to launch projects such as Mission Bhagiratha to deliver treated water to every household in the country in five years.
KCR was extremely critical of governments at the centre for their failure and inability to progress the country and to meet the aspirations of its people, denying basic needs such as water for drinking and irrigation, power and healthcare among others even after 75 years of Independence, despite the country is blessed with abundant resources.
Citing the example of a younger State like Telangana that has recorded tremendous development due to sheer commitment of BRS government, KCR questioned when it was possible in Telangana, why not in other states. It's not wealth but commitment that is required for development said KCR. 'It does not require Dhan (Money) but Mann (big thought) is enough' to address problems pending in the country quipped KCR.
Quoting the instance of doling out the country's wealth to business tycoons like Adani and Ambani and promoting them indiscriminately, KCR criticised that catering to the basic needs of vulnerable sections is given up by the BJP government. He took objection for the centre's policy of nationalisation of losses and privatisation of profits. KCR further emphasised the need for farmers coming together across the country to realise his desire of 'Ab ki Baar, Kisan Sarkar' to dictate the terms to the ruling parties. KCR said that many governments and many leaders ruled the country but the condition of the farmers and the poor remained the same. He assured that BRS party would create a platform for farmers to elect MLAs and MPs and go to the Legislative bodies to have a say in decision making process.
Ridiculing the state of affairs prevailing in India, KCR said that, people in India still want their children to go abroad for jobs and make a good earning and living. This brain drain is hindering the progress. He said, it is disgusting that, Indians are celebrating if any of their family members gets a USA green card. Why are we celebrating like this despite India is credited with abundant resources more than America, China and any other country in the world, questioned KCR.
Strongly accusing the governments hitherto in power and particularly in the centre, and holding them responsible for the unpleasant plight of the people, BRS Chief KCR said that, political parties and leaders are bothered only about winning elections by any means. He said that it's the parties which are winning instead of people. To bring electoral revolution in the country, to combat this state of affairs and make people win elections, BRS has been launched, divulged KCR. In the name of caste and religion, some political parties are creating disharmony between people and are being divided, criticised KCR. He stressed the need for a drastic change in the approach of Indian politics.
The drive for justice gained impetus with considerable pace in the following days. A day after expressing deep concern over the deteriorating conditions in the country arising out of Centre's faulty policies, KCR presiding over BRS Parliament Members at Pragathi Bhavan on the eve of Union Budget Session, directed the party's MPs to expose its anti-people and faulty economic policies in both Houses of Parliament enlisting the support of likeminded parties.
KCR strongly felt that the methods adopted by Modi's BJP government as well as the 'inefficient rule' and 'perilous policies,' have become obstacles and threat to national integrity and development. The meeting expressed serious concern over the situation in the country that is deteriorating day by day due to the wrong policies adopted by the NDA government. He was referring to the attempts of Centre to handover people's hard-earned savings to its friendly corporates.
Citing the examples of several problems, KCR referred to, increase in prices of petrol, diesel, cooking gas and other essentials; insensitive towards the poor and burdening them with fresh taxes and inflation; increase in unemployment; privatization of public sector units etc. CM advised the MPs to utilize all possible democratic means to stop the Centre's undemocratic decisions. Accordingly, the Members followed the advice.
One of the most important issues CM KCR wanted the MPs to raise their voice was, Centre's attitude of undermining the spirit of Cooperative Federalism and specifically abusing the Governor's office to weaken States. Instead of acting as pious bridge between Centre and States adhering to constitutional duties and obligations conferred, Governors are being used for politically motivated actions against States told KCR to MPs.
He was critical of Governors not honoring decisions taken by the Cabinet, Legislative Assembly and Council, and are keeping even the bills passed by Legislature pending inordinately for no specific reason. He directed MPs to force the Centre to tell the nation the reason behind creating financial and other obstacles to Telangana, which is running on the path of progress and to make the Centre table the matter in Parliament.
Thus, the Bharat Rashtra Samithi (BRS) parliamentary party meeting has expressed serious concern over the degrading situation in the country due to the anti-people policies being followed by the Bharatiya Janata Party (BJP) government at the Centre and has decided to strongly oppose the Centre's policies and its attempts to trouble non-BJP State governments and to fight together with likeminded parties for justice.
In tune with the essence and directive in the BRS Parliamentary Party Meeting, Party MPs abstained from attending the address of Rashtrapathi Droupadi Murmu to the joint sitting of both Houses of Parliament on Tuesday, the January 31. AAP also did the same. As expected, the Union Budget presented turned out to be highly disappointing and BRS was critical of it. BRS MPs also demanded a JPC or inquiry by Supreme Court Chief Justice on the Hindenburg Report on Adani.
Meanwhile, in a significant development, Governor of Telangana addressed Joint Session of State Assembly and Council, highlighting the Government's inclusive and comprehensive growth of the state and how it is progressing in a phenomenal manner on every front, making it a Role Model for the entire Country. Governor said that the extraordinary success of the state is due to blessings of the people, skilful administration by CM KCR, hard work of peoples' representatives and dedication shown by the Government Employees. Governor also referred to discussion on Telangana Model across the Country.
Against this background, and after its highly successful, mammoth and maiden public meeting in Khammam on January 18, 2023, BRS is scheduled to hold its second meeting in Nanded in Maharashtra. This is the first meeting organised by the BRS outside Telangana for a further National Outreach. Nanded city, known to be a Karma Bhoomi, was the birthplace of three Maratha poet-saints, Vishnu Pant Shesa, Raghunath Shesa, and Vaman Pandit.
They are familiar for their message of Friendship, Equality and Harmony. The city is also known as a centre of Sanskrit Learning. Guru Gobind Singh the Tenth and Last Sikh Guru, a spiritual master, warrior, poet and philosopher spent his last days in Nanded and passed his Guru Ship to the Sacred Text Guru Granth Sahib before his death there in 1708. A Sikh Gurdwara (Temple and Kitchen) is built on the site where Guru Gobind Singh was assassinated. Nanded is home to Swami Ramanand Teertha Marathwada University.
(The writer is CPRO to Chief Minister, Telangana)