Need to prepare for another potential variant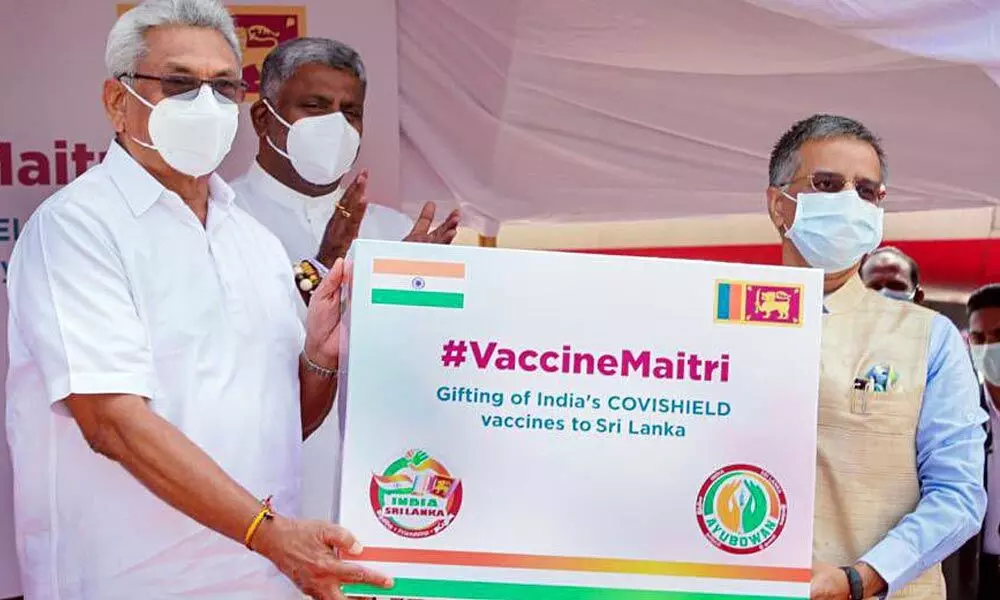 Highlights
Given the unprecedented times of increased militarisation and polarising politics, we are witnessing a rise in informal socio-political blocs again
Given the unprecedented times of increased militarisation and polarising politics, we are witnessing a rise in informal socio-political blocs again. This has led to the rise in new variants of diplomacy. However, coming into 2021, one remarkable variant caught the world's attention, a variant centred around the objective of tackling the Covid19 Pandemic – Vaccine Diplomacy.

As we come to the penultimate stage of this pandemic, companies and governments have found themselves in a rut due to strain in budgeting and availability of the various vaccines being manufactured.
Due to such concerns, wealthy nations of the West and the Middle East looked to gain premium and immediate access to the first few batches of vaccines developed by Pfizer-BioNTech, AstraZeneca-Oxford, Serum Institute of India and Sinopharm. So, as a pivotal hub for vaccine production and pharmaceutical innovation, this was an enticing opportunity for India to further bolster her ties and broaden her horizons in this multi-polar world. And much to India's credit, we did take this opportunity.
In spite of the massive competition from foreign companies and nations, India has shipped a total of 22.9 million doses of 'Made in India' vaccines to over 20 nations worldwide, with 70 more nations lined up.
This initiative was appropriately named "Vaccine Maitri" by the Indian government. The Secretary General of United Nations Antonio Guterres and the Secretary of State of the newly formed US Govt Antony Blinken were two notable officials who highlighted India's role in democratising the global vaccination programme by providing generic access to both developed and developing nations alike.
"Democratising'' and "Generic Access" being two keywords here as various small nations found this vaccine race exclusive and difficult to partake in as their small sizes and lack of resources would get them placed lower and lower on the priority list by vaccine-producing pharmaceutical companies and vaccine-providing nations due to the lack of profitability and diplomatic significance, respectively. Prime Minister Roosevelt Skerrit of the Caribbean nation of Dominica, admitted that his small nation of just 72,000 people, did not see any chances of getting vaccines immediately until India stepped in to help.
India also bolstered its 'Neighbourhood First' policy by helping fellow SAARC nations with vaccine production and logistics. This is right after India took initiative to establish a SAARC COVID-19 fund with the help of all member nations. This can bring some positivity and energy to an otherwise lethargic and disjointed SAARC community.
So, with this development observed, it begs the question - what other objective-based variants of diplomacy could potentially arise? I believe there will come about a variant of diplomacy that's solely focused on tackling the inevitable and ongoing threat of climate change by harnessing green energy and the concept of sustainable development. To put this in practice would mean that nations with an established or upcoming model of sustainable development can set an example for other developed nations to follow while helping cash strapped developing nations get up to speed with their usage of green energy and efficiency in their waste management.
This will boost diplomatic relations between nations of the world which in turn would help us tackle climate change as one united earth. India has the potential to help kickstart or supplement this possible diplomatic phenomenon surrounding green energy and climate change. So, to prepare for this gargantuan initiative, we need to upgrade our waste management systems while bolstering our green energy infrastructure as they are integral to establishing a healthy and ambitious Circular Economy.
Once we establish an efficient and replenishable economy, we can show the world how to make that much needed leap in the field of sustainable development. We have a good foundation to back our ambition given India's innovative leadership within the International Solar Alliance.
So, having learnt from the struggle and conflict during this pandemic and the vaccine race, we must lay the groundwork to establish a fair and humanitarian path forward so that we do not struggle in another environmental or medical crisis in the foreseeable future.
(The author is pursuing BA (Hons) in History and International Relations at IILM University, Gurugram)