Nation anxiously waiting for a true leader to helm it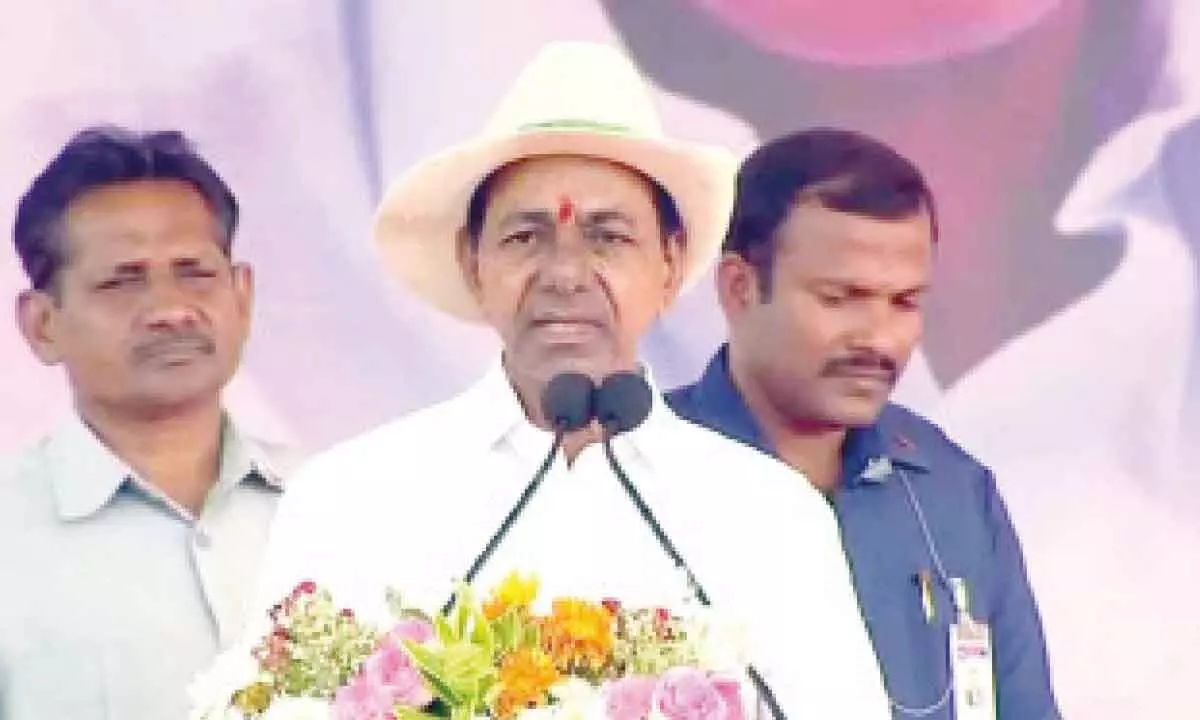 Highlights
People are waiting for a true leader and a party at the national level, BRS chief and Telangana CM K Chandrashekar Rao said and assured the BRS would step in to safeguard India. Prakash Ambedkar, Dr BR Ambedkar's grandson and a former MP, said that there is no national leader of stature in the country after Atal Bihari Vajpayee, and hinted at KCR filling the gap. He urged that KCR make an expeditious and active entry into national politics
Bharat Rashtra Samithi president and Telangana Chief Minister K Chandrashekar Rao on this year's Dawat-e-Iftar organised by the State government as part of Ramzan festival's annual feature, at Lal Bahadur Stadium in Hyderabad, on April 12, 2023, said that the BRS was all set to get an 'overwhelming response' from a cross-section of people in Maharashtra, and also across the country, adding strength to his decision to lead national politics to bring about a 'qualitative change' in governance.

KCR's steadfast commitment to lead the nation in the right direction and to fight for it relentlessly has been evidently exhibited in his announcement. Two days later, on April 14, 2023, unveiling 125-foot Ambedkar statue in Hyderabad, which is now home to the world's tallest statue of Ambedkar, KCR declared that if that is how it is in Maharashtra now, tomorrow the same will happen in Uttar Pradesh, Bihar and west Bengal as well as in the rest of the country, and the next Union government would be formed by the BRS. "Do not be shocked. The sparks have been lit in Maharashtra, where my party is receiving an overwhelming response. Soon, BRS' popularity will spread like wildfire across India," said KCR.
Experienced political analysts all over the country, who heard him on national media, are scientifically and curiously analysing the foreseeing feature in KCR's intention in his speeches on both occasions. Honestly, a good number of them, are voicing the view that a profound change in the direction of a right leader and right party at center looks like inevitable.
Reiterating that, the retrograde thinking of Prime Minister Narendra Modi-led government at the Centre, dragged the country in reverse several decades, in an emotion-filled statement, KCR categorically declared that he would fight till the last drop of his blood to save the country without compromising on its unity and integrity. He said that, "we will die but the country remains immortal." And hence, the need for the right leader and right party to lead the nation as the country is anxiously waiting for the same and the BRS will move forward to safeguard India. "This means that people are waiting for a true leader and a party at the national level. Inshallah (God willing), we shall achieve success and save this country," KCR said. According to KCR, that, though opposition parties and rivals might not digest this, one spark was enough to ignite a fire.
Comparing the progress of the newest state of Telangana with that of Center, KCR referred to the GDP of the state and said that it would have been Rs 3-4 lakh crore more than what it is now had the BJP followed the Telangana model of development. Among others, the Telangana development includes State's per capita income touching Rs 3.08 lakh, the per capita power consumption reaching 2,140 units and paddy cultivation accounting for a record 56.40 lakh acres. KCR promised that he would work to transform India on the lines of Telangana.
Being confident and exuberant of triumphantly overcoming the sheer temporary phase of difficult time that the country is passing through, KCR underscored the need for unity of people for working towards finding solutions to issues. Like his fulfilling the dream of Statehood for Telangana, against all odds, one day, India will also be saved at any cost, come what may, emphatically declared KCR. "God willing, we will get several victories in the future. We will strive to save this country given any circumstances."
KCR made it very clear that he wanted to save this country not with anger but with thought and democratic means. He however, cautioned the people against the evil designs of the BJP, notwithstanding the fact that no one could destroy the Ganga-Jamuni Tehzeeb of the country because India is known for its communal harmony and this country belonged to everyone. 'Those who try to change history will ultimately perish. Trust me, justice will ultimately prevail. "Allah Ke Ghar der Hai, Andher Nahi (meaning that Justice may be delayed, but not denied in God's abode)" said KCR confidently.
Reiterating his unequivocal assurance more emphatically, enthusiastically, and explicitly, without mincing words, addressing an impressive gathering, and in the midst of a festive atmosphere, after unveiling the 125-ft Ambedkar Statue in Hyderabad, which was designed to be a naturalistic image of Ambedkar dressed in his trademark attire, holding a copy of the Constitution in his left hand and pointing to the way forward with the right hand, KCR declared that, undoubtedly, after the 2024 Parliament Elections, it will be 'Our Rule' in India. "It is not a statement of overconfidence, but that of self-confidence. It requires supreme confidence to make such a statement and it shall be a certainty. The BRS is going to form the government at the Centre. The next government shall be ours, ours and ours" asserted KCR.
Thus, exuding confidence of forming the government at the Centre by the Bharat Rashtra Samithi, KCR declared that, when once that happens, the Dalit Bandhu which had been extended to over 50,000 Dalit families in Telangana and another 1.24 lakh Dalits likely to be benefitted by next year, would then be extended to 25 lakh families a year across the country. KCR further said that, "Political parties winning or losing an election is a general phenomenon, but people should win and their interests have to be protected" and BRS is meant for it.
BRS chief KCR also made it clear that the aspirations of Ambedkar, which are still very much relevant and which are yet to be fulfilled, BRS and people who follow its ideology, would take it as a committed responsibility to fulfil his dreams. All efforts would be made to streamline affairs in the country, following Ambedkar's principles. He described the towering statue of Ambedkar, as 'a revolution and a source of inspiration' and as a motivation for future generations. Hailing Ambedkar as a universal person, KCR said "across the globe, his ideals are relevant for all oppressed people." Ambedkar was a political liberal who supported the values of liberty, equality, and fraternity, said KCR, and emphasized the importance of implementing an action plan to fulfil his vision and ideal of creating a society based on these values.
As a mark of high regard and reverence and to acknowledge the unparalleled service of Bharat Ratna Bhimrao Ramji Ambedkar, the Indian jurist, economist, social reformer, and political leader as well as the architect of Constitution of India, Chief Minister KCR on Ambedkar's 132 birth anniversary announced the institution of 'Dr BR Ambedkar Award', which would be conferred to eminent personalities in recognition of their services in different fields. Rs 51 crore would be deposited for this purpose, and the Rs 3 crore interest caused through the deposit, would be made use of, for the annual award. KCR criticized that several governments were in power in the past, but did precious little for the empowerment of Dalit communities and the entire credit for their upliftment goes to BRS. Dr BR Ambedkar's grandson, a former MP, Prakash Ambedkar, who was present at the statue unveiling program as a special chief guest, making a statement, said that, there was no national leader of stature in the country after Atal Bihari Vajpayee, and hinted at KCR filling the gap and for that KCR should make an expeditious and active entry into national politics. He also expressed the hope that, when this happens, KCR would replicate the Telangana development model across the nation. Prakash Ambedkar also advised to focus on the economic empowerment of people and to fight to establish human values in the country. Terming Dalit Bandhu as a revolutionary economic experiment in the country, he said, there would be a sea change in the lives of Dalits with it and KCR showed the way to the country.
Meanwhile, following the success of Nanded and Kandhar Loha public meetings, BRS is totally geared up for yet another historic next public meeting on April 24, 2023 in Maharashtra in Aurangabad for which preparations are made on a large scale to accommodate a large and impressive gathering that is expected to attend. On the eve of this and also on almost every day, many political leaders of prominence are joining BRS in the presence of the BRS chief.
(The writer is Chief Public Relations Officer to Telangana Chief Minister)