Khammam Platform to launch BRS National Agenda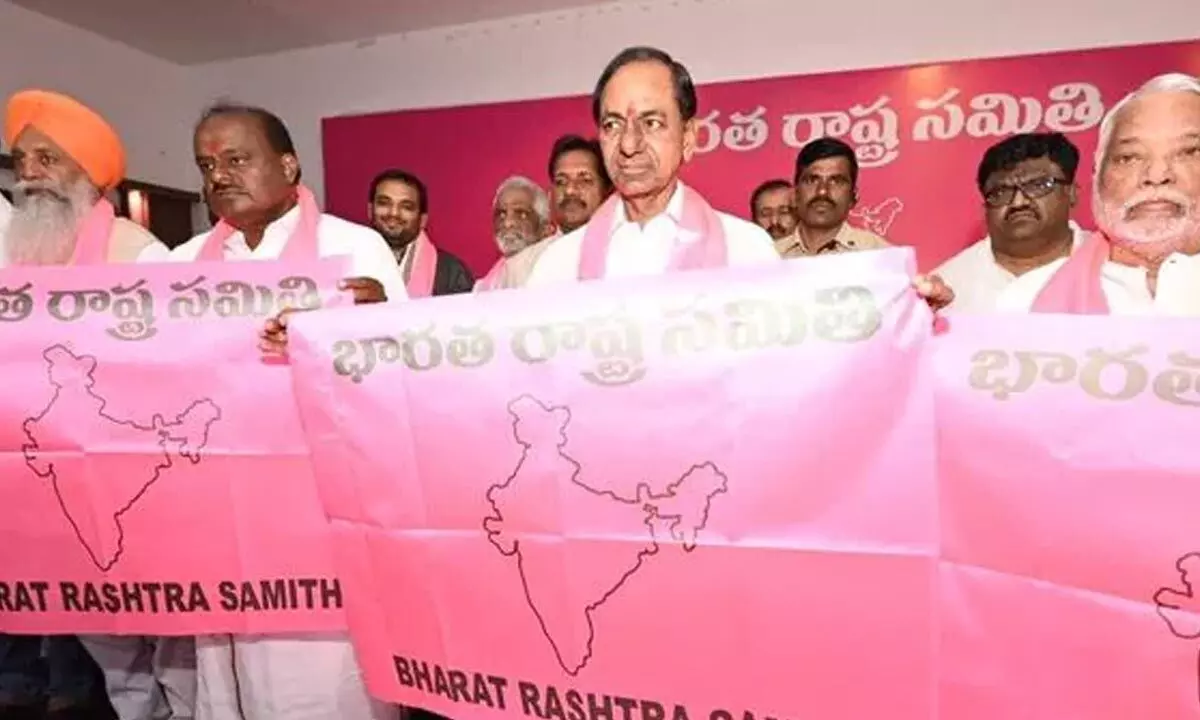 Highlights
Aiming at providing better governance, the prestigious Integrated Collectorate Complex in Khammam is being inaugurated by Chief Minister K Chandrashekhar Rao on January 18, 2023
Aiming at providing better governance, the prestigious Integrated Collectorate Complex in Khammam is being inaugurated by Chief Minister K Chandrashekhar Rao on January 18, 2023. This will be followed by a mammoth public meeting of Bharat Rashtra Samithi(BRS), the first ever after its launch on December 9, 2022, to be attended by a galaxy of non-BJP leaders that include Chief Ministers, to express solidarity to BRS President KCR in his efforts to accomplish a BJP Mukt Bharat.
Khammam District for decades is known for its political consciousness and revolutionary image as well as a base for several movements, be it the Telangana armed struggle against Nizam or the first phase of separate Telangana statehood agitation. Being a native of this district and born in a remote village 75 years ago and brought up here, the fond memories both political and non-political come to my mind on this historical occasion. These especially include, the welfare and development programs launched and implemented after KCR became the first Chief Minister of Telangana.
Khammam was named so after the most popular and famous temple adorned in the midst of the town known as 'Stambadri Laxmi Nrusimha Swamy' which is visited by devotees in large numbers every day. 'Stamba' (Huge Pillar) is known in Urdu as 'Khambha' and thus the name was derived in due course. According to the ancient narrations, the town was known as 'Salagramadri' in Kritayuga, 'Naraharigiri' in Tretayuga, 'Sthambasikhari' in Dwaparayuga and 'Stambadri' in Kaliyuga.
Soon after the first Salar Jung assumed offices Prime Minister in 1865, as part of strengthening administrative system, and part of administrative reforms, Khammam was made as district headquarters in those days itself. The present Warangal district as a Taluk was part of Khammam district then. By the beginning of 20th century, Khammam district was changed to give place to Warangal district. Khammam which was an integral part of Warangal was again made as a separate district on October 1, 1953. Soon after formation of Telangana state and as part of administrative reforms and also districts reorganisation enhancing number of districts, Khammam was reorganised in to two, the Khammam and Bhadradri-Kothagudem districts.
It is matter of pride for one and all to designate Khammam as a synonym for cultural renaissance, political consciousness, progressive ideas, educational outreach, excellence in business, commercial, agricultural sectors, scientific spirit etc. Undivided Communist Party great stalwarts and luminaries like Chirravuri Laxmi Narasaiah, Sarvadevabhatla Ramanadham, Manchikanti Ramkishen Rao, Ravella Satyanarayana, KL Narasimha Rao, Bode Pudi Venkateshwara Rao, Nallamala Giriprasad, TB Vithal Rao, Puvvada Nageswara Rao, Mohammad Rajab Ali, Parsa Satyanarayana etc. are from Khammam District. An one-time MLA elected from Madhira and played key role in erstwhile state politics Bommakanti Satyanarayana Rao was from this district.
An all-time famous literary, cultural, social and political person Madapati Hanumanth Rao was born in Errupalem of Madhira Taluka. Erstwhile political figure Madapati Ramachandra Rao was also from Khammam district. One-time former Chief Minister and union minister Jalagam Vengal Rao and Minister Seelam Siddareddy were from Khammam District. Former Minister in first Cabinet of KCR Tummala Nageswara Rao and present Cabinet Minister Puvvada Ajay Kumar are from this district. State leaders of both the Communist Parties Tammineni Veerabhadram and Kunamneni Sambasiva Rao are from Khammam and Bhadradri-Kothagudem Districts. The first ever civil liberty movement in India was originated from Khammam thanks to former Rajya Sabha Member Dr Yalamanchili Radha Krishna Murthy and advocates Radhakrishna and Subba Rao who settled in Khammam district.
Six-footer and an attractive personality in his Khadi attire, Sardar Jamalapuram Keshav Rao, who fought against Nizam was from Khammam district. Hiralal Moria a great poet in Urdu and Telugu, whose ancestors were from Uttar Pradesh, and a contemporary of Daasarathi, Kavi Raja Murthy and Kolipaka Madhusudan Rao, was born here. He participated in freedom struggle and also translated Ramayana in to Urdu. Great poet Ravella Venkat Rama Rao, Pandit Rudra Dev and Shoyabulla Khan were from this district. Daasarathi who voiced against Nizam and said that, 'My Telangana is a crore Jewel of Musical instrument Veena' and his brother are from Khammam.
The first phase of separate Telangana statehood movement was originated in 1968 from the undivided Khammam District. It turned active and a student leader Rabindranath undertook fast unto death at Gandhi Chowk in Khammam Town. Later it was history that Dr Channa Reddy led it heading Telangana Praja Samithi (TPS) and even won 11 Lok Sabha Seats in the 1971 elections. Later the second phase of movement in Gandhian way was led by KCR and it resulted in achieving separate Telangana State on 2nd June, 2014 and KCR becoming the first Chief Minister of the new state.
A brief chronology of events if we recollect reveal, that, KCR who decided to undertake fast unto death demanding formation of Telangana State, left the Telangana Bhavan in Karim Nagar to proceed to venue of fasting near Siddipet at Ranga Dham Pally on November 29, 2009. Instantly the Police rounded up KCR vehicle preventing him to move further. He was made to get down from the vehicle. KCR when resorted to Dharna on the road, was taken to custody and moved in the vehicle to Khammam Jail where he commenced the proposed fast unto death. Ultimately this triggered announcement of process of formation of Telangana by the then Union Home Minister Chidambaram. However, it was delayed and took another five years for the actual formation. This was concurrent history and, in this Khammam, had its important place in the history.
Nela Kondapalli the birth place of Kancharla Gopanna popularly known as Bhakta Ramadas as well as a center for great Buddha Stupa is in Khammam district. With Rs 3 Crores funds released by CM KCR an extraordinary Dhyana Mandir is coming up there. Bhadrachalam replica Sitarama Temple is in Muttaram village of Mudigonda Mandal, which was visited by CM KCR and sanctioned funds for constructing Kalyan Mandapam and Dhyana Mandir.
Khammam which had only one government school has many now. There was only one Government college once known as SR & BGNR College built with the donation of Gentela Narayana Rao. There was only one women's college. But now many colleges. Once there was hardly any qualified doctor in Khammam, whereas now there are number of Government and private hospitals including specialty, super specialty and multi-specialty, rural and Basti davakhanas. Besides private medical college, recently KCR sanctioned a government medical college for Khammam.
But the actual and unprecedented development took place in Khammam during the past eight and half years, that is, after KCR became Chief Minister of the new state on June 2, 2014. For instance and to mention some of these: Lakaram Tank Bund, cable bridge, musical fountain; model colonies with complete facilities; construction of double bed room houses as a gated community; Dhvamsalapuram fly-over bridge construction; mother and child welfare center in district government hospital; IT Hub, Telangana skill and Knowledge Center (TASK); modern bus stand in Khammam town; new medical college; new municipal corporation office; veg and non-veg market; Rythu bazar; central High Mast lighting; Hindu funeral ground; new Shadikhana; community halls; new parks; integrated new collectorate complex; 107 rural davakhanas; 7 Basti davakhanas; Telangana Diagnostic Hub; Cath Lab in government hospital; mother milk bank; MLA camp offices; godowns; Sitarama Lift Irrigation Scheme etc. and many more.
Against this background, it is a matter of great pride for the entire Khammam district and its people, that, the first ever mammoth Bharat Rashtra Samithi Public meeting is being held in Khammam which is known for its political consciousness and past history of many a movement and it is from here KCR deciding to take a lead role in national politics. In all probabilities, KCR as BRS President may come out with his National Development and Welfare Agenda through this public meeting and may formally launch the same. Thus, Khammam becomes the historical town for the first step to be put by KCR towards qualitative change in National Politics and with support from people bring BRS into power at the center. It is also great pride for Khammam, that, several non-BJP Chief Ministers are likely to attend the mammoth public meeting adding quality strength to it.