KCR proves confidence & fortitude lead to success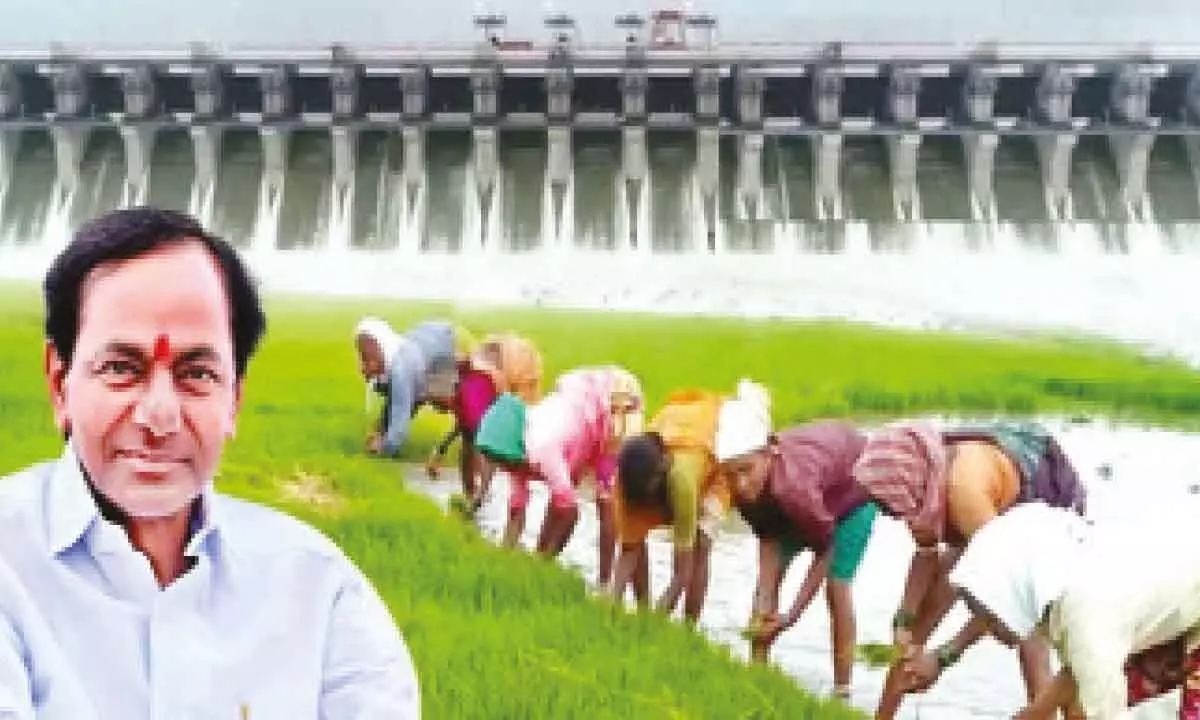 Highlights
Aims at more than 100 seats for a hat-trick as CM
In tune with the quotation that, "Your success will be determined by your own confidence and fortitude," Bharat Rashtra Samithi (BRS) president and Chief Minister Telangana, K Chandrashekar Rao, emphatically declared that the party will do exceedingly well in the forthcoming State Assembly Elections with a thumping majority, by winning more than 100 seats, and shall retain power for a consecutive third term and achieve a hat-trick. With an equivalent confidence KCR professed that the slogan 'Ab Ki Baar Kisan Sarkar' shall put the nation on the path of development and progress and BRS would emerge as a torch-bearer for the entire country.

KCR, however, guardedly advised his party men to involve with dedication in 'Palle Nidra' (sleepover or an overnight stay in a village) program, by interacting with the public and explaining the State government's schemes and how best people could benefit from each of them. Basthi and ward-wise review meetings in all constituencies shall supplement and complement the 'Palle Nidra'. KCR was addressing an extended meeting of BRS elected and nominated representatives on party formation day at Telangana Bhavan in Hyderabad on April 27, 2023, where he also highlighted government's achievements during the past nine years.
"Election should be not by chance, but by choice. In present-day's dynamic politics one need to put plans in place much in advance, rather right from today, and execute them on a continuous basis, to achieve success for tomorrow," KCR advised partymen. He made a mention about separate Telangana movement and reminisced the struggles and challenges faced, which had shown nation that anything can be achieved in Parliamentary method. He made it clear that BRS genesis was not about electoral wins, but essentially for improving quality of life by replicating Telangana's flagship schemes.
Qualitative change in the governance; scrapping Centre's 'undemocratic' policies in the country, nation-wide water utilization strategy; replicating Telangana Model of Dalit Bandhu; Census including one for BC population; Exclusive BC welfare ministry; Farmer-friendly governance across the nation; Power policy enabling 24x7 quality power supply to farming community, domestic and other sectors; Rythu Bandhu and Rythu Bhima; Road infrastructure; linking of agriculture with MNREGA etc., were the important subjects on which resolutions were passed.
These resolutions are reflections of development of Telangana, which to the surprise of entire nation and even abroad in some instances, that, in a short span of time the state achieved rapid progress in several sectors. A special mention about Dalit Bandhu that, "It is not a mere investment in an individual but a social investment, aimed at increase in the wealth of the society as a spinoff economy, the potential secondary economic effects. In fact, this needs to be taken up as a research project by students of social sciences not only of Indian universities but also universities like Harvard and Stanford, is the inference."
Four days later on April 30, 2023, inaugurating the grandeur and the pride of Telangana, with state-of-the-art facilities, the six floors Dr BR Ambedkar Telangana State Secretariat, KCR said that, the unparalleled, phenomenal growth and development that the Telangana State witnessed during last 9 years, in various sectors, as a 'Telangana Role Model', symbolises 'Reconstruction' of Telangana. He said that, the time had come to reply to all the 'political dwarfs' who did not understand the concept and evolution of 'Telangana Reconstruction.' Telangana State delivered a unique and first of its kind welfare and development government and had set an example for the entire nation to emulate said KCR.
KCR enlightened on the concept of Telangana reconstruction which meant umpteen. The rejuvenation of Kakatiya period water bodies, ponds, and lakes; Construction of Kaleshwaram world's largest multi-stage lift irrigation project; Reservoirs and several check dams across the State brimming with water always; Lakhs of acres of irrigated lands; Green revolution with paddy cultivation; Power surplus, and increased per capita power consumption; Reverse migration of people; Rapid growth in Information Technology; Absence of communal unrest; Safety and security for women; Growth of towns and villages including Hyderabad; Huge statue of Dr Ambedkar; Specialty and super specialty government hospitals; Rythu Bandhu, Rythu Bhima; Dalit Bandhu; Yadadri temple etc., are only few examples of reconstruction cited.
Added to all these, the new Secretariat building is a standing testimony to epitomize the revival, rejuvenation and reconstruction of Telangana, its pride and self-esteem. "Political dwarfs who mocked at us are unaware of this 'Grandeur Reconstruction' of Telangana," said KCR. State has the highest and stunning growth of per capita income in the country at Rs 3.17 lakh and highest per capita power consumption of 2,140 units besides increase in the GST revenue, flowing of investments into the state etc.
In continuation of this and pursuing his active role in National Politics, KCR, had a discussion in Telangana Bhavan with the Maharashtra delegation of political leaders on the party's plan of action for strengthening the organizational network in 288 assembly constituencies. Indications are that BRS would not have any tie up with any political party. He also discussed about setting up of offices in Mumbai, Nagpur, Aurangabad, and Pune in the first phase. From May 5 to June 5, Village level party committees would be formed in addition to Farmer, Student, Youth, Women, SC, ST and OBC committees. These will campaign about the Telangana model, covering at least five villages a day, explaining all the flagship schemes of the State that are attracting and appealing to them.
Proceeding with his distinct attention in Maharashtra politics, KCR continued to welcome senior leaders from the state in to BRS, almost on a day-to-day basis. He moved forward with Strategic planning, defining his vision for the future and projected the party's goals and objectives. The process also included establishing the sequence in which these goals should be realized so that the BRS party can reach its stated vision, like the 'Qualitative Change' or 'Ab Ki Baar, Kisan Sarkar'. And accordingly, he said that, the organizational structure of the party would be given its shape on mission mode. Training Programs are also mooted. Ultimately, The BRS will create a boom in Maharashtra, and after Telangana, Maharashtra gets a chance to turn the country around, a confident KCR declared.
In furtherance with his plans and strategy, BRS President KCR inaugurated BRS Party's National Headquarters Office Building at Vasant Vihar in New Delhi on May 4, 2023, heralding a beginning of a new era in Post Independence Indian political scenario, that is slated to revolutionise the future of the nation, while the entire world is anxiously watching the likely positive outcome. Eventually, the confidence and fortitude determine success.
(The writer is Chief Public Relations Officer to Chief Minister Telangana)