It's likely Congress or hung assembly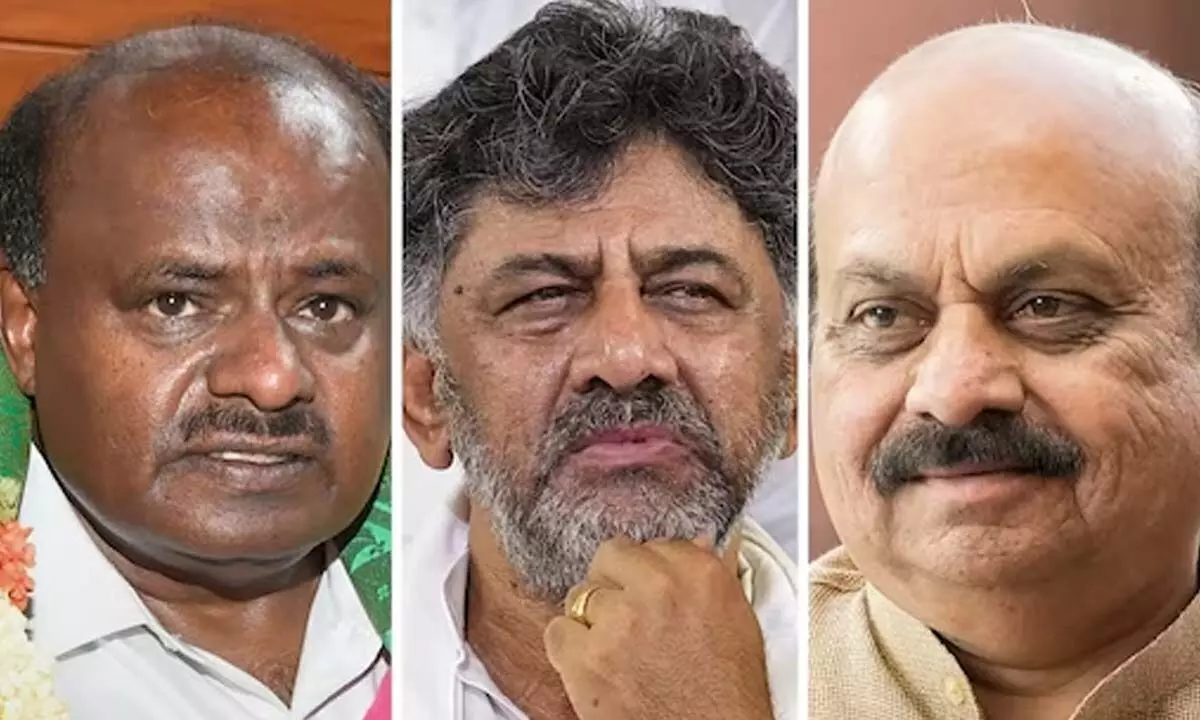 Highlights
As the Namma Karnataka campaign enters the final phase, this weekend will be witnessing a high voltage campaign in and around Bengaluru with Prime Minister Narendra Modi holding a mega roadshow of 36.6 km
As the Namma Karnataka campaign enters the final phase, this weekend will be witnessing a high voltage campaign in and around Bengaluru with Prime Minister Narendra Modi holding a mega roadshow of 36.6 km. Top Congress leaders Rahul Gandhi and Priyanka Gandhi are to address a joint meeting in Shivaji Nagar, which got its name after legendary Maratha king Shivaji who spent his time in Karnataka.
Karnataka polls have become the most prestigious fight for both the saffron party and the Congress. While the saffron party has been touting it as the gateway to south ahead of the 2024 Lok Sabha elections, the Congress party which has been on a losing wicket, election after election, took it as a major challenge and is leaving no stone and leaf unturned to come to power in Karnataka. It has become essential for the survival of the party as a majority of regional parties have started asserting themselves and the Congress has been losing its supremacy.
For a change, the Congress party has unleashed an aggressive campaign against BJP. Interestingly, Rahul Gandhi has been advised by his team to take on the BJP over local issues and make promises, and not resort to Modi bashing and his alleged links with Adani. Fortunately, Rahul has been talking more about the local conditions and making several promises. To what extent they would be fulfilled is something only time will tell. It is a known fact that all political parties make promises without making any prior exercise of their viability and feasibility, and once in the driver's seat, they work overtime to dilute them or avoid implementing them at all.
Top Congress leaders including Mallikarjun Kharge held 43 public rallies and over 13 road shows and six interactions with youth and women. Prime Minister Narendra Modi, too, has been visiting the state frequently and in the final phase will participate in 20 events. Union Minister for Home Amit Shah will attend 25 meetings. Shah is also expected to hold a series of meetings of party leaders across the State. Opposition leader Siddaramaiah will address 28 public rallies and D K Shivakumar will take part in 19 programmes. Taking lead will be former Chief Minister H D Kumaraswamy of JD(S) who will be seen in a whopping 50 to 60 events across the state.
With just three days to go for polls, despite tall claims being made by the incumbent BJP government, it appears the sand is slipping between fingers and two possibilities are staring at the people. It will be either Congress winning around 106 to 114 seats or a hung assembly. The required magic figure required for any party to form the government is 112. The BJP will have to contend with 74 to 84 seats. Its vote share is likely to be around 35 per cent as against 36.35 per cent in 2018. The Congress may get about 40 per cent vote share. Even the pre-poll surveys present a hazy picture. Two networks have given edge to BJP over Congress while two have predicted that Congress would come to power. Some others predicted it would be a hung assembly and JD(S) will play the king-maker's role.
The overall impression is that JD(S) may with some difficulty retain its seats. It may win around 28 to 30 seats. Despite the support it is getting from BRS, the party is unlikely to improve its tally significantly, pollsters say.
Congress is expected to gain over 25 to 30 seats this time. But if it comes to power, it will not be an easy task for the party to decide on the Chief Minister candidate as D K Shivakumar is also in the race. It remains to be seen whether the AICC would prefer Siddiramaiah or Shivakumar and what would be the after- effects of its decision. In such an eventuality, the BJP may not hesitate to poach the dissident leaders which could push Karnataka politics into a state of confusion.
Congress party seems to be having an advantage in central Karnataka where it may gain 5 per cent vote share while BJP may lose 7 per cent vote share. JD(S) will stay where it is. The BJP may lose about 10 seats here as compared to last time. These seats would go the Congress way. In coastal Karnataka, the stronghold of Congress, the JD(S) is likely to make gains from 6 per cent vote share in the last election to 10 per cent this time. But it won't translate into any seat for the party. Here, too, the BJP vote share is likely to suffer a dent and it may get about 47 seats as against 51 last time. The BJP loss will be the Congress gain.
In Bengaluru, the BJP is expected to better its tally and win 13 of 32 seats, while Congress is likely to win 17. The JDS is predicted to win 2 seats, two less than what it had won in 2018.
In the Hyderabad-Karnataka region, which has 31 seats and has high political stakes particularly for the BRS, Congress is likely to improve its tally from 15 in 2018 to over 21 seats this time, while BJP may lose about two seats as against 10 in last election. The JD(S), as per predictions, will not get any seat here.
Even in the Mumbai-Karnataka region which has 50 seats, Congress seems to be in advantageous position. The key issues that will play a major role this time are unemployment, poor infrastructural development, lack of proper educational facilities and corruption.
The Udupi assembly constituency has been identified as a seat with a strong BJP presence, but some recent surveys suggest that it could be a swing seat. Billavas form the majority of the electorate in this constituency, followed by Bunts and Mogaveeras (fishermen). Both Congress and BJP have fielded Mogaveera candidates this time, and it is expected to be a two-way battle between the two parties.
Lingayats in Varuna constituency, according to ground reports, are leaning more towards Congress party. Siddaramaiah is likely to win the seat but Somanna enjoys the support of both Vokkaligas and Lingayats communities. It would be interesting to see whether Somanna can make a dent into Siddaramaiah bastion.
The land of toys, Channapatna is a stronghold of Vokkaliga community who are traditionally known to support JD(S) and its leader H D Kumaraswamy who has been winning the seat from 2004. But this time, it is likely to be a prestige battle as he is facing stiff competition from the former tourism minister from BJP, C P Yogeshwara, who has mass appeal.
Another key seat is that of Shiggaon which traditionally is a stronghold of the BJP. The constituency has a significant population of Lingayat community voters, who had supported the BJP. Chief Minister Basavaraj Bommai is contesting from this seat. Bommai is seeking re-election for the fourth term. Reports indicate that his image has taken a dent this time and there are allegations of mismanagement and corruption.
Similarly, Shikaripura is an important seat held by former CM and Lingayat strongman BS Yediyurappa. But this time, he has announced his retirement and his son B Y Vijayendra is in fray. Chikmagalur has been represented by the BJP multiple terms. The constituency has a significant population of Gowda community voters, who have traditionally supported the BJP. BJP's firebrand national secretary CT Ravi is contesting from this seat. He is one of the prominent faces of the party in Karnataka who has risen through the ranks to become the national general secretary. This was Congress bastion till 2004. Lingayats, too, are a strong presence here and have about 40,000 voters.
A quick analysis shows that the main battle is going to be between BJP and Congress, and it may not give expected results for JD(S). The BRS has been pinning high hopes on JD(S) getting a significant number of seats so that it would help in its foray into national politics.