Historic Khammam BRS meet lays out KCR's vision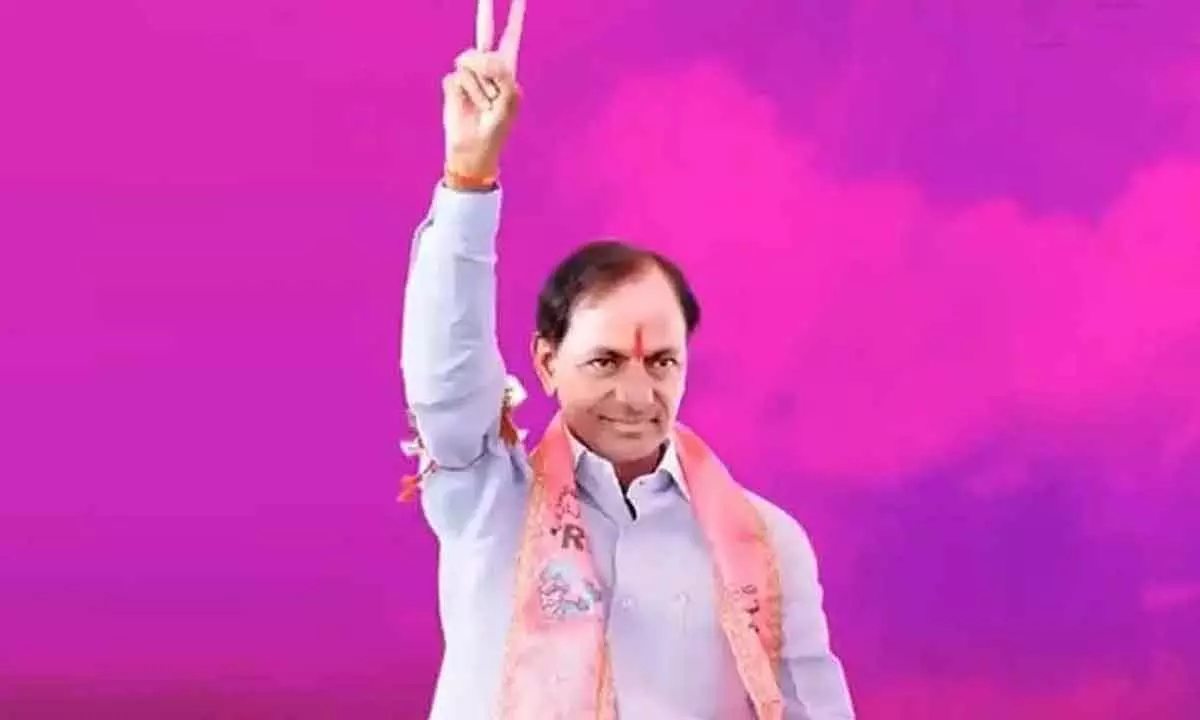 Highlights
BRS supreme broadly spells the national agenda of his party
Three distinctly significant and path-breaking public meetings recently addressed by Bharat Rashtra Samithi (BRS) President and Telangana Chief Minister K Chandrashekar Rao, two on January 12 in Mahaboobabad and Kothagudem, and one in Khammam on January 18, explicitly and implicitly delineated his and BRS broad vision, that would ultimately form part of BRS national development and welfare agenda. In fact, in Khammam meeting, KCR hinted that around 150 retired bureaucrats and experts from different fields had been working on the full draft agenda. In his profoundly loaded speech in these meetings, each and every point KCR made, there was an underscored message in it. KCR also declared that BRS' journey would continue with like-minded parties, especially with the Communist parties, in the future, to take forward the national agenda.

The way KCR exposed BJP, NDA and Narendra Modi's government at center, with his unrivaled style of expression and oratory, coupled with honest indignation, was instantly lauded by the audience with incessant cheers. Specific mention needs to be made to the thunderous applause from the mammoth public over five lakhs and also galaxy of leaders on the dais in Khammam, whenever CM KCR briefed the Telangana model and was critical of Union government's apathy for development and welfare of people. These included among others, Delhi CM Arvind Kejriwal, Punjab CM Bhagwant Mann, Kerala CM Pinarayi Vijayan, UP former CM Akhilesh Yadav, CPI General Secretary D Raja, State Secretaries of Communist Parties Tammineni Veerabhadram, Kunamneni Sambasiva Rao etc. KCR strategically utilized the historical Khammam platform to mention them.
KCR's very well-orchestrated and analytical thoughts in all his three addresses rotated round burning issues the nation is facing despite 75 years of independence and also the existing scenario prevailing in the country that hinders the already delayed progress and development in several areas. For instance, KCR was highly critical of BJP for invoking communal and caste-based hatred to divide the people of the country vertically and horizontally for petty political gains, which if allowed to continue further, will lead to annihilation of the nation and the secular values for which the country stood for long. Cautioning that, this state of affairs may even turn India similar to a Taliban-ruled Afghanistan, KCR urged youth and intellectuals to give a serious thought to what he said, to stay alert and fight against forces dividing people on such differences, failing which divisive politics would prove detrimental to communal harmony and secular fabric of the nation.
If only India can have a progressive and unbiased government at the Centre, then alone people will be ensured of peace, tranquility and harmony for the well-being of all citizens, rightly emphasized KCR. This is where KCR cited the indispensability of recently launched Bharat Rashtra Samiti (BRS) that is committed for a qualitative change in national politics and governance. Other examples of ineffective handling of affairs as well as inefficiency and incompetence on the part of Modi Government, cited by KCR were, poor water and power policies, that is, inability to make optimum utilization of available power, available water either for drinking or for irrigation, pendency of river water disputes for years together, negative growth of nation etc. despite abundant resources. He said the policies were so bad that different States were fighting with each other over water. KCR also highlighted how Telangana has made remarkable progress in several sectors in recent years and how the Telangana Model has become an emulating factor.
The highlight of the three meetings was the historical Khammam mammoth public meeting participated by prominent opposition leaders, who attacked the BJP led central government over a host of issues and gave a call for regime change in 2024 general elections. The meeting was vociferous in declaring unilaterally, that the country essentially needs a massive people's movement on the lines of the Telangana statehood movement. The galaxy of speakers was in agreement in principle with KCR, that, Telangana will become a torchbearer for the entire nation.
Citing the examples of power sector, Vizag Steel Plant, LIC etc. and strongly expressing his displeasure over plans of indiscriminate privatization of these by Modi Government, BRS Chief KCR said that, a strong fight will be put up against this retrograde policy of 'socialization of losses and privatization of profits'. KCR asserted that 'Government has every business to do business and hence public sectors needs to be continued and flourished. KCR also ridiculed that the 'Make in India' slogan has become a 'Joke in India'.
Referring to the widely publicized but controversial army recruitment scheme 'Agnipath', KCR said BRS would scrap it after coming to power. Further said KCR that, he would bring in 35% quota for women in legislative bodies and replicate Telangana welfare schemes such as Dalit Bandhu extending it to 25 lakh families every year across the country. 24x7 free power and Rythu Bandhu for farmers as well as drinking water scheme 'Mission Bhagiratha' would also be extended across the country said BRS Chief KCR. Promising all-round development across India, KCR outlined the importance of defeating BJP at Centre for implementing proposed national agenda.
Kerala CM, CPI (M) leader Pinarayi Vijayan, participating in the meeting said the Khammam rally will be beginning of a 'new resistance' against BJP and 2024 elections are the right opportunity. He said that BJP government at the Centre was trying to change the basic tenets of the Constitution that talks about secularism, equality and federalism and is destroying all values of democracy, social justice, and equality. He said Modi's Government do not value or believe in sovereignty, democracy and socialist principles. According to him, the 'one nation-one election', 'one nation-one uniform', 'one nation-one tax' theories are detrimental to the federal spirit of the country. He criticized that offices of Governors are used to bulldoze the opposition party governments in states. Vijayan said that, Telangana Chief Minister K. Chandrashekhar Rao has initiated steps to prevent the misrule of the BJP and hence he should be supported. Towards this people's unity has to emerge against the communal agenda of BJP that seeks to divide the country, said Vijayan.
Samajwadi party leader and former UP CM Akhilesh Yadav said, BJP will not be in power at the Centre after 399 days. A political wave is emerging from the south indicating that BRS would play a key role in national politics after 2024 elections, said Akhilesh. Asserting that Opposition parties would emerge as a credible alternative before the 2024 general elections, Akhilesh Yadav said that the Bharat Rashtra Samiti and Samajwadi Party together will play an important and crucial role in defeating the BJP in next elections. The fight against BJP and efforts to dethrone it, which began in Telangana, would be continued in Uttar Pradesh stressed Akhilesh Yadav.
Aam Aadmi Party leaders, both Delhi CM Kejriwal and Punjab CM Mann spoke about governors abusing power at the instance of Centre to unsettle non-BJP state governments. Arvind Kejriwal criticized that PM Narendra Modi's mind revolves around toppling state governments by using investigating agencies like CBI, ED and IT against the opposition leaders and not on important issues such as unemployment, rising prices. He said that, Prime Minister is not concerned about people's issues but was worried about poaching MLAs. Mann Described the BJP as 'Bharatiya Jumla Party', and accused the saffron party of misleading the people of the country.
CPI National General Secretary D Raja said Constitution and democracy are in danger and a united fight is needed to protect secularism in the country. He gave a call to people to throw the BJP out of power. Raja, pointed out that some Governors of non-BJP ruling States have been meddling with the elected governments, instigated by BJP led Modi Government to impose a unitary State model and change India into a single-dimensional country which would be disastrous. State Secretaries of CPI and CPI (M) Tammineni Veerabhadram and Kunamneni Sambasiva Rao underscored the importance of BRS and Communist Parties' unity to defeat BJP.
With three non-BJP Chief Ministers, one former Chief Minister as well as leader of CPI passionately supporting BRS Chief and Telangana CM KCR when he outlined the brief vision of National Agenda of BRS, it goes without saying, that, the historic Khammam BRS first ever meeting, signaled the united future battle for BJP-Mukt Bharat.
(Writer is CPRO to
Chief Minister, Telangana)