BRS unveils actionable agenda for change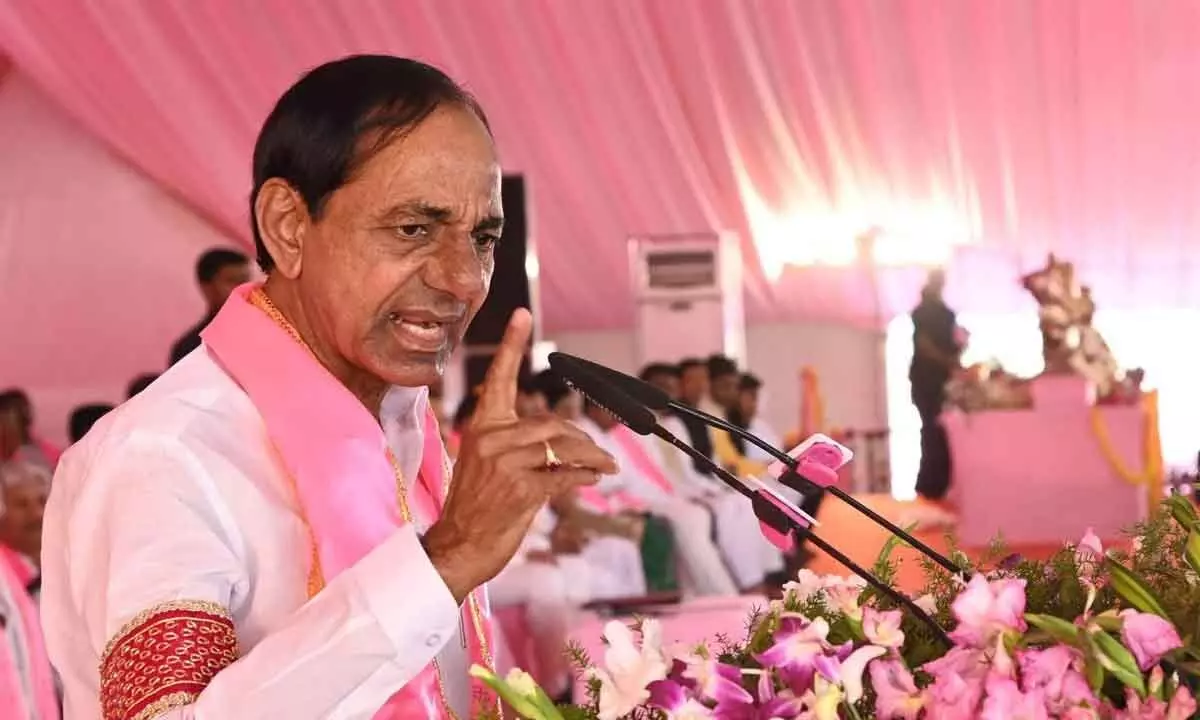 Highlights
In his clarion call to the nation, KCR rooted for structural changes such as: Economic Reforms, Constitutional Reforms, Electoral Reforms, Judicial Reforms, Administrative Reforms and Governance Reforms. KCR said that time has come for reinventing India by setting a development-centric National Agenda and move away from centralization. The national agenda among rest of the things highlights about 'Best Practices' and not 'Next Practices' to move towards a new direction to come out of struggle by large sections of people for basic minimum needs. It speaks about leveraging the wealth and inner strength of our country and its economy which is not an insurmountable problem but one of a mindset issue
As a first and significant step in the direction ofspreading the message of 'qualitative change in politics' and present an alternate 'National Development Agenda' across the country, Bharat Rashtra Samithi (BRS) President and Chief Minister Telangana K Chandrashekar Rao addressed an impressive and packed gathering at Nanded in Maharashtra on February 5, 2023, the first meeting organized by the BRS outside Telangana, followed by a well-attended Media Conference.

The remarkable feature of Nanded meeting was, large number of political leaders, at least more than 100, who have held and still holding important positions and who included among others various associations' leaders, chairpersons, sarpanches, advocates etc. joined BRS signaling a challenging presence of BRS in Maharashtra.
KCR on landing in Nanded commenced his whirlwind but quality time spent visit to the 'Karma Bhoomi',by going first to the Takht Sachkhand Sri Hazur Abchalnagar Sahib Gurdwarawhich was built on the site where Guru Gobind Singh the tenth Sikh Guru held his final congregation before the 'Mahabhinishkraman' and offered prayers. KCR was accorded a warm welcome in a traditional manner by the members of Gurdwara Board and was also offered a traditional Sikh 'Pagadi' and shawl by the head priest of the Gurudwara. Laterhe was presented with religious cloths and flowers at the sanctorum. During his 20-minute stay in the Gurudwara, KCR apart from offering prayer at the main shrine, went around the premises and interacted with board members and people.Later, on arriving at the venue of public meeting, KCR paid rich tributes and garlanded to the statues of Chhatrapati Shivaji Maharaj, Dr Baba Saheb Ambedkar, Mahatma Jyotiba Phule,Mahatma Basweshwar Maharaj, Anna Bhau Sathe and Ahilya Bai Holkar.
There was a subtle message BRS President sent across the nation in doing so, both at the Gurudwara and at the venue of the meeting. KCR in a way was reminding the audience and those who watched them Live on TV sets, that Guru Gobind Singh was a spiritual master, warrior, poet and philosopher; Shivaji Maharaj was a great Maratha warrior and strategist of India; Ambedkar was the Architect of Indian Constitution,a social reformer and political leader; Jyotiba Phule was an Indian social activist, thinker, and anti-caste social reformer; Basweshwar Maharaj was a social reformer, pragmatist, a saint and an epoch-maker; Sathe was a social reformer, folk poet, and writer andAhilya Bai Holkar was the hereditary noble queen of the Maratha Empire, in early-modern India. Thus, the message was clear, that their 'Life and Times' are to be a model to be followed by one and all. Both at the public meeting and the media meeting, KCR in his inimitable style touched upon various aspects with which the country is put in a dilemma and need to be handled strategically.
They included among others: water and energy policies; interstate river water disputes; leveraging India's economy; women's representation lawmaking bodies; Probing Adani fraud; crony capitalism and treason; LIC privatization; delimitation process or procuring imported coaldespite huge reserves or socializing losses and privatizing profits; government investing in public sector enterprises; political parties and leaders winning but people losing in elections; farmer suicides due to lack of support from governments;farmers realizing their strength; faulty policies, divisive tactics and politics of hate; implementation of Telangana Model Schemes like Rythu Bandhu, Rythu Bhima and Dalit Bandhu etc.
In a clarion call to the nation's farming community, KCR said that the time is ripe now for farmers to unite, exhibit their strength, fight for their rights and take over the reins of the country. KCR reminded that BRS slogan is 'Ab Ki Baar, Kisan Sarkar', but mere sloganeering is not enough and farmers should enter the poll arena. KCR said farmers constitute more than 42 per cent and if the number of farm labourers is also added, they account for more than 50 per cent, which is sufficient to form a government. Let us all take a vow at Shivneri, the birthplace of Chhatrapati Shivaji, to form a 'Kisan Sarkar' at the Centre said KCR.
Regarding the 'Make in India' initiative, KCR said that it has become a 'Joke in India'. He argued that instead of the Central government establishing local marketplaces and industrial facilities, markets everywhere were swamped with Chinese products. It is here KCR called upon farmers to take the pen (kalam) and run for office as elected representatives rather than only pulling ploughs. He said we have China Bazaars in almost all the States in the country and people depend upon them even for kites, manza, National Flags etc.
In the well-attended media meeting, KCR for the first time explicitly revealed BRS national agenda, drawing broad contours of party's national blueprint, for what he put it as qualitative change in national politics and to develop the country into an economic superpower of the world. He gave a call to the people to get rid of poverty of thought and plan 'Big' instead of 'Incremental Thinking'. He said that 'Out of the Box Thinking' is the need of the Hour. In a press note titled 'Reinvent India, Reorient India' circulated during the media conference, KCR narrated a glimpse of the BRS National Reform Agenda that speaks about structural changes to leverage the country's strength.
These structural changes are broadly: Economic Reforms, Constitutional Reforms, Electoral Reforms, Judicial Reforms, Administrative Reforms and Governance Reforms. KCR said that time has come for reinventing India by setting a development-centric National Agenda and move away from centralization. National Agenda among rest of the things highlights about 'Best Practices' and not 'Next Practices' to move towards a new direction to come out of struggle by large sections of people for basic minimum needs. It speaks about leveraging the wealth and inner strength of our country and its economy which is not an insurmountable problem but one of a mindset issue.
Higher FDI inflows including developing SEZ, stable tax regime, improving Ease of Doing Business, removing restrictions on foreign investments, resolving issues that hinder growth etc. are part of economic reforms. The agenda says that every Indian should be a proud tax payer and partner in nation building. Income from allied agriculture activities should be exempt from tax like agriculture. Existing FRBM limit to be re-examined to suit to the present-day requirements.
As part of Constitutional Reforms, the agenda supports for more devolution of funds to states, a permanent Finance Commission for assessing and leveraging the Finance of Centre and of states. As part of Electoral Reforms, BRS agenda says that term of elected Government to be discussed and all state and central election shall be held simultaneously and within a period of 6 months. In case a government falls due to some reason, next election shall be held for balance period only. In addition, necessary Judicial Reforms need to be brought to improve the delivery of justice.
As part of Administrative and Governance Reforms, Agenda suggested that, to make reform in DOPT Policies to suit the need for leveraging India. Officers shall be in position to work on other states on need basis, should be allowed to give preference to work in home state, salaries or remuneration of lower-level employees shall be increased to dignified level. Planning Commission should guide the states in setting their priorities and states should be free to take up their own programs.
The Actionable Agenda for Change underscores the importance of increasing the profitability and productivity in agriculture which is low now. The current huge gap between farmers' and consumers' price shall done away and farmers should get enough income to take care of their families. Investment Support for agriculture of Rs10, 000 per acre shall be given across the country to farmers. Increase in MSP by linking to price index, area-wise crop colonies, connecting NREGA with agriculture sector etc. are other points in the agenda. Allocating water for irrigation to every state for their requirement, access to clean and safe drinking water supply to every village, improving the dignity and health of pregnant women and reduce the MMR and IMR, Improving infrastructure in Primary, Community Health Centers, District Hospitals, Area Hospitals to handle deliveries, increasing number of medical seats in the country, increasing green cover in the country, reorienting Research and Development to leverage the assets of the country for economic development etc. form part of Actionable Agenda.
Concluding his address at the public meeting KCR said: 'Dharmasya Vijayosthu, Adharmasya Nashosthu, Pranishu Sadbavanasthu, Visvasya Kalyanamasthu', meaning 'Let Righteousness flourish, Let injustice perish, Let the beings be right spirited and Let the Universe thrive in bliss.'
(The writer is Chief Public Relations Officer to Chief Minister, Telangana)