What's drawing BJP toward YSRCP?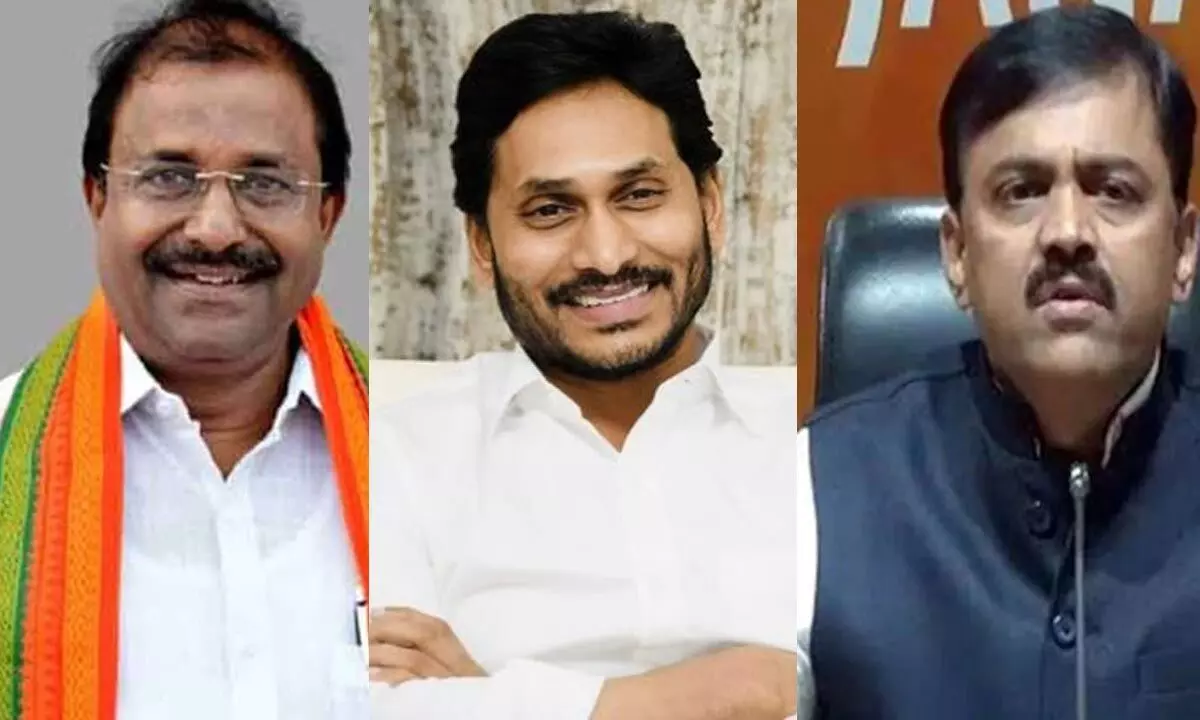 Highlights
The political haze regarding the next Assembly and the Lok Sabha elections in Andhra Pradesh is slowly getting cleared.
The political haze regarding the next Assembly and the Lok Sabha elections in Andhra Pradesh is slowly getting cleared. So far, several questions were being raised on what would be the stand of BJP in regard to YSRCP? Will it act as a friendly party as it did during the last elections, or will it try to strengthen its base as it keeps claiming and play the role of real opposition party? State BJP president Somu Veeraraju and others like G V L Narasimha Rao do not get tired of making such statements though many feel that the state BJP would be acting more like a 'B' team of the ruling party.
For a short period, it appeared as if the BJP would take on YSRCP when after a dressing down by Union Home Minister Amit Shah, the state unit took gave up its dual stand on the issue of capital and said that BJP recognises only Amaravati as the capital of Andhra Pradesh and extended solidarity with the farmers who gave lands for capital city. But this euphoria proved to short lived as there was no follow-up action plan to take on the government. They did not stand by the farmers to ensure that their Mahapadayatra was not disturbed halfway through from Vijayawada to North Coastal Andhra.
Then came the much-hyped alliance with Jana Sena Party led by Pawan Kalyan. It was felt that BJP-Jana Sena combine will take up various programmes against the omissions and commissions of the ruling party and that the BJP which hardly has any vote share in the state would tag on to Jana Sena which has about six or seven per cent vote share and together they would emerge as a force to be reckoned with. Pawan even said that BJP would give him a road map. But it seems the map got lost its direction on the highway and could not reach Vijayawada.
In the meantime, when India got elected as the Chairperson for G-20 and when Prime Minister Narendra Modi met Naidu and exchanged pleasantries and told him that he should be coming to Delhi more often, Naidu replied that he would do so as he had many issues to discuss with him. This led to fresh speculations about possible bonhomie between the yellow and the saffron party. Soon after that came a statement from Pawan Kalyan that he would ensure that the anti-establishment vote would not get divided. His formula was that Jana Sena, BJP and TDP should have understanding so that the anti-incumbency votes do not get split. This he felt would help in defeating the ruling party.
He made some efforts, but there was no positive response either from the state BJP or the central party. In the meantime, the ruling party leaders obstructed Pawan Kalyan's tours and it reached a climax when he was stopped by senior police officers near Vizag airport and later was kept under hotel arrest for two days before packing him back to Vijayawada. The alliance partner BJP except issuing a statement condemning it did nothing.
Utilising this opportunity, Naidu met Pawan at a hotel in Vijayawada and later Pawan called on Naidu in Hyderabad soon after Naidu was not allowed to hold road shows in his home constituency Kuppam.
Notwithstanding all kinds of criticism including dragging his personal life into politics by YSRCP ministers and leaders, Pawan continued to state that he stands by his word that he will not allow anti-YSRCP votes to be split. Still, AP BJP continues to maintain that alliance was strong and both would together strengthen their base in the state but how and when is the big question.
There is clear mismatch in what the state BJP claims and does. While saying that ruling party has ruined the state, the state president and a few other leaders continue to criticise TDP and Naidu. The state BJP president who is known to be as vocal as YSRCP leaders against the leader of opposition N Chandrababu Naidu focussed more on criticising Naidu than the ruling party.
This has led to confusion among his own party leaders. What has been troubling them is how can they go on claiming that they are fighting against the government when the state unit did not take up any major activity to create an impact on the voters and convince them that they were people's party.
In Telangana, the state BJP had gone very aggressive against the BRS government and created some impact on the minds of the voters.
In the meantime, the infighting in AP BJP reached a new high when its former state president Kanna Lakshminarayana resigned. Still the central leadership of the party did not take up any damage control measures. It summoned the state president to Delhi twice but still there has been no change in the style of the functioning of the Saffron party. Now it is being said that the central BJP would focus attention on the state after Karnataka elections. Focus in what form is the big question? Even the YSRCP does not criticise the state BJP while it keeps clashing with Jana Sena and TDP and even sent many of the leaders of the two parties to jail.
There are allegations from other political parties and intellectuals that the Centre has been soft towards the YSRCP and has been cooperating with it in getting loans even though it had crossed the FRBM limit long back. The state unit, too, occasionally says that the YSRCP has ruined the state. But then it goes into hibernation. If they were serious about it, then by now they should have hit the streets. But that has not happened. Not just that, the state BJP never takes Jana Sena into confidence even though Pawan's party has more vote share and its popularity is certainly more than that of BJP in AP.
The tone and tenor of GVL Narasimha Rao on Thursday clearly indicates that state BJP is not in favour of accepting the formula suggested by Pawan Kalyan. GVL had said that it was TDP which had pulled all possible strings to align with BJP inviting a strong reaction from TDP AP state president K Atchannaidu and former minister Pithani Satyanarayana.
Amidst this scenario, Pawan continues to maintain silence and has decided not to campaign for BJP in the ensuing Assembly elections in Karnataka. It now appears that sooner than later Pawan will officially announce his divorce with BJP, and as the elections draw closer, he will go in for seat sharing with TDP.
YSRCP circles which have sensed this possibility have now started going aggressive against TDP. They feel that if Jana Sena and TDP come closer, it could cause some dent in their electoral prospects. The ruling party is also facing internal dissension. But they are confident that they will be back in driver's seat if BJP continues to maintain its present attitude and help them in spoiling the wining chances of opposition.
Normally, no minister would hit the road and take up protests against opposition leaders. But on Friday, MAUD Minister Audimulapu Suresh at Yerrangandlapalem in Prakasm district not only organised a protest with placards of 'Naidu go back' and black balloons but also removed his shirt on the road and challenged TDP. Opposing this, TDP activists stoned Minister's office. Such clashes are bound to increase in the days to come and lot more spice would be added to the campaign once Pawan Kalyan, who is now busy in back-to-back film shootings, launches his election campaign.
Another twist is the changed language of YSRCP Parliamentary Party leader Vijayasai Reddy towards Naidu. The MP who had in the past addressed TDP president as "420 Naidu," on Thursday tweeted wishing him on his birthday and addressed him as leader of opposition. Recently, he and Naidu were seen sitting next to each other and later Reddy said Naidu was his elder brother by relationship.
While it is for people to decide as to who should rule the state for next five years, one thing is clear that the BJP is leaning more towards YSRCP.