Telangana scene turning fluid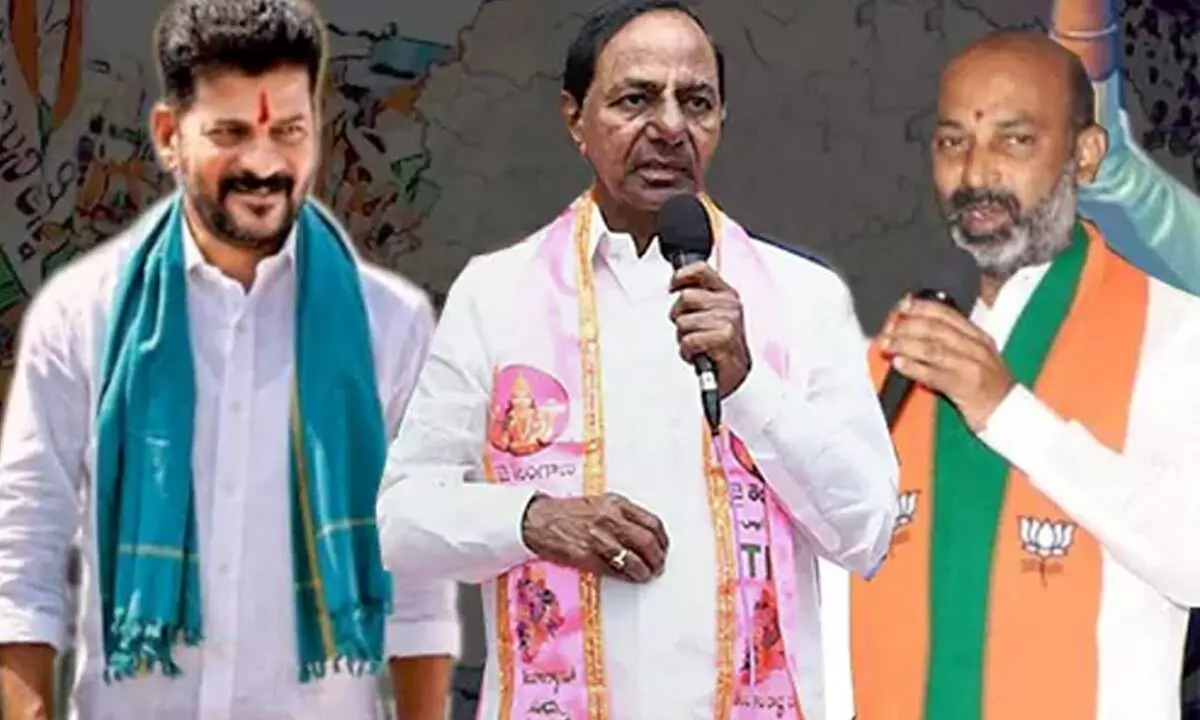 Highlights
The Congress party is on cloud nine following the victory of the grand old party led by grand old people.
The Congress party is on cloud nine following the victory of the grand old party led by grand old people. Certainly, they have a reason to celebrate because this election has put a huge roadblock for the Saffron party from entering South via Karnataka. The gateway has been temporarily closed. Why I am using the word 'temporary' is because in politics nothing is permanent. Politics is always a dynamic situation.
Since 2014, BJP and Prime Minister Narendra Modi had said India was becoming Congress-Mukt Bharat. For some time, it appeared so. Congress has been losing even byelections. In the few states where it was in power it failed to create an impact on people as it refused to change its characteristics such as extreme democracy in the party, which leads to too much of internal bickering which adversely affects the party's poll prospects. Another factor was lack of powerful personalities (in terms of political strategies) like Modi or Amit Shah, which has been the main drawback, in the recent history, of the party. Another point is that BJP continues to be strong in North.
This being the situation, the Congress party had ensured extraordinary unity among the rank and file in Karnataka, and the BJP state leaders including the Chief Minister overestimated their abilities and landed in soup. In fact, their governance in Karnataka was against the ideology of Modi who often says he wants "Brashtachar-Mukt Bharat." For this reason, he feels that if India becomes Congrss-mukt, corruption would go. But one of the main reasons which led to the fall of BJP government was corruption. The '40% sarkara' campaign taken up by Congress stood it in good stead.
Winning 135 of the 224 Assembly seats is no mean feat — however, the impasse in choosing Chief Minister candidate and forming government has robbed it of the sheen. What the Congress top brass forgot was that it was wasting away the opportunity Karnataka had given. If it had acted fast and ensured that the Chief Minister was sworn in one or two days after the results, it would have boosted its image. But the way the negotiations went on and the 'Kissa Kursi Ka' dragged on for about four days proved that Congress and its leaders would not change.
Despite this, many Congress leaders in Telangana have started making a lot of noise and are giving an impression that they are now certain to come to power. TPCC president A Revanth Reddy even announced that he was ready to climb down 10 steps to facilitate the home coming of those who had left the party. But another senior leader V Hanumanth Rao lost no time to comment that those who left party should come back but no assurances about seats or posts should be given to such people which may impact "seniors and loyalists like him." Naturally, this would cause second thoughts among those contemplating to come back into Congress fold.
The ground situation in Telangana is certainly not so much in favour of Congress as yet. That there is an anti-incumbency factor is an undeniable fact. But to what extent it will impact the BRS fortunes is not clear. Sure, the only alternative for the voters is Congress but it would all hinge on whether the Telangana Congress men would bury their hatchet as was the case in Karnataka. If that happens, certainly, Congress would be in an advantageous position and bag around 30 plus seats.
All that is required is Congress leaders should not indulge in hara-kiri. It is time for them to bury their hatchet. Will they or can they do it is the big question. When they see some light and feel that they have better chances, they go overboard in fighting on small issues and spoil their own chances. They should learn to feel the pulse of the people and act and behave accordingly.
The latest missile fired against the TPCC leadership is by the former PCC president, N Uttam Kumar Reddy. He said postings on social media was the handiwork of some prominent people in Congress and that he would soon reveal their names. He said they orchestrated these trolls. Without setting its house in order or bringing unity, the Congress in Telangana cannot encash its success in Karnataka.
The BJP which had surged ahead in the recent past also seems to have hit a roadblock now. There is nervousness among some of the leaders who had joined the saffron party in the recent times, including Konda Visweswar Reddy, Komatireddy Rajagopal Reddy and even Eatala Rajender. Following the Karnataka results, some kind of wavering is visible on their part. All said, the political situation in Telangana is fluid and it remains to be seen how far the Congress or the BRS would be able to change it in their favour.
The youth declaration announced during Priyanka Gandhi's visit to Hyderabad appears to be receiving positive response from the unemployed youth, though it is too early to come to any conclusion that they would opt for Congress.
TPCC leaders should not get swayed away by Karnataka results and feel that repeated visits of Sonia Gandhi, Rahul Gandhi and Priyanka Gandhi would suffice to catapult them into power. They need to understand that the meetings of these leaders might have helped in enthusing the cadre in Karnataka and may do so to some extent in Telangana, too, but the poll results of Karnataka are to be seen on a larger canvas. Karnataka has a history of not electing the same party for second consecutive time. Two, Karnataka voters have clearly told the leaders of all political parties that they should not be taken for granted. They have also made it clear that blitzkrieg alone – whether it is by Congress or BJP – will not help. They have proved that political parties, including the ruling parties, should not underestimate the voters. It is like the saying, "Do not judge the book by its cover." The cash doles, allurements may help to some extent but if the people decide to change a government, notwithstanding any amount of doles and appeasement, defeat would be inevitable.
In 2014, huge crowds used to come for the meetings of Y S Jagan Mohan Reddy and Pawan Kalyan's Jana Sena in Andhra Pradesh. But the swelling support did not get converted into votes. In the 2019 elections, TDP also saw huge crowds coming for its meetings, but it got badly mauled. Rhetoric and emotive appeals may work once or maximum twice – but not always.
It is, perhaps, realising this that the TRS quickly changed its avatar to BRS and shifted from emotion to development plank. It has also realised that it is high time to address the grievances of people and has started focussing on those issues besides putting up a show that it is going aggressively in national politics, though the way ahead is full of road blocks and it still has a long way to go. Karnataka results gave mixed feelings to BRS. It is happy to the extent that BJP has lost but it is saddened because its ally JD(S) lost the seats which it had won in the last elections and their number of MLAs had taken a nosedive. It seems to have realised that it should ensure that its home turf is safe. Hence, it has been taking certain crucial decisions including scrapping of GO111. This would encourage real estate in 84 villages where land rates would go up. Most of the top leaders are said to have purchased acres and acres of farmlands. They would now be benefited. Moreover, there is a huge chunk of government land as well, which can now be allotted to private companies and with every letter of intention the government can claim that it would bring in thousands of jobs for the local people, which they feel may help them in ensuring the voters, particularly youth, do not look towards its nearest rival the Congress party.
BJP should also make some quick assessment of the ground situation and understand that efforts to polarise votes or talking loud about Hindutva concept cannot work everywhere. What plays an important role in Telangana is inclusive social justice and economic justice. Congress and BRS, too, should also consider these aspects and plan their strategies so that there can be a level-playing field.
If the Congress party in Karnataka can implement at least 50 per cent of the promises it had made during the election campaign in next three to four months, TPCC here can hope to get some additional benefit out of it.
One thing is clear that the Congress win in Karnataka has thrown a stone into the political waters of Telangana and ripples have been created among all parties. This certainly is a positive sign.