No clear answers to 'After Modi, what?'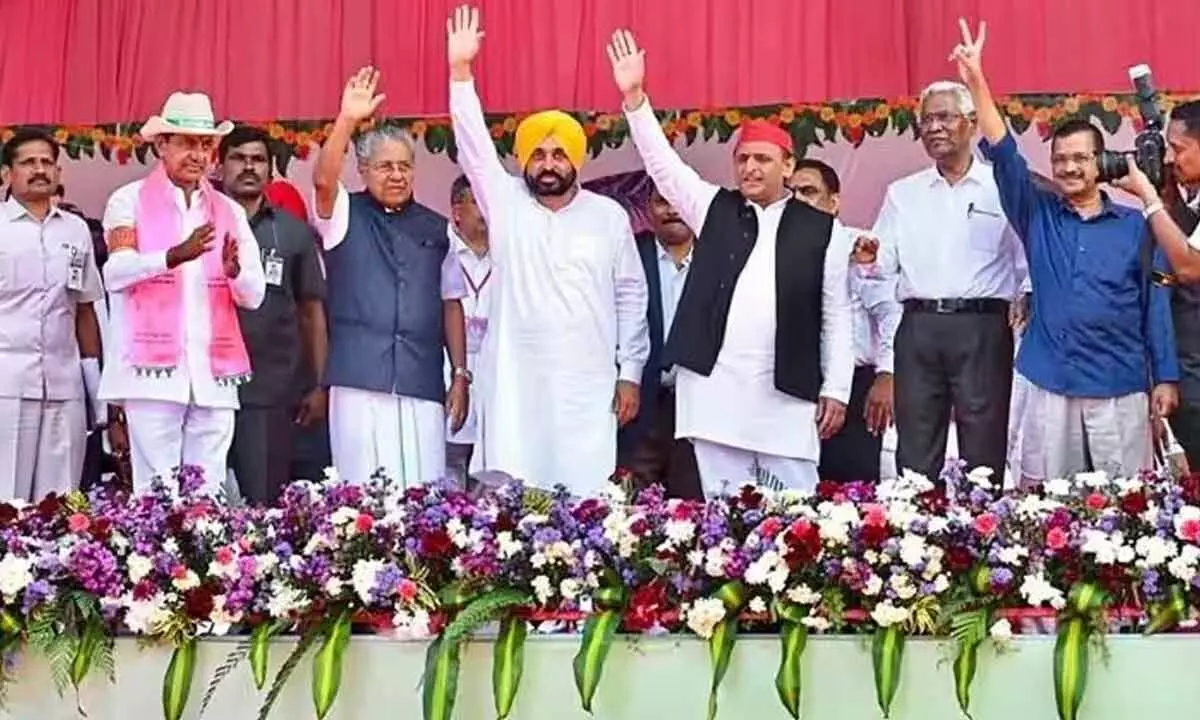 Highlights
There is no clarity yet on Opposition unity or what better things they promise
Khammam, a small town with a population of around 15 lakh bordering Andhra Pradesh, is known for its political consciousness, educational outreach, excellence in business, agriculture, scientific spirit and has been a stronghold of the Communist party leaders. People of Khammam are known for their progressive ideas and the town has contributed many a famous personality from literary, cultural, social and political fields. It had given Chief Minister, Ministers and many important leaders in the undivided Andhra Pradesh.
After about a month of forming the Bharat Rashtra Samiti (BRS), Chief Minister K Chandrashekar Rao chose this place, which is also known for its political struggles – whether it be during the Nizam period or the freedom struggle of India or the first and the second phase of separate Telangana movements – as the venue for the first mega public meeting of the BRS.
Khammam has never been the stronghold of the TRS which has got transformed into BRS. In the last two assembly elections after the formation of Telangana, the pink party never won more than one out of the 10 seats in the district. But as the adage says search for your goods where you lost, KCR decided to put his first step forward towards Delhi from Khammam. He apparently wanted to display his show of strength from here mainly to plug the weak local links and take the first punch by revealing the finer points of the party's farmer-centric and development-oriented agenda, and he did.
The BRS supremo has elaborated on the need for new policies on economic, environmental, electricity, water and women's empowerment fronts. He dwelt at length on the abundant resources available in the country, argued how India has high cultivable land as compared to US and China which have very little cultivable land but are still major exporters and regretted that still we are importing palm oil and some pulses. He said the country had failed to utilise the available 75,000 tmcft of water and fallen behind smaller countries like Korea and India's mighty neighbour China in terms of economic growth despite having a strong work force of 139 crore. He pointed out how India had failed to give boost to the agro-based industries and resolve water disputes and was still depending on World Bank and other such agencies.
All this really sounds interesting. But then, the big question is how to take it ahead and convince the people on the other side of the Vindhya's?
Political parties in India are more self-centred. Though they claim to be national parties and give a tag to themselves as national leaders and claim to have national outlook, but in practice they refuse to come out of their cocoon. No leader is willing to give up caste-based politics. No leader is able to keep people with criminal records out of electoral politics. No leader can claim that they would win elections with least expenditure. But yes, all of them say they will defeat the government at the Centre. The country has been hearing this for past two years but so far no concrete moves have been made and according to BJP polls are away in fewer than 400 days.
Let us agree for a minute that the BJP government has totally failed and that it had done nothing for the country. Let us agree that they had bought MLAs and toppled some elected governments. Let us also agree that the Governors are not cooperating with many state governments allegedly on the directions of the Centre. Let us also accept that the Centre is misusing the central agencies and it has brought in mindless bills pertaining to farmers and power sector.
But then what alternatives would the opposition parties offer or what measures would they take to undo the damage done by the BJP government? Did not these very parties accuse Congress party of misusing central investigation agencies? Did not these very regional parties, which claim that the countdown for BJP has begun, buy MLAs despite having enough majority? Did not they allege that the Raj Bhavans were turned into Congress Bhavans? It is easy to point out the problems but not so easy a task to offer solutions. These institutions would remain even if the opposition parties succeed to come to power in 2024. They need to answer what would be their stand on these issues. Will they do away with the office of Governors? Will they give absolute freedom to investigating agencies like CBI, ED and I-T? If yes, what needs to be done to what extent is to be pondered over since we have seen how the police is being used or misused to arrest opposition leaders and activists and anyone who criticises the government. The opposition is prevented from holding protests or meetings while the ruling parties organise massive meetings.
During the period of Indira Gandhi, there used to be a strong coterie in Congress party. But now stronger coteries exist in regional parties. Another major flaw in the present situation is political parties announcing that they would undo what the present governments are doing. No successive government should undo the decisions of the previous governments unless it is necessary or unconstitutional. Indira Gandhi had nationalised the banks, but no successive governments had gone against that decision. Only after the economic reforms were introduced during the tenure of P V Narasimha Rao, did more banks come up in the private sector. Even he did not privatise the nationalised banks.
Any government which is supposed to be the custodian of the taxpayer's money should be prudent in spending. It is unfortunate that the opposition parties which take the example of developed countries still want to have absolute control over public sector units irrespective of the fact whether they are making profits or losses. The regional parties, which could not reopen the closed industrial units which were in cooperative sector in their respective states talk, are now talking of promoting public sector units.
We have seen how the PSUs till recently were riddled with unionism led by left parties and how they forced the governments to employ more people than what was required even when they did not have necessary technical qualifications. All this resulted in the units dying a natural death. The Scooters India unit in Uttar Pradesh is a classic example of how unionism killed a vibrant unit. So was the case with AP Scooters in undivided Andhra Pradesh and units like HMT Watches.
This being the situation, how can one believe that there would be revolutionary changes in the country if these parties individually or jointly come to power at the Centre?
If one closely studies the political scenario, the chances of these parties coming under one umbrella appear to be a distant dream. At the Khammam meeting, one expected that the three CMs would announce that they would put all their differences and aspirations on the back burner and agree to come with a formidable alternative to the BJP. But that did not happen. All of them used the platform to lash out at the BJP government at the Centre and asserted it was time to get rid of the saffron party. Fine, but then why should people think of voting the opposition to power? What alternative and innovative programmes do they have to offer to the people?
The primary job of the government whether at centre or in states is to focus on education, health, agriculture, infrastructure and industrial growth. There are any number of examples where students in government colleges at the level of plus two or Intermediate do not have proper lab facilities. At many places the number of practical classes for these students is not more than six to ten days a year. This is because there is lack of teaching staff. What plans do the opposition parties raving to come to power have to offer?
The regional parties are again divided on whether there should be some front or alliance without Congress party or not. The JD(S), DMK, JMM and even NCP led by Sharad Pawar want that Congress should be part of any alternative front. But BRS, AAP and a few others do not seem to be in favour. The stand of parties like Samajwadi is still not clear regarding Congress party. With so many loose ends to be tied up, can the opposition parties gear up to throw out the BJP and bring in 'Ab Ki Baar Kisan Sarkar'?