Huge potential for river cruises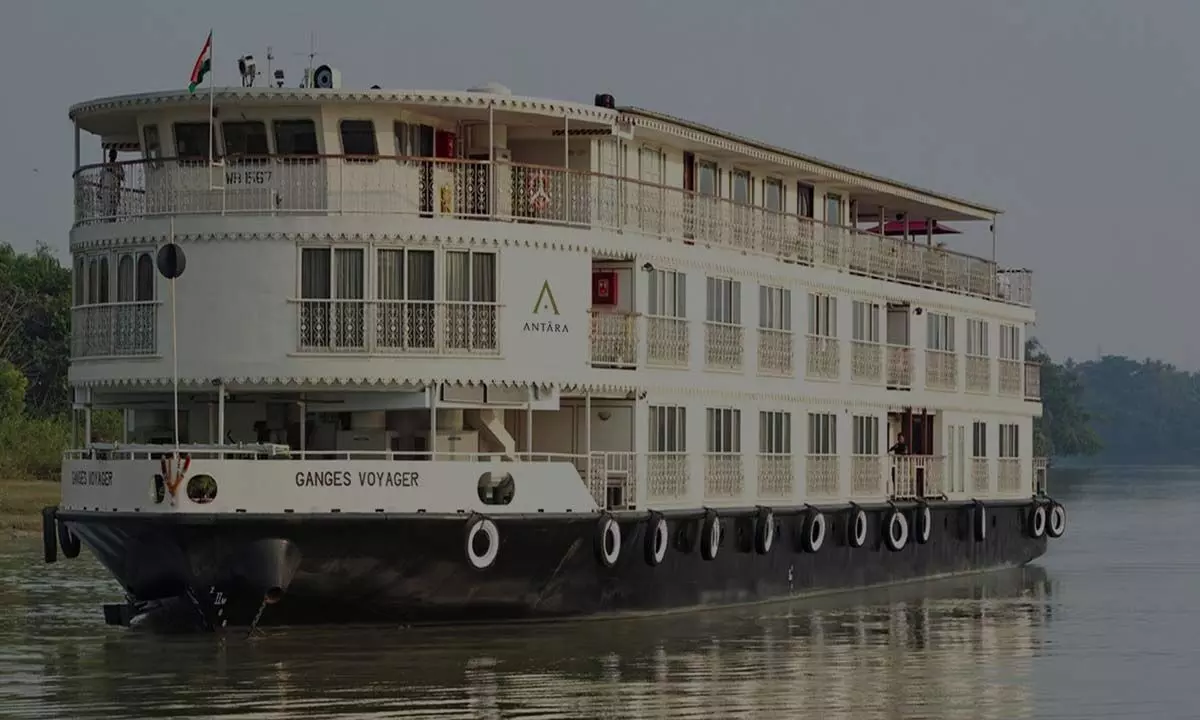 Highlights
Rivers are a great asset for any country and India fortunately is blessed with mighty rivers like Ganga, Brahmaputra, Indus, Narmada, Cauvery, Krishna and Godavari which run into hundreds of kilometres crisscrossing through several states.
Rivers are a great asset for any country and India fortunately is blessed with mighty rivers like Ganga, Brahmaputra, Indus, Narmada, Cauvery, Krishna and Godavari which run into hundreds of kilometres crisscrossing through several states.
Each state has its own language, culture, history and heritage. They provide a great opportunity in terms of tourism which happens to be one of the major revenue-earning sector but is most ignored by a majority of the state governments. Every government talks of freebies and welfare measures but does not do anything to utilise this sector which can be a gold mine to increase the revenue generation which in turn can help in increase of the GSDP of the state as well as that of the country.
In UK, River Thames, known alternatively in parts as the River Isis, is a river that flows through southern England including London. At 215 miles, it is the longest river entirely in England and the second-longest in the United Kingdom. It's part of the longest river in England; it has 45 locks, is home to over 25 species of fish, boasts three areas of outstanding natural beauty and it's the only river in Europe to have a national trail follow its entire length.
The Thames River Boat Cruise gives you the chance to see the city from a different angle. Run by City Cruises, the sightseeing boat ride gives you fantastic views of London as you head down the famous, storied River Thames. From the comfort of the sightseeing boat, you can see many of London's most famous buildings and cherished landmarks, including the Houses of Parliament, Big Ben, the Tower of London, Tower Bridge, Shakespeare's Globe. You can get an audio guide in seven other languages: Italian, French, German, Russian, Japanese, Spanish and Chinese. Similarly, Africa: Nile, Americas: Mississippi, Peruvian Amazon also have river cruise facilities.
If one Thames river could be a major attraction for tourists, why not India, which has a beautiful eco system? If properly planned and if the state governments focus attention on it, water tourism in fact could be a new buzzword in India as it has rivers, tributaries, large coastline and marine landscape, wetlands, mangroves, coral reefs and lakes. It is a country where rivers or other water bodies are traditionally worshipped as gods or goddesses. Lakes are also worshipped by different communities or symbolise the beauty of nature. The biodiversity in India has not been properly explored though we have unique coral reefs and mangroves as well as diversified wetlands.
What is required is that the ruling parties which indulge in over exploiting nature in different forms give a break to their narrow minded politicking, join hands and develop a river cruise circuit, it would certainly benefit all the stake holders. It will generate a lot of employment potential – both direct and indirect. A properly planned river cruise can also be a great opportunity to showcase the rich Indian culture, language, traditions and how civilisation grew on the banks of these rivers.
Most parts of the country are known to be lands where gods had set their foot, whether it be Ayodhya in North or Rameswaram down south; using audio and video guide, the Indian culture can be shown to the travellers. These days many of the present generation do not know the importance or the historical background of even most of the festivals we celebrate. Unfortunately, all our scriptures are considered a myth though they are scientific in nature. Till recently if anyone had spoken about how Ginger, Jaggery, Turmeric, Neem or other such products could help in preventing and treating certain ailments, they were called as unscientific. But thanks to Corona, people have started realising their importance.
River cruise, as Prime Minister Narendra Modi said, is an "amalgam" of the modern and the ancient and it would open new vistas for tourists from across the world. The cruise will bring several tourist destinations on the world map and give a never-before experience to tourists who can savour the food, culture, religious diversity and natural resources of the country.
'Incredible India' has everything you can imagine and much more than what you can imagine. What is required is to promote river cruise both in budget and luxury categories. If properly organised and managed, it can give a big boost to the economy and offer self-employment. The state governments should remember that every river is a part of Indian heritage. They can be sort of moving star hotels.
The Ganga cruise would take tourists across 27 river systems covering different prominent destinations. There are many world heritage sites in each of our states, national parks and all of them can be showcased. Another interesting aspect of Ganga cruise is that there will be no sewage flow into the rivers as they will have sewage treatment plants. The Centre on its part should recognise the Tourism sector as an industry and extend necessary concessions and encourage the sector.
In fact, the discussion on encouraging river tourism and cargo traffic has been under discussion for over a decade but no Chief Minister came forward to show interest in it. Even if a fraction of the interest the leaders show in extending freebies is put on development of tourism sector, there is no reason why the economy cannot grow in leaps and bounds and soon there would be no need for distributing freebies. Every leader claims and talks about his vision and dynamism but that ends with announcing freebies and policies aimed at garnering votes and remain in power. No one likes to be practical in words and deeds.
All that the state governments need to do is to explore the immense wealth of the rich river system has to offer. Take Alleppey in Kerala for example which is nicknamed as Venice of the East and is most often considered the Citadel of Houseboats in Kerala. With a labyrinth of inland canals, beaches, and lagoons, Alleppey is the more often than not considered the starting or the ending point to most houseboat tours.
The global river cruise market has grown at 5% over the last few years and is expected to constitute 37% of cruise market by 2027. Europe has been driving growth with approximately 60% share of river cruise vessels in the world. Still for reasons better known to them, the regional party leaders who love adding their name to freebies do not show interest in such developmental activities which can make them a major revenue-earning state and reduce the need to go in for loans or RBI bonds which adds to the existing burden on the tax payer.
The Union government, too, which claims that river tourism circuits will be developed and integrated with the existing tourism circuits for maximum exposure and rapid development of this sector in the country, should show its liberal attitude by announcing tax concessions and some kind of incentives to promote this industry.
The travel and tourism sector is keeping its fingers crossed and is hoping against hope that the Union government would accord industry status to them and extend a helping hand to make it a more organised sector. What Nirmala Ji has in store for them will be known on February 1 when the Union Budget will be presented. If the Union government disappoints them it means that heralding a new age in tourism is paid only a lip service.