Dr BR Ambedkar – A champion of freedom of speech & expression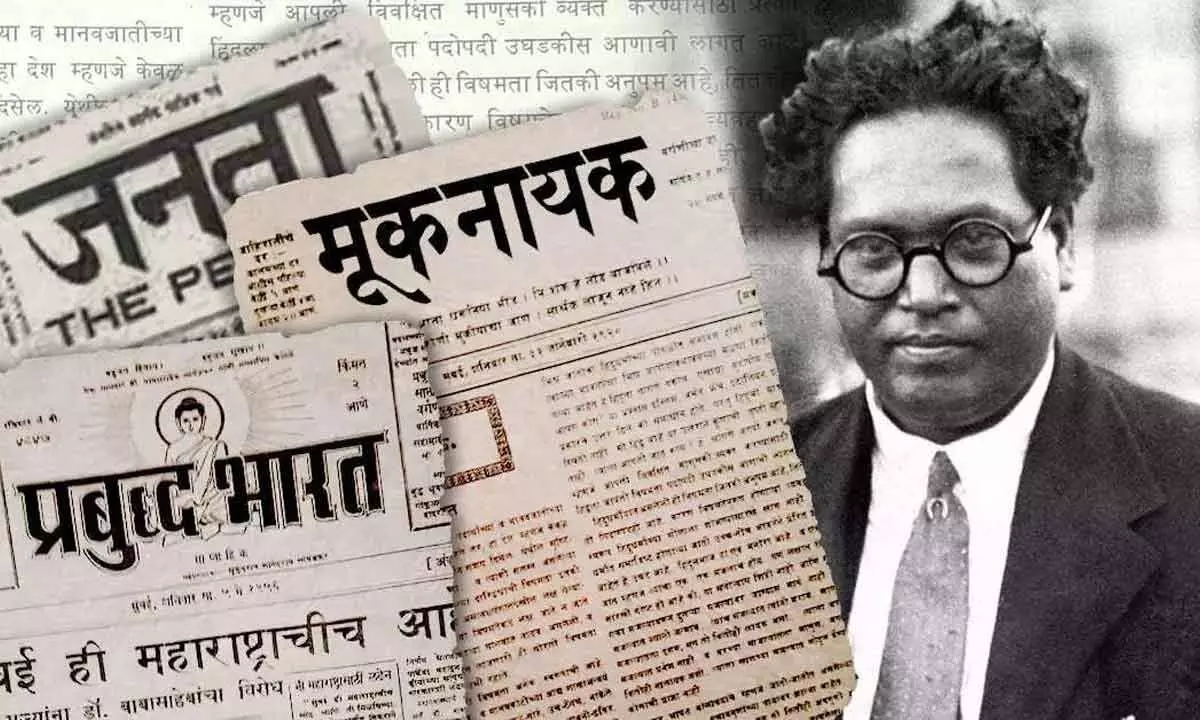 Highlights
Like every year, Ambedkar Jayanti was once again celebrated in a grandiose manner.
Like every year, Ambedkar Jayanti was once again celebrated in a grandiose manner. As usual, all leaders garlanded his statues and profusely spoke about his contribution to the empowerment and uplift of Dalits. Those at helm of affairs like Chief Ministers and ministers also took pains to explain how they were taking their states forward. Celebrations have become an annual event and yet another occasion for blowing one's own trumpet.
Some shed tears saying how even 75 years after Independence Dalits continue to remain poor, and how they were trying to be their saviours. All these speeches we have been hearing year after year. But what is missing is seriousness on the part of politicians to really understand the ideals and ideology of Dr Bheemrao Ramji Ambedkar. No one spoke on how to take forward the ideology of Ambedkar. Unfortunately, every leader tries to look at him as in icon of Dalits though there is much more to him.
Dr Ambedkar was a man of logic. He said, "I measure the progress of a community by the degree of progress which women have achieved." This shows that he was also a feminist icon. He always felt "A great man is different from an eminent one – in that he is ready to be the servant of the society," which is very relevant for today's India. Ambedkar was a civil servant par excellence. Today, the Indian civil service has taken a new avatar and has become merely a job.
Dr Ambedkar spoke on and pursued many issues pertaining to all sections of the society including the media. He was himself a great communicator. He was also a successful journalist. Many of us must have heard about a magazine called 'Harijan' launched by Mahatma Gandhi in 1933 to propagate the cause of untouchables. But what the Indian media does not talk about is how Ambedkar laboured to run his newspaper when the pro-Congress media refused to speak about the oppressed classes. He used the power of word to emancipate the untouchables. In 1920, he launched a Marathi fortnightly, "Mooknayak, (the leader of the dumb)". In April 1927, he started "Bahishkrit Bharat (Ostracized India)". In 1930, he launched started a new journal named, "Janata (The People)". This magazine lived for 26 years. After that, the magazine's name was changed to "Prabuddha Bharat (Enlightened India)". He strongly believed that newspapers could bring about a change in the lives of the millions of oppressed people.
Dr Ambedkar was one who had firmly advocated the freedom of the press and that is why he accorded a pride of place to the freedom of speech and expression while drafting the Constitution of India. "Freedom of speech and expression" has been declared a fundamental right under Article 19(1)(a), subject only to the reasonable restrictions that may be imposed by the state under clause (2) of that Article. Media, according to Dr Ambedkar, was 'A bird without wings.'
But now media is passing through a phase of a new low for where its freedom is in peril. Media freedom across the globe has been diminishing over the past decade. In some of the most influential democracies in the world, populist leaders have overseen concerted attempts to throttle the independence of the media sector. India, too, cannot say that it is free from this syndrome.
The reasons for such a situation are many. The media which is supposed to be the eyes and ears of the people and was supposed to play the role of a 'watch dog' has become a business model. Politicians, too, have entered the world of media and this has resulted in evolution of a captive media. Not just that, it has led to a situation where one media has been trying to kill the other and, in the process, independent journalism has taken a beating.
A journalist should be able to freely report on matters of public interest. He should inform the society of the omissions and commissions of their leaders and convey the people's desires to the government and act as a platform for open exchange of information and ideas. Ability of journalists to report freely on matters of public interest and allowing them to play their role by the governments is the key indicator of a healthy democracy.
A free press can inform citizens of their leaders' successes or failures, convey the people's needs and desires to government bodies, and provide a platform for the open exchange of information and ideas. When the freedom of media is restricted as it is happening now, these vital functions break down, leading to poor decision-making and harmful outcomes for leaders and citizens alike.
We have seen how globally there is an increase in the crackdown on the freedom of press. This does not mean that only governments must be blamed. The media, too, has allowed the values of journalism to decline, leading to a situation where there is urgent need to protect and promote freedom of press and public access to information.
What is alarming is and should be a matter of concern is that elected leaders in many democracies who should have been the staunchest defenders of freedom of press have been continuously making explicit attempts to gag the voice of media. Not just that, as they started launching their own media houses and are making efforts to strengthen their outlets that serve favourable coverage at the cost of other media, a stage has come where caste is also being attributed to the media houses.
But when it comes to speeches on occasions like that of Baba Saheb Ambedkar, these leaders eulogise the media and on the eve of elections make all kinds of promises claiming that they are the only ones who care for the fourth estate. The erosion of press freedom the leaders should understand has a potential to lead to breakdown of other democratic institutions and principles. Some may argue that there are any number of instances where press freedom can rebound from even lengthy stints of repression. Yes, it can if the media also has a strong desire for restoring democratic liberties and the courage to call a spade a spade despite the present atmosphere of repression.
In the last one decade, governments in many countries and in many states in India have introduced new legal measures to undermine the freedom of media. Regulations have been so amended which threaten the freedom of the press and has led to the traditional business model reaching a breaking point.
From a situation where spending on advertising to propagate the various welfare measures launched by the government was done as per the guidelines issued by the departments of Information and Public Relations, a situation has arisen where the state governments have started preferring only the top few in the country.
When the concept of state governments or the Centre releasing advertisements was introduced, the idea was to help the small and medium newspapers to grow. But several considerations have crept into the decision making of who should get them and who should be denied and the decisions are no more left to the concerned departments. Not just that, though the governments have fixed tariffs for each category of newspapers, they do not abide by them. This has become a global phenomenon. Even when one looks at digital advertising spending, just two companies, Google and Meta receive about half of the global digital advertising spending.
Another question that props up during different discussions is whether the common man is really bothered about the state of media in the country? The fact is that the common man still wants a vibrant media which can rise to occasion and speak about the rights of those who are even in a remote location.
Reporters sans Frontières (RSF), an international organization founded in France in 1985 to advocate for press freedom worldwide, in its report released on May 3, which is designated as World Press Freedom Day, said hardly any of the major media houses, or even print newspapers don't really care how free we are. The political leaders do not get tired of speaking about the importance of freedom of the fourth estate and accuse their rivals of curbing freedom of speech and expression but when they come to power, they do nothing to alter the situation. The political eco system has created a situation where the media finds it difficult to stand up to the present assault on its freedom and come up with strong editorial content.
The time for mincing words has long passed: The press is under siege but must find ways to stand its ground and raise its voice in solidarity.