Crying hoarse on vendetta politics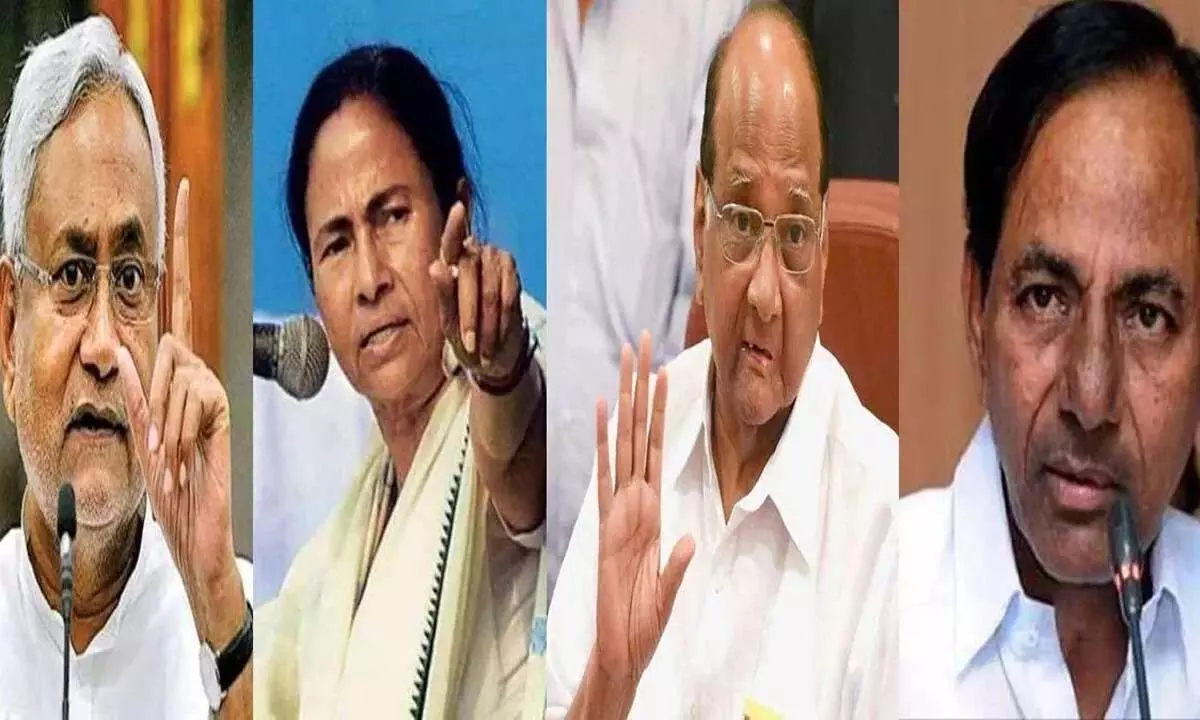 Highlights
The real political game in the country has begun with the Lok Sabha disqualifying former Congress president Rahul Gandhi.
The real political game in the country has begun with the Lok Sabha disqualifying former Congress president Rahul Gandhi. Before we discuss the political side of disqualification without malice towards one and all, let us hope that the political parties opposed to BJP will realise that they have got yet another opportunity to come on the same page and take on the government as they have been wanting to do, but failed because of personal ambitions or shall I say over ambition.
Leaders like KCR, Mamata Banerjee, Nitish Kumar or Akhilesh etc., have reacted, saying that Friday is the darkest day for democracy. Why, because Rahul has been disqualified from Lok Sabha. Well, before we discuss to what extent they are right and what the law says, one thing these leaders need to explain is are they ready to end their aversion towards Congress and take up a united fight against the NDA government led by Prime Minister Narendra Modi. If not, making mere political statements makes no sense. In politics, action matters, not lip sympathy.
When Indira Gandhi imposed emergency, which was a real black day or the darkest day for India's democracy, all parties including Jan Sangh put aside all their philosophies and joined hands to protect democracy. It is a different matter that they could not pull on for long but then they succeeded in restoring democracy. Are the present political parties ready for such a show? Mere Modi bashing and using all kinds of epithets will be of no use.
Let us for the sake of argument agree with the opposition parties as well as Congress sympathisers that the BJP government has destroyed all systems. Let us also agree with them that they are misusing the probe agencies. But then why is it that the opposition parties are not willing to give up their aspirations of leading the country solely even when they do know that they cannot achieve it. If the opposition parties are incarnation of all good virtues, why is it that people are not believing them and why is it that the Congress has been losing ground with every election and even by election?
As of today, everyone is criticising the Prime Minister Narendra Modi and the NDA government, saying that it is indulging in politics of vendetta. Well, if these political leaders can think with an unbiased mind at least for 15 minutes and make a fair assessment of how political parties – regional or national – have been behaving when in power and how they react when out of power, I am sure that Indian politics would soon change for better. Today, no party, whether it is regional or national, can call itself most pious. We had seen in the past how the Congress governments had suppressed the opposition. It does not mean that this gives sanction to BJP to do the same.
In states where the regional parties are in power, politics of vendetta has been the highest in the last one decade. The ruling parties without exception had adopted zero tolerance policy and opposition parties were either decimated or voice muzzled. Media has been silenced. The leaders in power have changed the political lingo in last one decade. All cuss words have become part of political speeches in the name of local slang. The big question can they safely used such language within their house?
It's time to look backwards. The Congress party which is now crying hoarse should know that the Iron Lady of India, Indira Gandhi, who was the most powerful politician and was alleged to have behaved like a dictator, did not use foul language against anyone. Similarly, there were stalwarts in all parties, whether it be the left parties or the BJP.
There used to be heated discussions on various issues for hours together and there were times when Parliament used to function till past midnight. But never did any of the leaders, whether it was Indira Gandhi or anyone from opposition indulged in personal criticism. No one commented on any body's surname.
It is the duty of opposition to expose the ruling party and there is nothing wrong in political criticism saying that the Modi government had helped or benefitted certain people. But jibes by anyone branding all people with particular surname as thieves is wrong. Congress leaders tried to defend Rahul's comment saying that the comment was made during election campaign. So what? Political leaders must be more cautious during election speeches.
The point I would like to make here is that it is repulsive to hear the politicians saying that it is harassment, political vendetta when it comes to their doorstep while they have been doing the same thing when in power. Congress is now pointing finger at Modi saying that he also made derogatory comments. In such case, if either Rahul for that matter any of the opposition leaders who are opposed to Modi and BJP should prove that they are different. They should criticise the person who makes derogatory comments and convince the people that such people and party should be sent home lock stock and barrel. Counter abuse makes no sense. That's not intelligent politics. It smacks of juvenile attitude and not fighting for voice of India. That cannot be Gandhi's path as Rahul claims. It is also not fighting for truth as is being claimed by Rajasthan Chief Minister Ashok Gehlot and his Chhattisgarh counterpart Bhupesh Baghel.
Another interesting aspect to be taken note of is the reaction of senior Congress leader Renuka Chowdary. She said that Modi had referred to her as 'Surpanakha' about three or four years back and hence she would file a defamation case against Modi. Fine, but then why did she have to wait for over two years to do so?
This is not the first case of disqualification of a legislator. In the past Lalu Prasad Yadav was convicted in a fodder scam and was disqualified from Lok Sabha in 2013. Azam Khan, MP, Rampur was convicted in a 2019 for hate-speech case. The Uttar Pradesh assembly announced Khan's disqualification after Rampur Court announced his conviction. Other politicians who were disqualified upon their convictions include late Tamil Nadu Chief Minister J Jayalalithaa, Rajya Sabha MP Rasheed Masood, and MLA Abdullah Azam Khan.
Some say that disqualification from Lok Sabha was not correct. But then what does the law say? As per Section 8 (3) of the Representation of the People Act, 1951, an MP/MLA convicted of any offense and sentenced to imprisonment for not less than two years shall be disqualified from the date of conviction.
Kapil Sibal, a senior advocate and formerly with the Congress party, also said that Gandhi is disqualified as an MP with his two-year jail sentence. If the court only suspends the sentence, that's not enough. There must be suspension or stay of conviction. Rahul Gandhi can stay on as a member of parliament only if there is a stay on the conviction. But in this case the court did not stay the conviction.
Some argue that there was no need to give such maximum conviction. Well that can be individual opinion. But it is for the higher court to decide whether the judgement is correct or not. As individuals, we cannot comment on the decision of the judge.
An intelligent politician should convert crisis into advantage. It now remains to be seen how effective the Congress and opposition will be in converting this situation to improve its votes and seats.
While this being situation, the opposition on Friday took another wrong step by approaching Supreme Court against alleged misuse of probe agencies like ED and CBI. What if tomorrow someone goes to either the High Court or apex court alleging misuse of state agencies like SIT, CID or ACB etc?