9 Years of 'Seva' – Modi's mission continues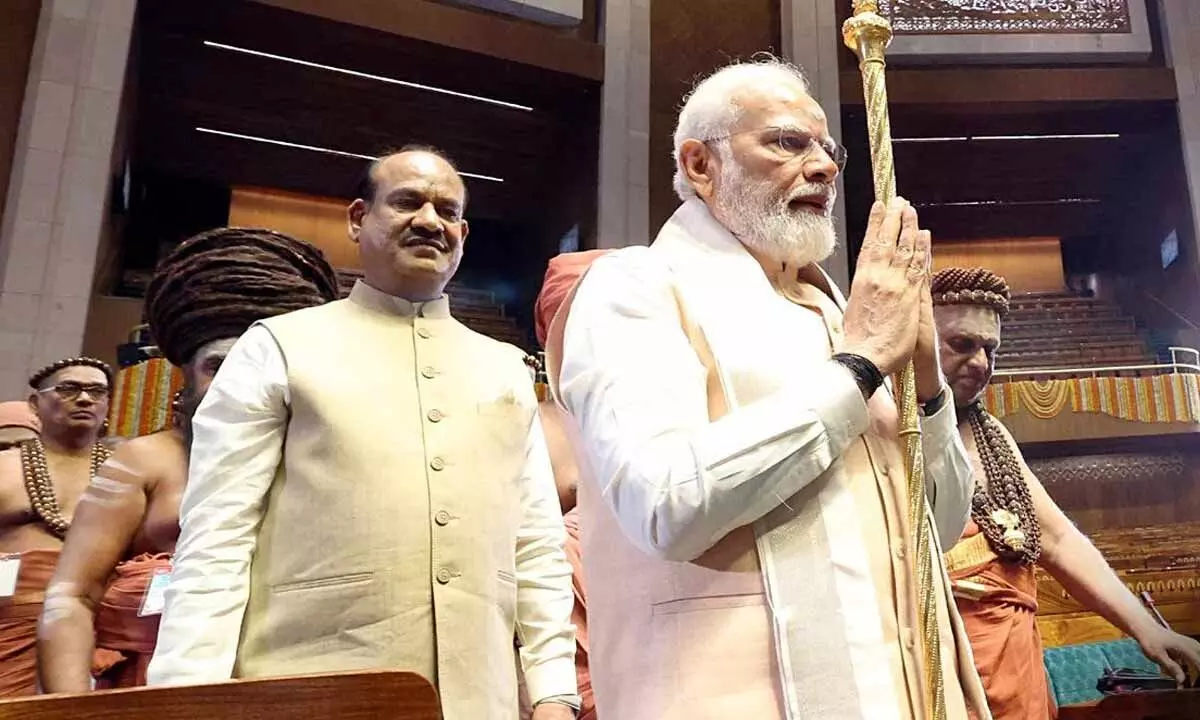 Highlights
The NDA government has completed nine years in power
The NDA government has completed nine years in power. The BJP rank and file are on cloud nine. Prime Minister Narendra Modi termed it as nine years of 'Seva' and that every decision of his government was aimed at improving the lives of the people.
Modi's active political journey began in1995. Till then he was a popular RSS pracharak based at Gujarat. He was made the BJP general secretary (organisation) and he showed his abilities by bringing in generational shift by laying focus on integrating technology with administrative acumen. He was among the first to use computer about three decades ago. Modi also encouraged many other leaders to learn to use computers. He had demonstrated how one could store tons of data in the boxes which looked more like a TV and were much bulky and complicated as compared to the present-day sleek computers. Since then he is known to use technology as a tool for empowerment.
Modi started his journey by prostrating before the steps of Parliament in 2014 and since then had brought in a fusion of empowering the industry and welfarism. NDA government launched various welfare schemes for farmers, women, deprived sections and the poor.
The Harayana Chief Minister Manohar Lal Khattar says that Modi during his 9 Saal had focussed on technology and good governance. He said three decades back, it was Modi who taught him how to use computer to store necessary data and this had helped him in providing good governance after becoming the Chief Minister. The first term of Modi was marked by rolling out of scheme while second term was on delivery, he added.
The BJP which won 303 out of 543 seats on May 30, 2019, the leaders claim had strived to empower the poor and their mission was to uplift every citizen. Modi in a tweet said "Our mission continues - to uplift every citizen and fulfil their dreams. #9YearsOfSeva."
While Congress has come with 9 Saal 9 Sawal, BJP leaders say that it was a period of 10 milestones. This includes GST which of course had come in for sharp criticism from various quarters including the industry. The Congress launched a massive campaign against GST and said Modi had implemented what he had opposed as Gujarat CM.
Modi reacted saying that he had flagged issues hindering the implementation of the Goods and Services Tax (GST) to the Congress-led government at the centre when he was the chief minister of Gujarat and finally solved them after becoming the prime minister of the country. He said GST was not his concept. It was Congress which wanted to introduce it. But the congress proposals had several flaws.
Among other milestones it had listed were Swachh bharat, International Yoga Day, Resolving the Ayodhya issue and putting the work to construct the Ram temple on fast track, Abrogation of Article 370, special focus on infrastructure like highways, new trains, new airports, its success in handling the Corona pandemic and finding vaccination etc.
But then the BJP government has to 10 major controversies and some of them will continue to haunt the party and may impact to some extent in the next elections. The issue of farm laws and the way in which it was allowed to drag on for one year and finally the PM had to apologise for introducing such a law and withdraw it. Violent clashes on Indo-Chinese border, financial irregularities and people defaulting on bank loans and escaping from India which included people like Nirav Modi, Mehul Choksi and Vijay Mallaya and the latest controversy pertaining to Adani are some of the controversies which the BJP finds it difficult to answer.
Among other decision that had led to controversy were demonetisation, CBI and ED raids which many parties and individuals felt was an attempt to harass them. Not just that, the way some cases were put on fast track, some cases where there has been slow down in probe had led to all kinds of speculations that these agencies were being controlled by the government. The biggest criticism the government has been facing is that it had failed to create the promised jobs.
Countering the criticism, BJP national president JP Nadda said basic needs like health, education, economic self-reliance, road, water, electricity reached the country's remote areas during the nine years of the PM Modi's government. " It was a period of 'seva, sushasan and gareeb kalyan' (service, good governance and welfare of the poor), they claim.
The BJP leadership is liberally using the quote of US former president Ronald Reagan to explain how and why the Modi and BJP have been dreaming big. Reagan soon after Modi became the PM in 2014 had said, ""It is time for us to realize that we're too great a nation to limit ourselves to small dreams. We're not, as some would have us believe, doomed to an inevitable decline. I do not believe in a fate that will fall on us no matter what we do. I do believe in a fate that will fall on us if we do nothing. So, with all the creative energy at our command, let us begin an era of national renewal. Let us renew our determination, our courage, and our strength. And let us renew our faith and our hope. We have every right to dream heroic dreams."
Amidst the political rhetoric of what Modi had done or not done or undone what the previous governments had done, the fact is that the opposition parties have not learnt any lesson. Each of the leaders continue to nurse their Ego. They had individually and collectively failed to create confidence among the people that they can be an alternative to BJP. Leaders of each of the regional parties nurse the ambition to be the face of PM in next elections and hence they do not want to join hands with others. Some regional parties have different reasons not to join any alliance but would like to call Modi as the "Worst" PM.
This disunity and lack of confidence in each other has come as a boon for BJP which continues to be strong in the Hindi heartland. Well whatever the political fight between different political parties within the country be, it is unfortunate that we have some leaders whose behaviour across the seas is rather not so palatable. We have seen Rahul Gandhi on a foreign land picked up his phone acted as if calling someone and then made a comment that his phone was being tapped. Rahul who keeps referring to his grand mother Indira Gandhi should know the history. Phone tapping was high at that time as well. Not that I support phone tapping but the way he behaved on stage looks childish.
One may have utmost contempt towards Modi as PM but when one is on a different land, he should not forget his Janmabhoomi is best. I am sure Congress will say that Rahul was speaking to Indian diaspora. It does not matter to whom he was speaking. He was speaking on a foreign land.
Fight your political rivals within the country defeat them in the next elections if you can, show better governance and get a pat from the people of the country and international community. 'Country First' should not remain just a slogan.
Before we conclude hoping that the opposition will show greater maturity as it inches towards the general elections, let us take a quick look at the nine years rule of Modi led government. The NDA government had come up with an innovative healthcare delivery system called E-Sanjeevini. This helps people reach specialist doctors in major cities without leaving their homes. This is a great help for the elderly and those living in remote areas with inadequate medical care.
Under the Janaushadhi Pariyojana, the government has attempted to provide high quality, generic medicines that are equivalent in quality and efficacy to expensive branded drugs to the masses at affordable prices through dedicated stores. But a lot more needs to expand the network of these outlets.
The Start-ups in the country have seen a boost and many have now become unicorns. There has also been significant increase in the woman entrepreneurs in the last nine years. Though the country has a long way to go before it can claim that it had made tremendous strides in Make in India concept, a good beginning however has been made irrespective of what the opposition parties say. The transition has begun that is for certain.
In fact, the business-friendly changes in the country's laws and regulation have improved infrastructure such as roads, air connectivity etc which has helped India Inc and good number of multinationals have started looking towards India as destination for investment. Exports and FDI have shown upward trend. India is now ranked among worlds top 10 larges recipients of FDI which is said to be around 85 billion in FY 22.