Soujanya's awe-inspiring journey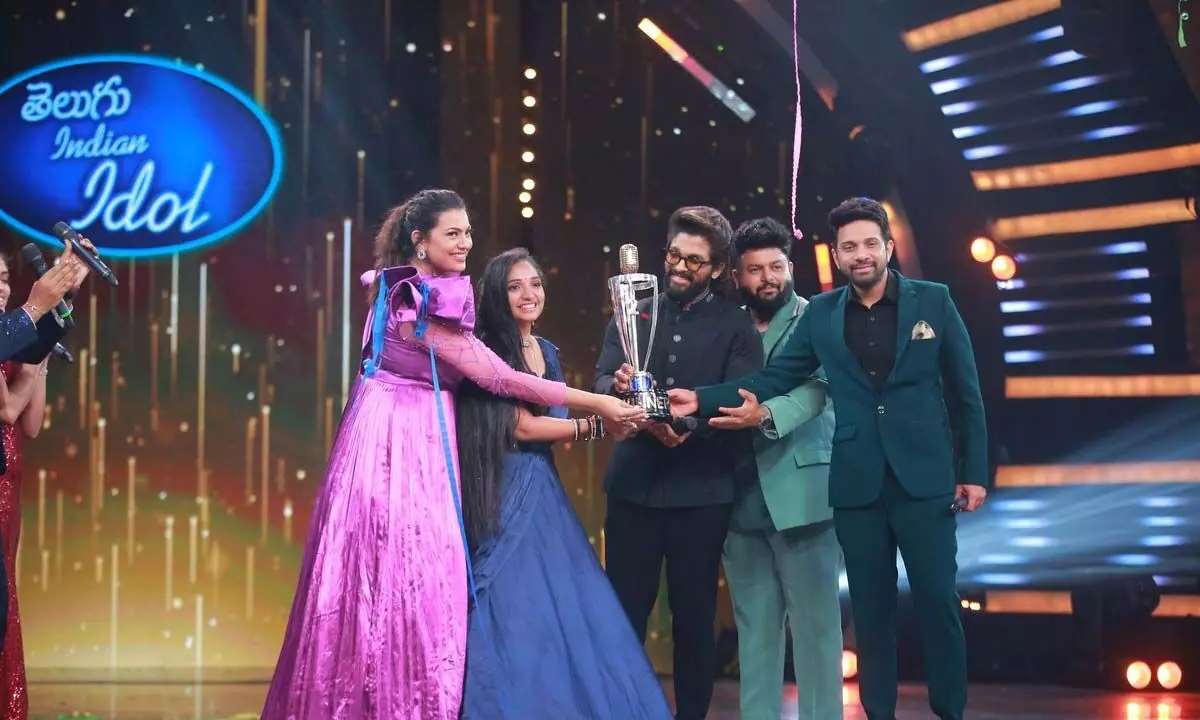 Highlights
In the vibrant world of music, where talent is abundant, and dreams are nurtured, one name has risen above the rest - Soujanya Bhagavathula
In the vibrant world of music, where talent is abundant, and dreams are nurtured, one name has risen above the rest - Soujanya Bhagavathula. From enchanting the stage of aha Telugu Indian Idol 2 to winning the hearts of millions, Soujanya's musical journey has been nothing short of extraordinary. Her triumph in the prestigious singing competition brought her fame and recognition and earned her high praise from the acclaimed actor Allu Arjun in finale. We delve delves into Soujanya's awe-inspiring journey, the hurdles she overcame, and the profound impact she is poised to make in the music industry.
Serenading the Soul: The Road to Victory
From a tender age, Soujanya Bhagavathula had an unwavering love for music coursing through her veins. "Music runs in my family, and I am grateful for the encouragement and support I have received from them," says Soujanya. "My grandfather was a theatre artist and a Telugu literature enthusiast. He instilled in me and my sister a love for the Telugu language and literature, which later helped us in our musical journey."
A Symphony of Challenges: Triumph Over Adversity
Soujanya's journey to the pinnacle of aha Telugu Indian Idol 2 was not without its challenges. Relocating from Hyderabad to Pune after marriage presented the daunting task of balancing her passion for music with newfound responsibilities. Yet, undeterred by the obstacles, Soujanya's determination burned brighter than ever. "The journey has been incredible. I have learned so much and become a much better performer week by week," says Soujanya. "I am grateful for the opportunity to be a part of aha Telugu Indian Idol 2, and I hope to inspire other women to pursue their dreams and achieve their goals."
The Sweet Sound of Victory: Allu Arjun's Acclaim
The crescendo of Soujanya's triumphant journey reached its zenith when she claimed the crown of aha Telugu Indian Idol 2, leaving an indelible mark on the hearts of viewers and judges alike. Among the esteemed judges, the presence of the renowned actor Allu Arjun added an extra touch of grandeur at the finale. As the chief guest, his praise for Soujanya's enthralling performances resonated deeply. "Receiving the award from Allu Arjun and winning aha Telugu Indian Idol 2 is a dream come true. His words of encouragement and appreciation will forever hold a special place in my heart," Soujanya expresses with sheer joy.
A Melodic Vision: Inspiring Dreams and Shaping Identities
For Soujanya, winning aha Telugu Indian Idol 2 is not just a personal triumph; it symbolizes the empowerment of women and the pursuit of dreams against all odds. As a devoted mother to a two-year-old, she is a shining example of resilience and determination. Her story encourages women from all walks of life to embrace their passions, challenge societal norms, and create unique identities. "I firmly believe that every husband should support their wife, and every girl should have an identity and aim to create one for themselves," Soujanya emphasizes. "It's great to have such family support and, most importantly, my husband."
Harmony Beyond: A Musical Symphony Unfolds
With her victory in aha Telugu Indian Idol 2, Soujanya's musical journey has entered a new chapter brimming with possibilities. Her mellifluous voice has captured the attention of prominent personalities in the industry, including SS Thaman, who recognised her talent and offered her an opportunity to sing for his compositions. "Another surreal moment. I can't reveal much about it at this moment. But after five long years, I went to a studio and sang a song in Chennai. It's just an amazing feeling," Soujanya reveals, her excitement palpable.