Insights into complex human behaviour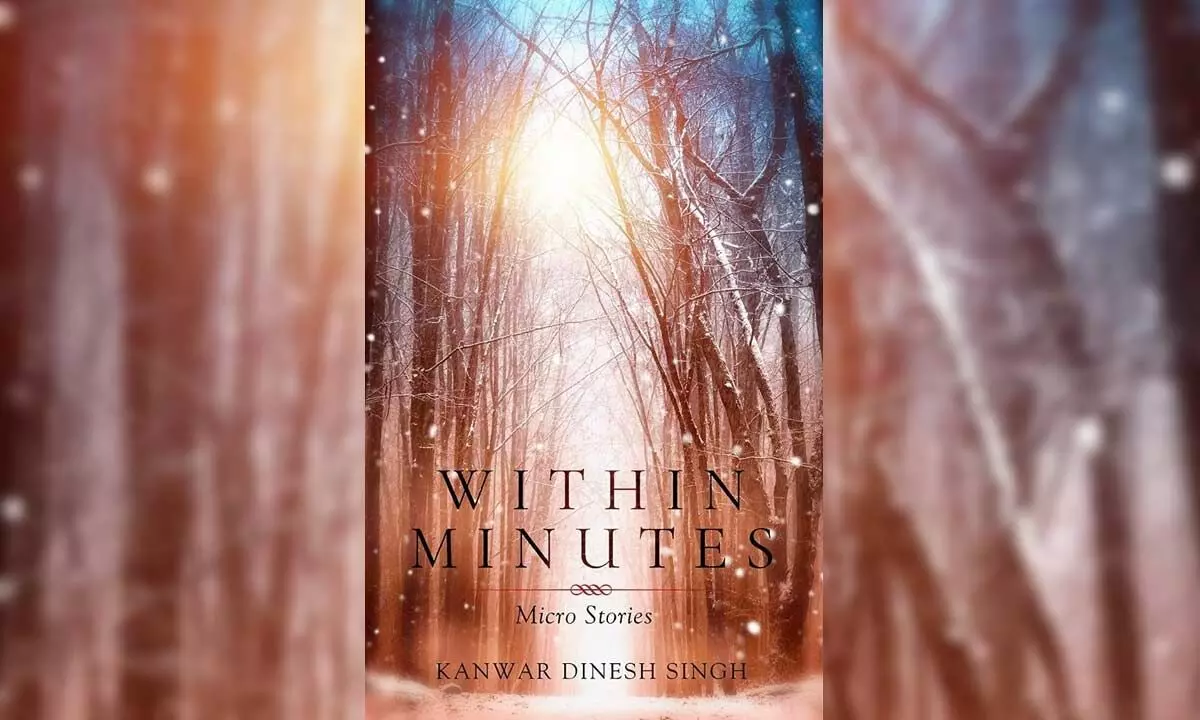 Highlights
'Within Minutes: Micro Stories', which comprises 45 micro fictional stories. Kanwar Dinesh Singh aptly uses the subtitle 'Micro Stories' as these short narratives are insightful micro-observations of complex human behaviour in minimalistic reads ranging from 50 to 800 words. Each micro story offers a 'slice of life'— depicting the hearts and minds of people living in small towns and villages of India
The genre of micro fiction permits content to be concise, condensed, and crisp, emphasizing what is imperative and crucial. In addition, a micro fiction story engagingly communicates an intricate storyline with its brevity, irony, twists, and punches. In recent years, this genre has become popular with readers. Distinguished Shimla-based author, academic turned poet and storyteller, and winner of the Himachal Pradesh Sahitya Akademi Award, Kanwar Dinesh Singh has recently come out with the book, 'Within Minutes: Micro Stories', which comprises 45 micro fictional stories. He aptly uses the subtitle 'Micro Stories' as these short narratives are insightful micro-observations of complex human behaviour in minimalistic reads ranging from 50 to 800 words. Each micro story offers a 'slice of life'— depicting the hearts and minds of people living in small towns and villages of India.

These very short stories are based on the author's experiences, observations, insights, memoirs, and anecdotes. Indeed, these micro-stories are exceptional as they present distinctive attitudes, values, ironies, and idiosyncrasies of people around us. Each tale in this collection draws attention to some important aspect of human life and perceptively underscores the experience and feeling of a particular moment. Every word and every phrase used with utmost care in these minimalistic stories is of great consequence.
Singh's micro-storytelling encompasses a wide range of themes, including love, faith, ethics, morality, relationships, gender, society, nature, life, and death. Some stories are soul-stirring and leave a mark on the reader's mind. "The Boiling Point" emotively states that presumptions are inaccurate and may mess up a love relationship. "The Atheist" underlines how human beliefs or ideals keep changing with life's vicissitudes. "Housewarming" points up gender issues with the varying stance of parents, siblings and children on women's rights, even within a family. "Narayana" accentuates a person's karmic results from previous birth. One may blame God for any dearth or failing in life, but God has His ways and blessings that humans can never explain or justify. "Discourse" maintains the proverb – example is better than precept. In this story, a doctor who is himself a chronic alcoholic is unable to convince the youth to refrain from alcohol. "Katha" shows dual standards of people who outwardly look modern, liberal, concerned and caring. Still, inwardly they are small-minded, blinkered and uncompromising, having prejudices based on caste, class or gender. "The Walnut Tree" is about the mystery of nature vis-à-vis self-harming superstitions of rustic people.
"Communion" depicts how innocent children are unaware or far away from the cunning ways of adults and are, therefore, nearer to God.
"Etiquette" asserts that children are clean-hearted; thus, no etiquette should mar their innocence and instinct. "Tradition" presents women as carriers of tradition, having their cosy world of memories and concerns even in a difficult double home situation after marriage. "Outfitters to the Gentry" is an eye-opener to business owners to upkeep ethics and etiquette of salesmanship. "Red Knight" is a mild satire on corruption seeping from top to bottom in the public domain. "Pride" shows how out of love, a village youth gets ready to marry even a prostitute from abroad when he is enthralled by her beauty and is blinded by the idea of marrying a foreign girl. "The Age to Enjoy Life" illustrates how a woman with repressed desire takes vicarious pleasure in seeing her daughter enjoy her collegiate life. "In Love" shows that no quarrel can prevail over true love and clean hearts.
The noteworthy feature of these micro-stories is that each has a plot and a recognisable structure, with a beginning, middle and end within the miniature frame. Dialogues, characters, and twists are particularly remarkable. Besides, each story gives a message or moral lesson, which makes them read as modern-day parables. Each story evokes a strong emotion in such little space. Indeed, Singh's micro fiction is notable for creating a compelling emotion in such a short form. Dialogues stand out the most.
Amazing work there; it serves to flesh out each character, even though there isn't much space for traditional character development in this condensed form. Each story is truly a pleasure to read.