Pawan Kalyan, Balakrishna, Neelima Guna And A Few Other Tollywood Celebs Mourn For Senior Actor Jamuna's Demise…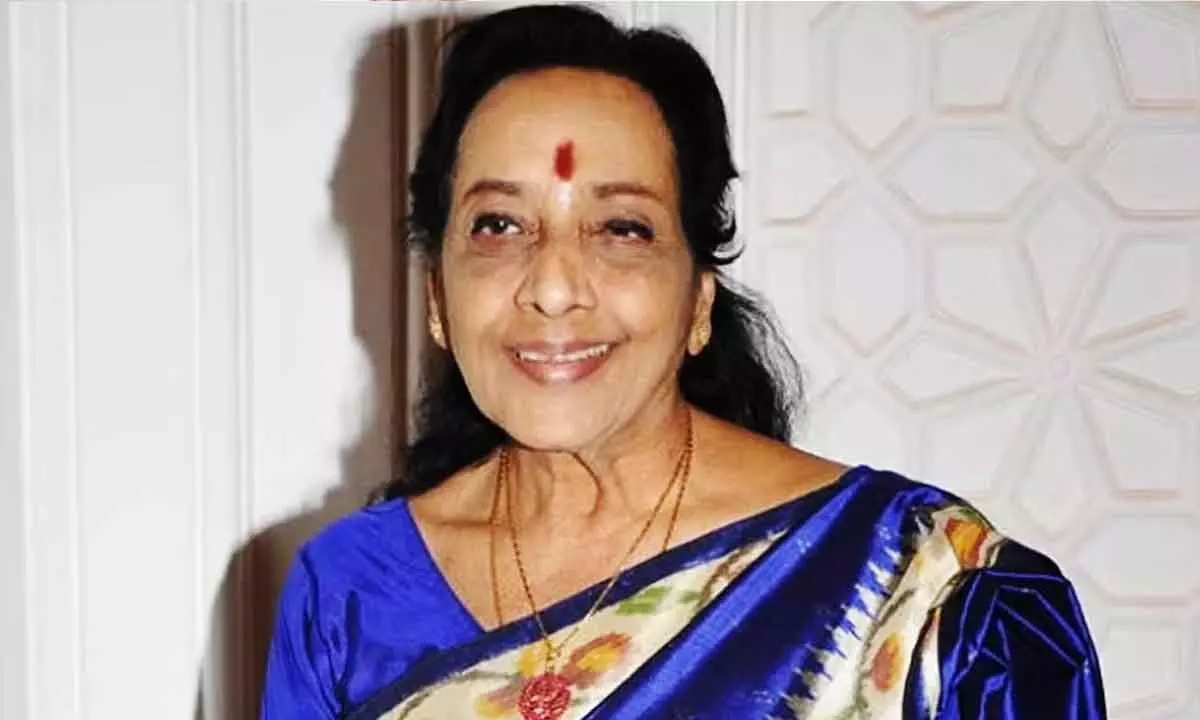 Highlights
Senior actress Jamuna passed away today at the age of 86!
Her last rites will be held at Mahaprasthanam, Film Nagar in the evening!
It is all known that Tollywood's legendary actress Jamuna passed away today morning due to age-related issues. She breathed her last at the age of 86 at her home and left a void space in the Telugu film industry. She acted in more than 200 films in Telugu and also shared screen space with many ace actors in the Hindi, Tamil and Kannada film industries. She started her acting at the age of 15 and turned into an ace actress with an amazing screen presence.

Balakrishna, Pawan Kalyan, Neelima Guna, Nithiin and a few other stars mourned for her loss and dropped condolences messages on social media… Take a look!
Balakrishna
Along with sharing the pic of Jamuna garu, he also wrote, "Jamuna garu has impressed us as a naughty child, sister-in-law swinging with anger, best housewife, above all as the Satyabhama of Telugu people. As he has experience in dramas from childhood, he has become an ornament for acting. Jamuna garu has shown his ability to act in more than 195 movies. Jamuna garu, a versatile scientist who is not limited to only South movies, also acted in many Hindi movies in those days itself and made him feel aura and got the praise of everyone... As father said, art and artists will never die.. Even though Jamuna garu is not with us physically today, his sweet memories will always be there in our hearts... I pray to God that their soul rests in peace... My deepest condolences to their families."
Sumalatha Ambareesh
She shared beautiful throwback pics of her crowning moments and wrote, "ದಕ್ಷಿಣದ ಹಿರಿಯ ತಾರೆ ಜಮುನಾ ಅವರ ನಿಧನದ ಸುದ್ದಿ ಆಘಾತ ತಂದಿದೆ. ನನ್ನ ಮೊದಲ ಸಿನಿಮಾಗೆ ಶುಭ ಹಾರೈಸಿ, 'ಒಳ್ಳೆಯ ಭವಿಷ್ಯ ನಿನಗಿದೆ' ಎಂದು ಆಶೀರ್ವದಿಸಿದ್ದರು. 43 ವರ್ಷಗಳ ಹಿಂದೆ ನನಗೆ ಬ್ಯೂಟಿ ಕ್ವೀನ್ ಕಿರೀಟ ಹಾಕಿದ ಹೆಮ್ಮೆಯ ನಟಿ ಅವರಾಗಿದ್ದರು. ಅವರ ಆತ್ಮಕ್ಕೆ ಶಾಂತಿ ಕೋರುವೆ. #Jamuna #teluguactress".
Sai Dharam Tej
Manchu Lakshmi Prasanna
Suresh Productions
They shared a video that holds beautiful snaps of Jamuna and made us go teary-eyed.
Ananya Nagalla
Gopichand Malineni
Director Bobby
Director Gopi Mohan
Actor Gopichand
Director Surender Reddy
K Raghavendra Rao
He shared a pic of Jamuna and wrote, "Saddened by the passing of legendary actress #Jamuna garu. Will fondly remember her for all her iconic roles and her immense contribution to the industry. My condolences to her family and loved ones".
Nithiin
Director Radha Krishna
Neelima Guna
Sudheer Babu
Director Sreenu Vaitla
He shared a beautiful throwback pic of Jamuna and wrote, "We have lost many legends recently and it is unfortunate that the legendary actress Jamuna garu is no more. Her and her classic movies will always remain in our hearts.
I pray for the strength to her family..
Om Shanthi".
Pawan Kalyan
Well, the mortal remains of Jamuna will be kept at the film chamber from 2-4 PM and then her last rites will be held at Mahaprasthanam, Film Nagar, Hyderabad.
RIP Jamuna