Affordable housing share dips to 20% from 40% in 4 yrs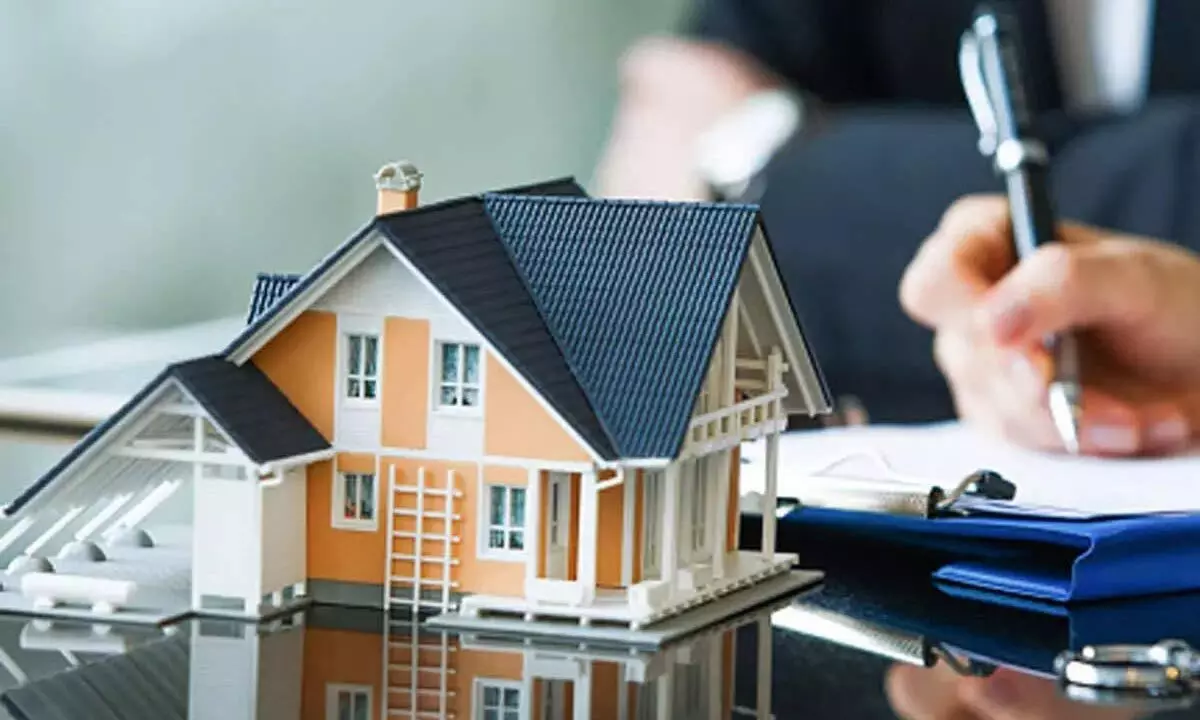 Highlights
The current demand is mostly skewed towards mid and premium segments priced between `40 lakh and `1.5 cr
Hyderabad: Despite all these upheavals and market realignments in the past three years, India's housing market remained remarkably resilient and even thrived. However, there seems to have been one major 'fatality' - affordable housing. Once the source of considerable political hype, this segment is not merely just languishing today - it seems to be in a critical situation.
There are several reasons why affordable housing is in doldrums today. While developers can easily recoup their land costs with mid-range and premium housing, affordable housing is another matter. Though it is aimed at the lower end of the economic pyramid, it still requires land. It's not there is no land available - but in big cities, it costs so much that only costlier housing makes financial sense.
As per Anarock Research, the affordable housing segment (units priced less than Rs 40 lakh) saw its overall sales share dip to 20 per cent in 2022 from 40 per cent in 2018. Out of the total sales of nearly 1.95 lakh units across the top seven cities in 2018 nearly 40 per cent sales were in the affordable segment. But in 2022, out of the total 3.6 lakh units, about 20 per cent were in the affordable category.
Anuj Puri, Chairman of Anarock Group, says: "Where land is available - namely the cheaper far suburbs - there are invariably severe infrastructure challenges.
When an affordable housing project is in an area with very poor infrastructure, such as public transportation, well-made roads, and basic amenities like water and electricity, there will be very few buyers."
He adds, "Another pain point is lack of financing options for affordable housing. Many developers of affordable housing are smaller players with little or no collateral for debt borrowing, which is in any case exorbitantly expensive even as private equity players predominantly favour bigger developers. Affordable housing is still considered very risky, and the returns on investment too small to be enticing."
A large proportion of the Indian population earns low incomes, and this makes it hard for them to pay for even the most basic housing. There may be a huge affordable housing deficit, but the actual buyer base is people who are most affected by the economic turmoil – junior level software employees, and most people doing blue-collar jobs in the manufacturing and services sectors.
Moreover, affordable housing developers' profit margins were already wafer-thin. And amid rising inflationary trends of basic input costs (cement, steel, labour, etc), it has become even more difficult for them to launch budget homes since increasing prices in this highly cost-sensitive segment defeats the purpose, Puri informed.
He further said, "The current demand is mostly skewed towards mid and premium segments priced between Rs 40 lakh and Rs 1.5 crore. These segments have done significantly well post the pandemic and millennials are the key demand drivers.
This can clearly be seen in the data of the new supply entering the market as developers are consciously launching projects based on consumer demand."
With demand shrinking over the last few years for affordable housing, developers have also changed gears to match demand and launched more projects in the mid and premium segments. The supply share of affordable housing has been on a decline in the last five years and has reached the lowest in the previous year.
Anarock Consumer sentiment survey conducted in 2022 highlighted that demand for affordable housing reduced to its lowest levels in 2022 in the last five years. In 2018, at least 39 per cent property seekers were looking to buy an affordable property within Rs 40 lakh in the top Indian cities. This demand shrunk to its lowest levels in 2022 with just 26 per cent property seekers looking to buy in this budget.
The PMAY (Urban) has shown progress since its implementation in mid-2015. As per Ministry of Housing and Urban Affairs, as many as 122.69 lakh homes had already been sanctioned by the government as of March 2023.
Approximately 72.56 lakh homes have been completed while work on 109.23 lakh units has been started. Nearly Rs 2.03 lakh crore of central assistance has already been committed.
Anarock Group recommends unlocking the government-held land for affordable housing development. By unlocking such land within the municipal limits of the cities, the government can attract developers who can turn a good profit while simultaneously passing on the benefits of cheap land availability to both end-users and investors.
Another key intervention which has been floated in the past and continues to be extremely pertinent is revising the price bandwidth for homes which qualify for the government's various incentives to affordable housing buyers. The current Rs 45 lakh limit means that buyers cannot look anywhere within the city limits but must turn to the infrastructure-deficient far suburbs.
The government should also streamline the approval process for affordable housing, extend more tax incentives to private players, and increase funding for affordable housing via Public Private Partnerships (PPP). By providing tax breaks and other incentives, the government can encourage the construction of affordable housing in non-metropolitan areas, the property consultant suggested.
The developers can also use novel building methods that lower construction costs and improve the financial viability of affordable housing. It is doable – but it will take massive, concerted political will to see it through.