Hyundai retained 2 spot in FY2023 Sales: Hyundai-Tata Battle Exciting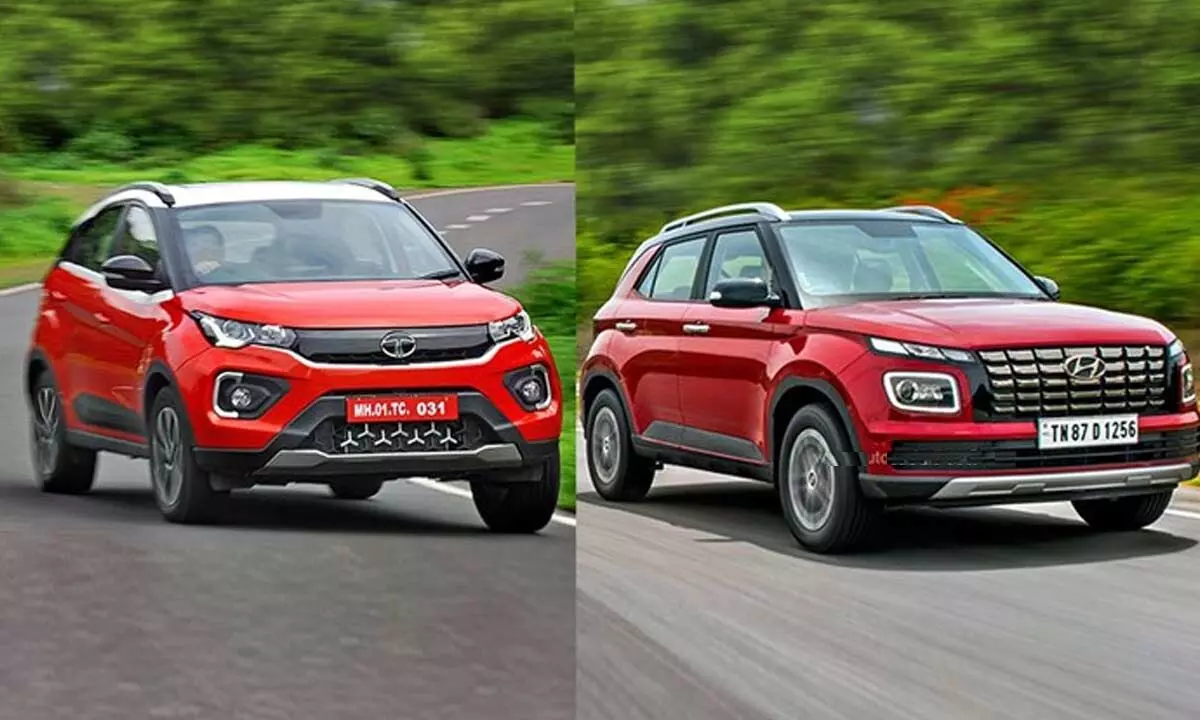 Highlights
This time, Hyundai gave tough fight to Tata and retain its spot in No.2 position
In Future, it would not be easy for Hyundai, as TATA motors would have EV advantage
The Indian Automotive industry recording tremendous growth, varied car manufacturers are trying to attract customers and record high sales.
The Indian Automotive industry has been growing tremendously, for FY2023, Hyundai Motor India, Tata Motors and Kia India, they have all recorded their best-ever sales in fiscal year. The experts had a close watch, to check as to whether Tata would dethrone Hyundai from the second spot. It was close, but ultimately Hyundai managed to retain its second position.

-UV?SUV/MPVs sold the most
-Hyundai has recorded about 18% growth, Tata has recorded 45% growth
-Tata is all set to increase the production this year.
FY2023 Sales for Maruti, Hyundai and Tata
Maruti Suzuki India has logged a sale of about 16 lakh units and it is almost untouchable at the top. The battle in question is number 2 position, Hyundai Motor India and the hard-charging Tata Motors. In FY2022, Hyundai managed to sell about total of 4.8 lakh units, which was very significant number when compared to 3.7 lakh unit sold by the Tata Motors.
Things looks much closer in FY2023, the Hyundai sales fluctuated between 30,000 to 50,000 unit mark monthly, Atta consistently sold about 40,000 plus units every month.
This consistency has enabled Tata to sell about 5.38 lakh nits during the financial year, a record amount of annual sales having massive 45% growth. Hyundai still managed to stay ahead with a late push during the January to March period, thus taking its annual sales to 5.67 lakh units.
Battle between Tata and Hyundai will be more exciting
There has been continuous demand for SUVs, thus companies with strong UV/SUV/MPV portfolios reaped the most benefits. Both companies presently have two high selling products each-the Creta and Venue for Hyundai and the Nexon and Punch for Tata. All the four products from the two rivals rank among the monthly bestselling UVS.
It has be noted that, Hyundai, with a manufacturing capacity of about 8.5 lakh units, is also India's no 2 exporter. In comparison, the TATA motors has far lesser overseas shipments, which would enable it to focus more on the domestic market. The Tata Motors presently has got production capacity aof about 6 lakh units, which would receive additional 3 lakh unit boost, when its new acquired Sanand plant of Ford goes operational later this year.
Tata has better chances to surge ahead due to is EV sales
Hyundai Motor would definitely go out to protects its No.2 position, but Tata would have edge due to the EV advantage with Nexon Tigor and Tiago Evs. The Tiago EV can be expected to eat into the ICE hatchback sales with the rising fuel prices.