BMW celebrates its 25-year relationship with MotoGP, by revealing its MotoGP Safety Car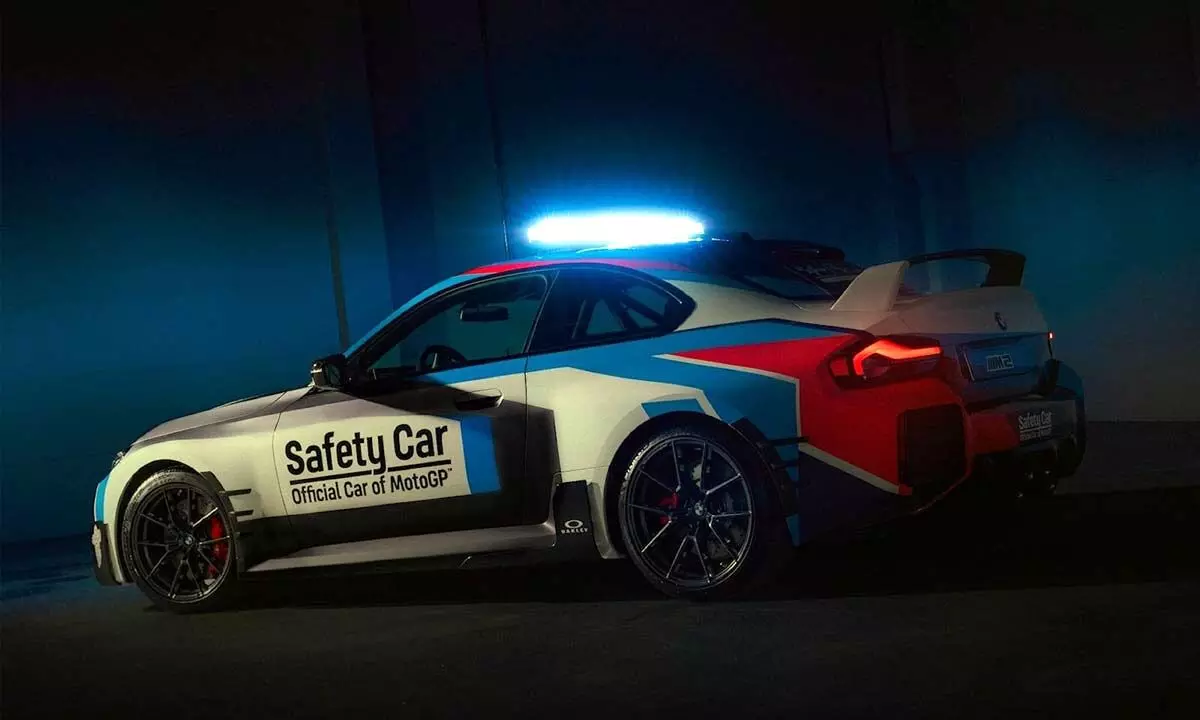 Highlights
The latest move of the BMW to celebrate the relationship with MotoGP, was to show its latest BMW M Safety Car the MotoGP series
The latest move of the BMW to celebrate the relationship with MotoGP, was to show its latest BMW M Safety Car the MotoGP series, before it could make its debut at the season-opening Grande Premio De Portugal race weekend from 24th to 26th March. It marks the 25th season of BMW as the official Car of MotoGP and the specialized M2 would be hard to miss in its BMW livery mixed with the Gian MotoGP log and a flashing light bar on the roof.
The 2023 Season of the Grand Prix Motorcycle racing covers about 21 tracks around the world and beginning this year, there would be a sprint race and the main race and qualifying. Thus, in other words, the M2 safety car is going to get one hell of a workout. Also, in support of MotoGP, the rider who posts the fastest qualifying time in each season, would be awarded a BMW M Car.
How MotoGP became bigger and bigger?
The Grand Prix Motorcycle racing has gotten bigger and bigger, since the MotoGP era began in the year, 2002 to replace the 500cc class, but it has been around since the first organized race in 1949. Dorna Sports presently own the commercial rights.
Carmelo Ezpeleta, CEO of Dorna Sports, stated, "We are delighted to be joining BMW M in celebrating the 25th anniversary season of our partnership in 2023. In BMW M we have had a strong partner at our side for about quarter of a century, a partner with whom we have enjoyed superb collaboration in many different areas. With the most innovative technologies, BMW M is taking care of safety in our sport for the 25th year now and is a firm fixture in the MotoGP paddock with a wide range of activities.
When it comes to BMW, it tends to vary its MotoGP safety cars and the M2 is a compact performance car having 460 hp generated from its turbocharged inline-six engine and it requires to be fast to keep the bikes in check at a pace which keeps the tires and brakes warm.
The BMW CEO, Franciscus Van Meel, further added, since 1999, we have been striving to incorporate our values such as innovation, technology, emotion and passion in our partnership with Dorna Sports as well. Our new BMW M2 MotoGP safety car is just one example of this. With it we are continuing our tradition of putting the latest BMW M high-performance automobiles at the service of MotoGP safety. Be it the safety car fleet, the BMW M ward or our many other activities in the top level of motorcycle racing, we are proud that Fascination M has become a significant point of the MotoGP.