With little water in Polavaram, rabi crops likely to be hit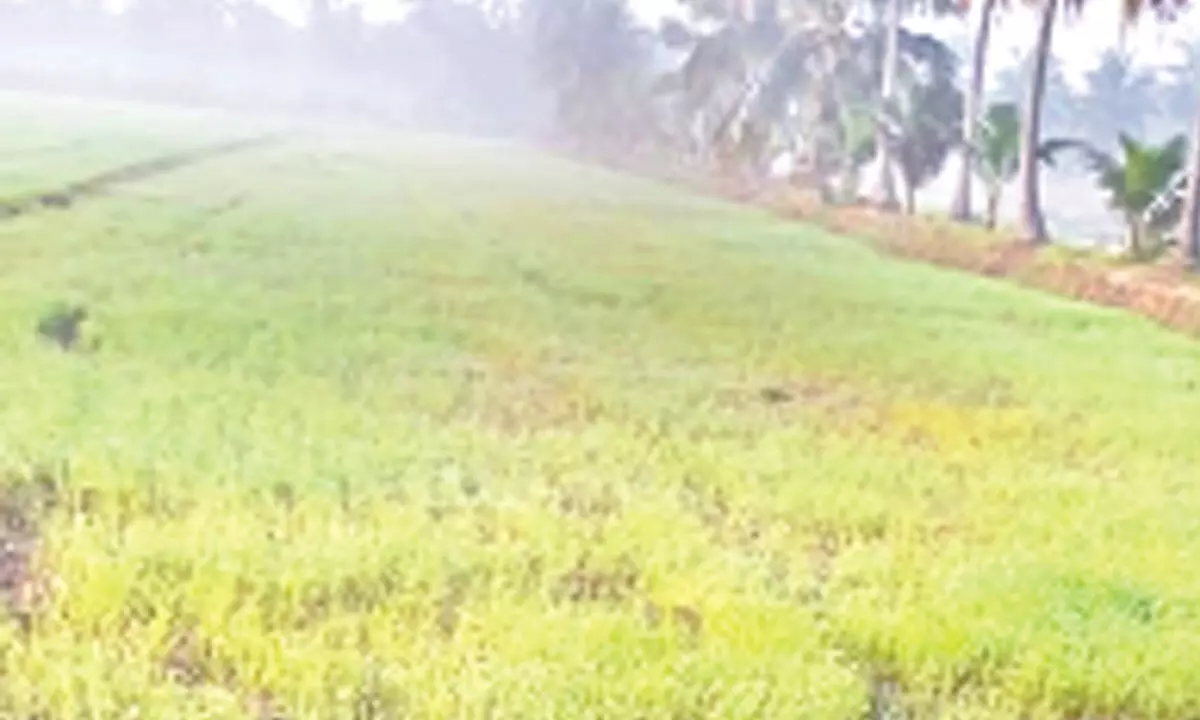 Highlights
7,000 cusecs of water is being released against the need of 14,000 cusecs in Godavari region
Farmers lament that they will incur loss as the entire crop will get dried due to inadequate water supply
Kakinada: Polavaram Irrigation Project (PIP) dampened the hopes of Irrigation officials as the project has little water enough only to meet emergency purposes. Last year, the officials supplied water from the PIP to Godavari ayacut farmers for Rabi season. But this year, they couldn't supply water during Rabi season, which led to water shortage for the standing Rabi crop in Godavari delta.

According to irrigation officials, there is 2.22 lakh hectares ayacut under the limits of Dowleswaram barrage in the combined Godavari districts. Farmers require 14,000 cusecs of water for Rabi cultivation, but the officials are releasing 7,000 cusecs of water only, which is
insufficient.
Along with water shortage, the officials releasing water in instalments is also troubling the farmers in Godavari delta. It is learnt that crop in five lakh acres is facing water shortage in Godavari delta. Particularly, the problem is more acute in tail-end fields. Normally, there will be sufficient water flow in Godavari river during Rabi season. But this year, water levels dwindled as thre were no flow from upper reaches.
Meanwhile, irrigation officials appealed to the officials of power projects at Sileru and Donkarayi to release water. The irrigation officials said that the power project companies agreed to release 6,000 cusecs of water per day.
Some section of farmers complained that they will incur heavy loss as the entire crop will get dried if adequate water is not released. They said that water is not supplied in Mummidivaram, Ainapuram, Somidevarapalem, Katrenikona and Pallamkurru mandals and other mandals in Dr BR Ambedkar Konaseema district.
On the other hand, the bridge at Injaram of Tallarevu in Kakinada was bent and was neglected without repairs for the last three years. This bent bridge has become an obstacle for free flow of water. Farmers at Tallarevu couldn't cultivate paddy during Rabi season due to non-availability of water.
In certain areas, farmers are getting water with the help of engines. They said that they had invested more than Rs 15,000 per acre and would incur loss due to paucity of water.
Polavaram Irrigation Project Superintendent Engineer K Narasimha Murthy told The Hans India that 16 TMC of water is available in the PIP and they have released 8 TMCs already to the rabi farmers. He informed that water release has commenced from December 1, 2022 and lasted till February 20. Last year they received water from Kaleshwaram project for rabi season and faced no problem. But this year they are constrained to depend on natural sources of water.
He stated that they got a scant amount of water to the tune of 8 TMC, but it would be utilised only in emergency situations. He advised the Irrigation officials to use water very carefully without wasting. He also informed that they also receive water from Sileru via PIP to Dowleswaram barrage.
Irrigation Superintendent Engineer G Srinivasa Rao admitted that there is water shortage during rabi season.
He stated that 14,000 cusecs of water is required but at present they are releasing 7,000 cusecs. Efforts are being made to release 6,000 cusecs from Sileru per day, which might mitigate the problem to some extent, he noted.
Sileru Complex Chief Engineer Boddu Sridhar stated that in view of the urgent need of water they are releasing 3,000 cusecs from Donkarayi reservoir. The water will be released through 6 and 7 gates of reservoir and water supply from Donkarayi reservoir would be released till the first week of March, he added.