Welfare schemes aimed at women empowerment: Dy CM K Narayana Swamy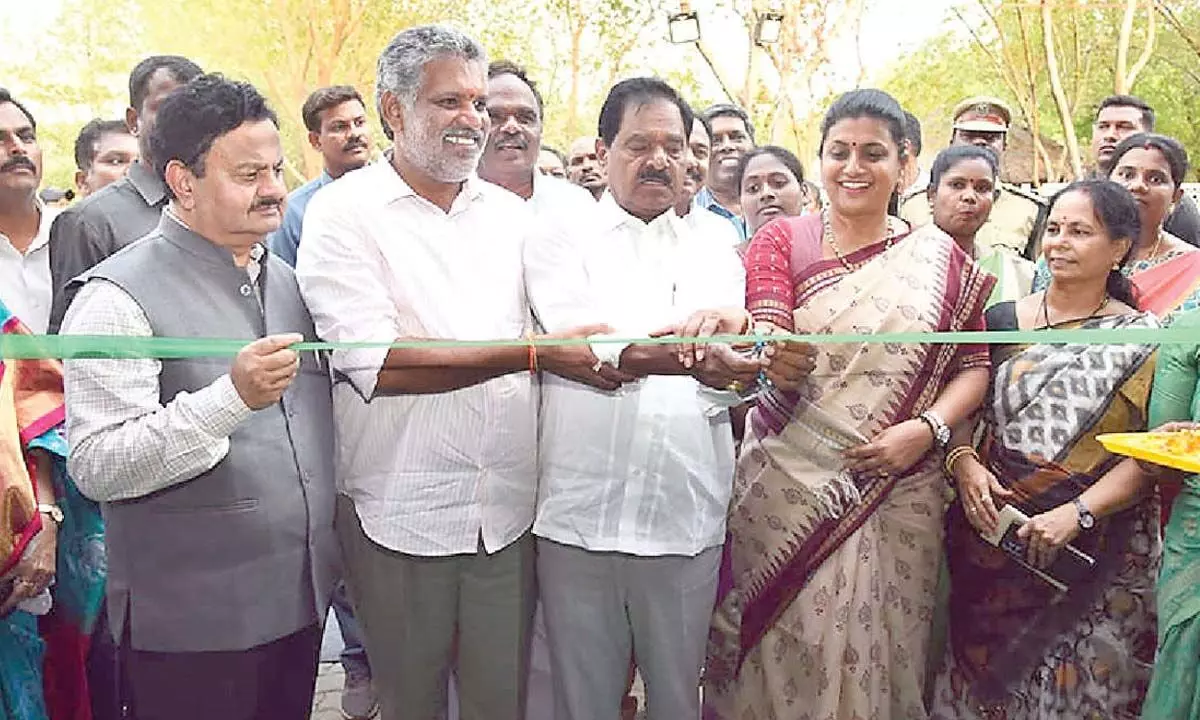 Highlights
Deputy Chief Minister K Narayana Swamy and Minister R K Roja inaugurate the 12-day All India DWCRA Bazaar at Shilparamam in Tirupati
Roja says it is a good opportunity for women in SHGs to market their products
Tirupati: The 12-day SARAS – All India DWCRA Bazaar being organised by the Union Ministry of Rural Development jointly with Society for Elimination of Rural Poverty (SERP) at Shilparamam in Tirupati, was inaugurated by the Deputy Chief Minister K Narayana Swamy and Minister R K Roja on Wednesday.
Speaking on the occasion, the Deputy CM said that Chief Minister YS Jagan Mohan Reddy was woman biased and has been implementing various welfare schemes to empower the women. Several welfare schemes have been designed to benefit women and have been giving proper positions to them to excel in various fields, he stated.
Minister Roja said that the DWCRA Bazaar will facilitate self-help group members from AP and other states in the country to display their products for exhibition and sale through which they can get direct marketing opportunities without the role of middlemen. She felt that it will be made use of by the citizens and visiting pilgrims in a big way.
District Collector K Venkataramana Reddy said that the idea behind the expo was to eliminate rural poverty by making them economically empowered. For this, the exhibition will be a good opportunity through which their products will get marketed. About 250 SHG group women's products will be displayed in the exhibition for sale. He thanked SERP, NABARD, DRDA, MEPMA, SIDBI and Shreeja for their cooperation in organising the mega event. MLC Y Srinivasulu Reddy also spoke on the occasion. Chandragiri MLA Chevireddy Bhaskar Reddy was also present.
DRDA PD AD Jyothi, MEPMA PD Radhamma, LDM Subhash, SIDBI GM Vidya Sagar, NABARD DDM Suneel, district tourism officer Rupendranath Reddy, Shilparamam AO K Khadarvalli, Sarpanch Jyothi and others took part.