Start paddy procurement for rabi season from April 15: YS Jagan Mohan Reddy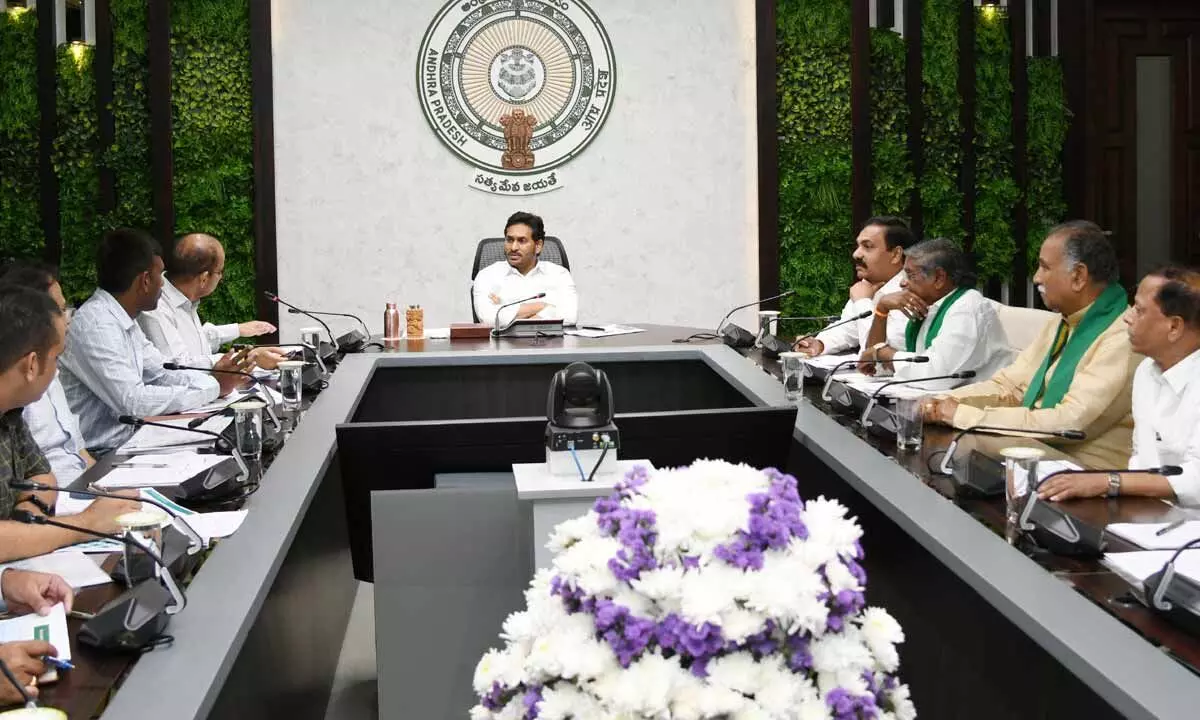 Highlights
Instructs officials to soon complete enumeration of crop loss due to the recent untimely rains
Officials tell him that they would release the list of the farmers who have suffered crop loss by the second week of April
10.5 lakh metric tonnes of quality fertilisers to be distributed to farmers through RBKs in 2023-24
Vijayawada: Chief Minister YS Jagan Mohan Reddy directed the Agricultural Department officials to ensure that paddy procurement for rabi season begins from April 15 and complete enumeration of crop loss during the recent untimely rains at the earliest.
At a review meeting on agriculture held at his camp office on Wednesday, the Chief Minister instructed the officials to ensure that spurious fertilisers, pesticides and insecticides were removed from the market and quality fertilisers and pesticides were supplied to the farmers through RBKs (Rythu Bharosa Kendras).
Continuous monitoring is required to ensure that the farmers are not subjected to undue suffering, he told them, suggesting that the enumeration of crop loss due to the recent untimely rains should be completed at the earliest.
Officials said they would release the list of the farmers who have suffered crop loss by the second week of April.
They informed him that 100 per cent e-cropping has been completed while targeting to distribute 10.5 lakh metric tonnes of quality fertilisers to farmers through RBKs in 2023-24. They further said that pesticides would be supplied to farmers through AP Agros.
Explaining about the Polambadi training programmes being conducted for farmers, they said expenses have come down by 15%, 15%, 12% and 5% in the cultivation of paddy, groundnut, cotton and maize respectively while the yield of cotton, maize, groundnut and paddy has gone up by 16%, 15%, 12% and 9% respectively.
The results could be the first step in the direction of introducing complete natural farming methods, they said, adding they are trying to get Good Agricultural Practices certificates for 26 Farmer Producer Organizations (FPO).
The Chief Minister has also given his nod to distribute to farmers agricultural machine tools in April, 500 drones and tarpaulins in July, 1,500 drones by December and sprayers between July and December.
When the officials informed him that millet and organic clusters have been arranged in 19 districts as part of efforts to increase millet production in the State, he told them to concentrate on methods for marketing millets and horticultural products.
They further informed him that the State has achieved 3.79 lakh metric tonnes of paddy production in the rabi season of 2022-23 while it was 6.29 lakh metric tonnes in the 2022 kharif season.
The Chief Minister instructed them to implement the Plant Doctor concept at the earliest by taking steps to conduct soil tests in March, April and May every year to prepare the farmers for kharif season by June and by educating them on the crops to be cultivated.
The plant doctor concept also should be implemented and made accessible to farmers through RBKs, he suggested.
Agriculture Minister K Govardhan Reddy, Agri Mission Vice-Chairman MVS Nagi Reddy, Advisors to government Tirupal Reddy (Agriculture) and Siva Prasada Reddy (Horticulture), AP Agros Chairman B Navin Nischal, Principal Secretary (Agriculture) Gopala Krishna Dwivedi, Special Commissioner (Agriculture) C Harikiran, Horticultural Commissioner SS Sridhar, MARKFED MD Rahul Pandey, APSSDCS VC & MD Dr G. Sekhar Babu, AP Agros VC & MD S Krishna Murty and other senior officials were present.