Polavaram Irrigation Project gates' closure affects fishermen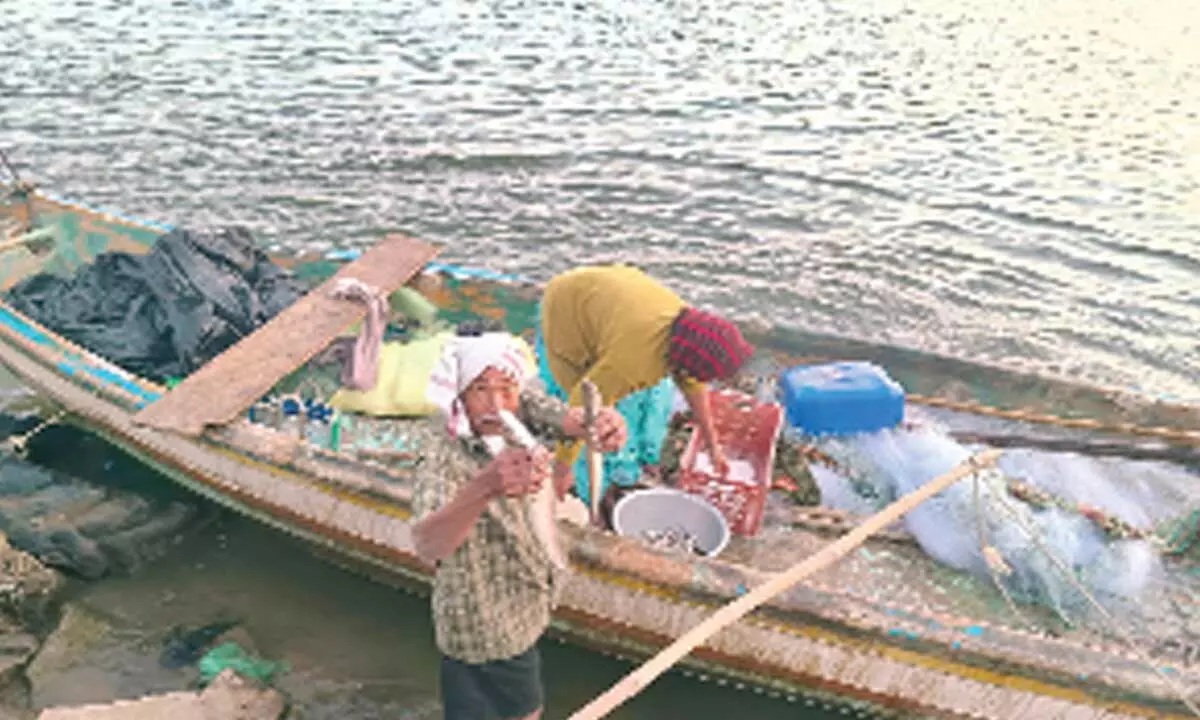 Highlights
After the gates are closed, water flow reduced, making fish scarce
A fisherman says that he is getting a meagre income of Rs 200 to Rs 300 per day
District fisheries department Joint Director B Raj Kumar assures fishermen to take their problems to the notice of higher authorities
Bhimavaram(West Godavari District): Closure of Polavaram Irrigation Project (PIP) gates snatched away the livelihood source of fishermen. They lamented that they couldn't catch fish in large numbers in Godavari River for the last two montsh and incurring loss as they have to spend on diesel for the boats.
There are about 9,200 fishermen in West Godavari district as per Fisheries department officials. A few years ago, fishermen enjoyed a roaring business as Godavari fish was tasty and in high demand. But floods and rains including closure of PIP gates in the recent months have made them lost their livelihood.
Fishermen said that they didn't go for fishing following the warnings of Fisheries department during surging floods to Godavari river. Besides, they also pointed out that they cannot go for fishing dur to closure of PIP gates. All these leading to them to live in misery and hardship. The fishermen wailed that all their pleas to the PIP authorities went in vain.
Fishermen belonging to Gutala, Prakkilanka, Vegeswarapuram, Chidipi, Kumaradevam and other villages in East Godavari; Achanta, Naraspur, Mogaltur, Palakollu and other areas in West Godavari; and some parts in Eluru district requested the Collectors of East and West Godavari districts to respond to their problems and help them to come over the crisis. They complained that they are the most neglected people as they were not sanctioned any house sites and deprived of the benefits of government welfare schemes
Speaking with The Hans India, a fisherman Simhadri said that along with his family members, he will venture into the sea at night and will return at 5 am next day. They brave the biting cold weather and sometimes thick fog in the boat, only for a handful of fish, which fetches a meagre amount of Rs 200 to Rs 300.
According to Irrigation officials, PIP gates were closed following the government guidelines which reduced Godavari water flow and subsequently fish became scarce.
District fisheries department Joint Director B Raj Kumar told The Hans India that the issue of fishermen hardships didn't come to his notice since he took charge very recently. He assured the fishermen of disclosing their problems to the higher authorities. He said, "There are 9,277 fishermen in West Godavari region including 472 marine and 279 boats. 125 marine boat owners are registered in the district and 106 smart cards are issued to marine boat owners." Smart cards will be issued to the remaining marine boat owners also, he added. The Joint Director said that the government gives Rs 9 per litre towards diesel subsidy. When The Hans India tried to contact Polavaram Irrigation Superintendent Engineer, he did not respond.