Kidney patients dying with no help from govt: CPM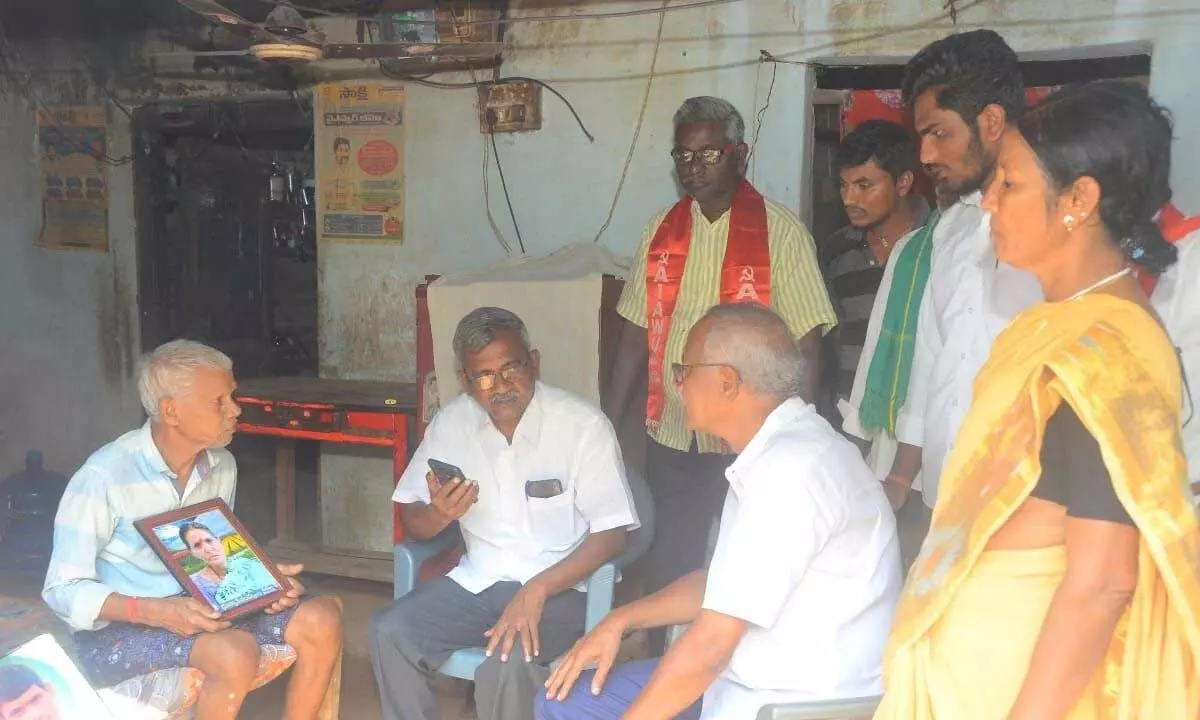 Highlights
Party leader Ch Babu Rao says that only those kidney patients, who are undergoing dialysis, are getting pension
Criticises that all statements of the government to establish kidney hospital and free distribution of medicine remained on paper only
A Konduru (NTR district): CPM leaders came down heavily on the State government for its failure in providing any medical help to the victims of kidney diseases in Girijan Thandas. Headed by party State executive member Chigurupati Babu Rao and district secretary DV Krishna, they visited several Girijan Thandas in A Konduru mandal on Wednesday and met ailing kidney victims in Chaitanya Nagar Thanda and Konduru Ambedkar Colony and other areas.
Babu Rao said that Chief Minister YS Jagan Mohan Reddy focused on criticising the Opposition in Tiruvuru public meeting but totally forgot to mention the kidney victims. He alleged the poor Girijans and Dalits are dying in dozens due to the negligence of the State government. "The State government has miserably failed to provide any succour to the kidney victims of A Konduru mandal in NTR district in the last four years. In spite of the tall claims like family doctors and medical care to every household and Aarogyasri, the Chief Minister is not caring to focus on the health of the kidney victims," he criticised.
The CPM leader pointed out that the promised Rs 5,000 each to kidney patients was not implemented and only the patients, who are undergoing dialysis, are getting pension. He commented that liquor is freely available in A Konduru mandal but Krishna river water is not available to the people.
He flayed the Centre and State governments for their failure in protecting the lives of poor Girijans by supplying protected drinking water. The government announces from time to time sanctioning funds for the Krishna river project but in practice nothing happens, he criticised.
Babu Rao reminded that MLA Rakshana Nidhi had announced two years ago that drinking water scheme was sanctioned and Chief Minister Jagan also announced recently that Rs 50 crore was sanctioned for the project. All the government statements to establish kidney hospital and distribution of medicine to all remained on paper only, he stated.
He flayed the officials for taking back the money from the families of the deceased persons after taking photographs with them. The government has enough funds to pay salaries to advisors, Ministers and people's representatives but not to provide financial help to the poor Girijan families, he criticised.
Babu Rao demanded a hospital with nephrologists should be set up at A Konduru, Rs 5,000 pension to the kidney patients, ex gratia of Rs 5 lakh to the families of the deceased, two acres of land and Rs 10,000 for funeral expenses.
He also demanded free supply of medicine to the kidney patients and ambulance service to transport the patients to Vijayawada for dialysis and treatment. The nephrologists should conduct medical camps regularly in the Girijan Thandas.
CPM leaders Jetti Venkateswara Rao, Ananda Rao, Ammireddi Ramudu and Gopi Raju were among those, who visited the Girijan thandas.