Bhimavaram: Techies log into cockfight arena, raise roosters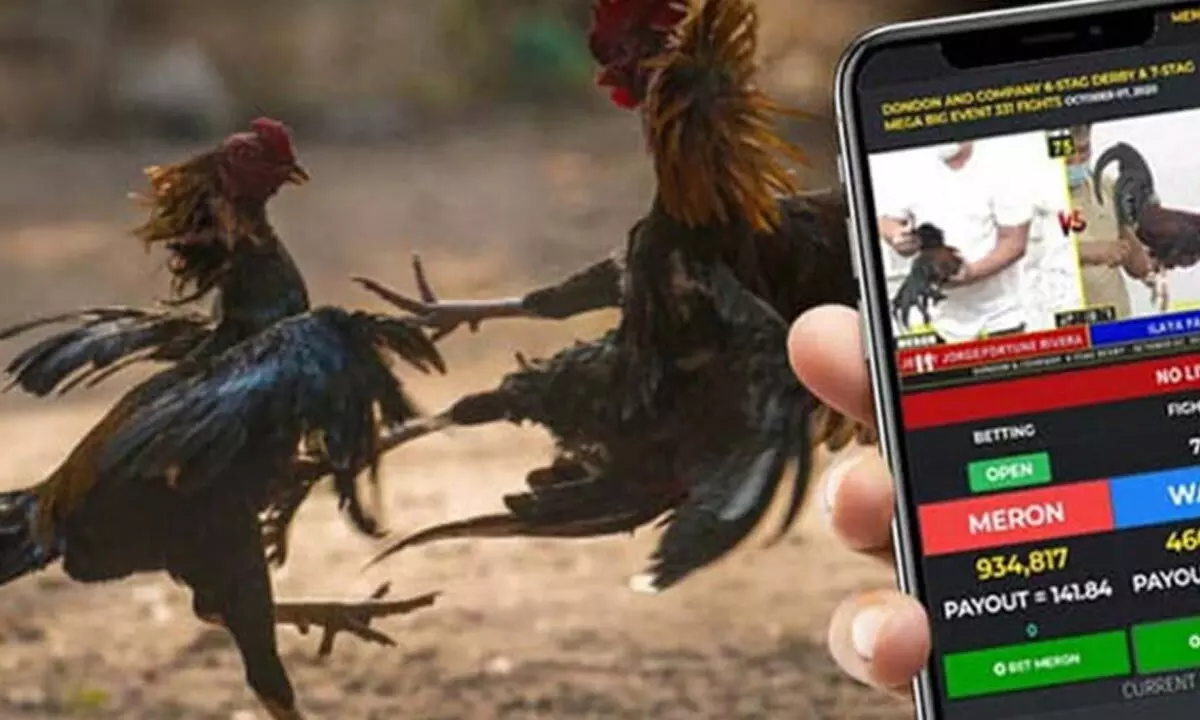 Highlights
They are trying their luck since no case is registered for online cockfighting
Bhimavaram(West Godavari District): Since no cases were registered for online cockfighting so far and with High Court ban on conducting cockfights, IT professionals are resorting to oblique methods to conduct these fights through online mode. The techies are using 5G network availability to conduct cockfights in the region.
Despite police personnel's strict measures to curb these fights, political leaders managed to get permission from relevant authorities to conduct the fights during the three days of Sankranti festival. But the police are continuing to create awareness among the people regarding the ban on cockfights as per High Court orders.
The techies purchased good fighting cocks by spending lakhs of rupees and they reportedly sent secret messages for people to participate in cockfights to be held at their chosen places in the region. Besides cockfights, they are introducing other gambling games like playing cards, gundata and others.
Meanwhile, it came to know that political leaders are using their influence to get permission from higher authorities for conducting cockfights without police interference. It was alleged that police are showing indifference towards cockfights not so strict in implementing court orders in view of the ensuing elections. At the same time, political leaders are making secret arrangements for cockfights on heavy betting as they are confident of getting permission.
It is learnt that already punters booked hotels in Bhimavaram, Rajamahendravaram, Jangareddygudem, Eluru, Kovvur, Amalapuram, Razolu, Kakinada and other towns in advance for the harvest festival. Many of the people have already landed at these places to participate in cockfights during the three-day festival. In certain areas like Muramalla, Gokavaram, Jaggampeta, Narsipatnam, Bhimavaram, Eluru, Kakinada Rural, Dwarampudi, Pithapuram, Amalapuram, Razolu, Juvvalapalem, Undi, Seesali, Kallakuru, Mahadevapatnam, Devipatnam, Rampachodavaram and Chinturu arenas are being readied for conducting cockfights.
West Godavari District Collector P Prasanthi instructed the officials to strictly implement ban on cockfights and other gambling sports on the occasion of Sankranti festival. She issued a warning to the organisers of cockfights that stringent action would be taken against them if they conduct cockfights during the festival. She instructed the officials to set up check-posts near districts' borders and stop people, who are coming with bags of money to participate in these fights.
District Superintendent of Police U Ravi Prakash warned that stringent action would be taken against those, who violate court orders by conducting cockfights in the district. As per the SP instructions, police personnel have identified pivotal places where cockfights are usually conducted in the district. The SP stated that they gave counselling and issued notices to those, who conducted the cockfights last year in places like Anakoderu, Toptippa, Losari, Yanamadurru, Taderu, Kovvada, Annavaram in Bhimavaram Rural and other areas in the district. He advised youth not to be drawn into this betting game of cockfights.